College Commitment
Herring Commits to Georgia for 2011
by
Colette Lewis
, 10 June 2010
It was love at first sight for blue chip Lauren Herring when she stepped on the campus of the University of Georgia last October.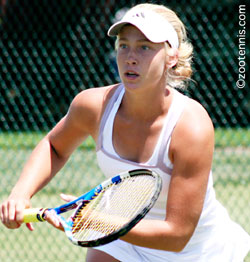 A member of a USTA girls
national team
competing against the Georgia women's team, Herring was awestruck by the campus and the tennis facility.
"I went there, and it was one of those things - I just fell in love with it," says Herring, who was beginning her junior year in high school at the time. "You're like a little kid, in amazement at the facilities and how cool it is to play for Georgia. I don't see how anyone who goes to Georgia (on a visit) doesn't just fall in love with it. It's by far, to me, the best campus in the nation."
But that didn't make her decision an easy one.
"I've grown up a Tar Heel and I just bleed blue," says Herring, from Greenville, North Carolina. "My whole family went to Carolina. It was the hardest decision I ever made."
Herring had been on many unofficial visits to Chapel Hill, six or seven by her count, but aside from competing against her future teammates, the only other trip to Athens was to attend a football game with family and friends.
"It was hard, because I wish I could have looked around a little more," says Herring, ranked fifth in the class of 2011. "I thought I had all the time in the world, but it kind of snuck up on me and I had to make my decision a lot earlier than I expected. But when I sat down and thought about it, talked to Frank (assistant coach Polito) and Jeff (head coach Wallace) and the girls on the team, I realized that's where I want to go. So I'm definitely happy now that I have made my decision."
Herring admitted that Georgia's top-ranked recruiting class for 2010 was a major factor in her choice of schools.
"The recruiting class that's coming in this year was actually a huge part of my decision," Herring says. "In the juniors, we play for ourselves, and that's great and everything, but as weird as this may sound, probably my favorite moment from juniors was winning Intersectionals. That was the most fun I think I've ever had. I just think winning as a team is the greatest feeling, so one of my goals when I'm in college is to win NCAAs. And knowing that Chelsey (Gullickson) and Nadja (Gilchrist) would be there and the recruiting class coming in before me, and me adding some depth, I think we have as good a shot as any team."
Herring learned her tennis in the Greenville area from a combination of coaches - Troy Robinson, Matt Rowe, and Mark Trail - then spent two years living at the USTA Training Center at Boca Raton. Now training at The Racquet Club of the South with Brian Devilliers and Grant Stafford, Herring is excited by the direction her game is taking.