Bridgham Joins Flyer Family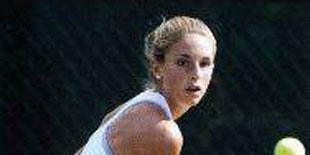 The college tennis recruiting process can be difficult to navigate, each school with its own unique set of pros and cons. But a specific academic aim can simplify things, immediately knocking out otherwise attractive options. That was the case for Marlys Bridgham. An aspiring engineer, the Five Star recruit knew just what she was looking for, and an email from Dayton head coach Ryan Meyer showed her a perfect fit. Story
| | |
| --- | --- |
| The Hot 100 features 100 boys and 100 girls who have been playing outstanding tennis. These players have substantially improved their rankings over the past month. | |
Have you checked out the Prince Players' Lounge? Review past Hot 100 articles and lists - and check out all things Prince. Click here to start.
College tennis is a goal for many players and parents, and they should learn about the recruiting process. Weil Tennis Academy is proud to sponsor Recruiting 101 - with articles about recruiting, eligibility, and more.

The USTA's Tennis On Campus program is designed to provide college students with opportunities for team camaraderie, social networking, and rivaled competition through tennis without the rigors of a varsity program.
Tennis Warehouse provides lively forums for the discussion of junior and college tennis. Here are the latest topics from the Talk Tennis message boards.
Faces in the top one-hundred:
Tennis Warehouse VLOG #379
To purchase or find out more about these products,
Click Here!
Gorin Tennis is excited to sponsor Roundtable Articles - featuring comments from top coaches and recent graduates on various recruiting topics.
Sam Querrey prank called by Steve Johnson
A "special" fan calls in. Check it out.
| | | |
| --- | --- | --- |
| Campus Kids Days are designed to expose more junior players to college tennis varsity team matches. Across the country, each college coach will select a team match that junior players in the local community are encouraged to attend. | | |
Click here for a complete
Kids' Days Schedule

Follow college tennis with the ITA - the governing body that oversees all levels of men's and women's varsity collegiate tennis.

Since 2011, Lisa Stone has been writing about all things junior tennis from a parent's perspective at
Parenting Aces
. Tune in to her
radio call-in show
each Monday at Noon ET.
| | | |
| --- | --- | --- |
| All week long, The Tennis Recruiting Network brings you special coverage of Spring Signing Week 2014. Make sure to come back daily to check out all the content we have to offer - and to monitor our commitment lists. | | |
| | |
| --- | --- |
| Photo galleries are proudly presented by Southern California's own Advantage Tennis Academy. | |
Solfire is the proud sponsor of Recruiting Class Rankings for college tennis teams. Check out the top classes from across the country - and see how your team stacks up.


National Showcase Tournaments are USTA-sanctioned events open to players from all sections. Compete against players outside of your district or section - and earn credit towards your Tennis Recruiting ranking.
Click here for the complete
Series Schedule
Smith Sterns Tennis Academy is proud to present the College Commitment Lists. Check out the latest commitments here - and the full listings below.
Full Listings: Boys' Commits & Girls' Commits
Smith Stearns Tennis Academy
- training young players with a true passion for tennis since 2002.
Help build our following.
Follow us on Facebook