Recruiting Feature
Countdown to Signing Day
by Dallas Oliver, 21 March 2011
It's that time of year... Signing Day is approaching. April 13 is the first day of the Spring Signing Period - when seniors from around the nation can sign on to play college tennis at Division I or Division II schools.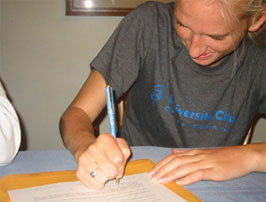 TennisRecruiting.net maintains commitment lists that show the current leanings of the senior
boys
and
girls
. However, many of those kids change their minds - nothing is in writing until April 13.
As always, TennisRecruiting.net is your online home for Signing Week coverage. From profiles of committed seniors - to the leanings of the top recruits - to updates on particular schools - to commitment announcements during Signing Week. TennisRecruiting.net has it all! We bring you a courtside seat to all the action for the Class of 2011.
We are still finalizing our content plan, but here is a peek at our Spring Signing Week coverage:
Take a look at our current coverage schedule:
Countdown to Signing Day Series
So that's it - our plans for coverage of Spring Signing Week 2011. It all kicks off tomorrow with the first of our recruiting profiles, and it continues through Signing Week itself. Stay tuned to the Tennis Recruiting Network over the coming weeks for complete recruiting coverage!
Leave a Comment
More Website News
8-May-2016
SMU Tennis Programs To Be Featured On College Sports Weekly
Fox College Sports (FCS) will air a show featuring the SMU Tennis teams as well as the SMU Tennis Complex, beginning on Sunday at 8pm ET / 7 pm CT on FCS Atlantic.
14-Mar-2016
Countdown to Signing Day
If you have checked the recruiting calendar recently, you would know that we are within a month of the beginning of the Spring Signing Period. April 13th is the first day in 2016 when high school seniors will be able to sign their National Letters of Intent - making formal commitments to college tennis programs. As always, TennisRecruiting.net and GAMMA bring you a courtside seat to all the action. Take a look as we preview our special coverage... in the Countdown to Signing Day!
29-Feb-2016
Top Prospects '15-'16 - Spring Edition
Three Star Recruit? Or Four Star? You can find out right now, as The Tennis Recruiting Network proudly presents the Top Prospects for Spring 2016.