Recruiting Feature
2011 Top NCAA Division III Women's Classes
by TennisRecruiting.net, 15 June 2011
Over the past few weeks, the Tennis Recruiting Network has been publishing rankings of recruiting classes. Today, we conclude our series with a look at the Division III women's programs.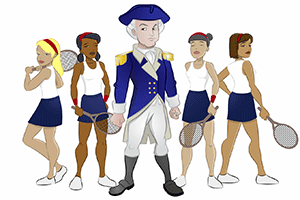 NCAA Division III tennis is able to attract solid athletes - as evidenced by the fact that two D-III programs - Washington & Lee and Johns Hopkins - appeared in last week's mid-major rankings. W&L actually garnered a few votes in our overall rankings.
This week, it is all Division III all of the time. On Monday we published our D-III men's rankings. Today, the ladies take their turn.
Top 25 NCAA Division III Women's Recruiting Classes (through May 29)
TennisRecruiting.net is proud to present the Top 25 NCAA Division III Women's Recruiting Classes for 2011. This list is based on commitments reported on or before May 29, 2011.
We enlisted the help of a number of NCAA Division III enthusiasts and insiders to aid in the rankings. While we do not publish a list of our helpers, we appreciate their assistance.
And now, without further ado, the Top 25...
Also Receiving Consideration
Our knowledgable team of D-III insiders carefully reviewed the incoming classes of many D-III programs for these rankings. Other recruiting classes that received strong consideration for inclusion on our list are (alphabetically) as follows: Agnes Scott, Anderson, Haverford, Ithaca, Rhodes, and Skidmore.
4 Star Generals
Washington & Lee has a long history of excellence in women's tennis, and fourth-year coach Eric Ishida has maintained that tradition. Ishida's teams have posted an impressive 87-20 record during his tenure, including a 20-7 mark in 2011 that saw the Generals claim their 21st ODAC title and reach the quarterfinals of the NCAA tournament.
With only one graduating senior, the Generals do not necessarily need a good recruiting class, but the class arriving for 2011-12 is strong and deep. Seven of the eight incoming recruits have been ranked in the Top 300 of the senior class over the past year, including four in the Top 200.
The highest-ranked of these recruits is Sonja Meighan, ranked No. 93 nationally among seniors and No. 2 in Virginia, who posted four wins in the past three national championship events.
With Meighan and company heading to Lexington this fall, the Generals' recruiting class is the clear choice for No. 1.
Top Five
The Williams Ephs have a lot to celebrate. They just won their fourth straight NCAA Division III national championship with a dramatic 5-4 win over Amherst. With the No. 2 recruiting class coming in next year, the future looks bright as well.
The Johns Hopkins Blue Jays (No. 3), Emory Eagles (4), and Carnegie Mellon Tartans (5) round out the Top 5.
Conference Call
On Monday, we talked about the strength of the men's programs in the University Athletic Association when it came to this year's recruiting. Today, we see that the women's programs are right there as well.
Five recruiting classes from the UAA are ranked among the Top 25 - more than any other conference. Emory (No. 4) Carnegie Mellon (5), Chicago (13), Brandeis (17), and Washington University (19) all represent the UAA.
The NESCAC is a close second with four ranked programs - including three in the Top 10. Other conferences with more than one program are the SCIAC (3 programs), Liberty League (2), NCAC (2), and NEWMAC (2).
State of the States
17 states have programs in our recruiting class rankings, but only three states have multiple ranked teams.
Massachusetts stands tall, with five ranked programs from the Commonwealth. Top 10 programs Williams (No. 2), MIT (7), and Tufts (9) are joined in the rankings by Wellesley (11) and Brandeis (17).
Other states with more than one ranked program are California (4 programs) and New York (2).
Rankings Wrap
Over the past two weeks, TennisRecruiting.net has put out six sets of recruiting class rankings. These rankings recognize hundreds of athletes from the Class of 2011 - and more than 100 college tennis programs from across the nation. Take a moment to check out all of our recruiting class rankings:
Leave a Comment
More Recruiting Class Rankings
22-May-2017
Top Men's Classes - 2017 Spring Rankings
Today we release our spring rankings of the Top 25 Men's Recruiting Classes. A rash of recent commitments have moved a number of programs up the list - including two previously unranked classes who are now in the Top 10. One thing that hasn't changed on our list is that the top class overall is heading to Berkeley this fall ...
6-Feb-2017
Top Women's Classes - 2017 Winter Rankings
Spring Signing Day is just over two months away, and coaches are busy finalizing their recruiting classes. A number of highly-ranked seniors have already made their college choices - they have made verbal commitments or signing NLIs during the Fall Signing Period. Find out which women's teams are looking good at this stage - as The Tennis Recruiting Network and ArrowBar proudly present the Top 25 Women's College Tennis Recruiting Classes of 2017.
30-Jan-2017
Top Men's Classes - 2017 Winter Rankings
Late January is a great time to take a look at college recruiting. More than 850 seniors have made their college choices, and recruiting classes are really shaping up. How is your favorite team doing? Let's find out ... as Tennis Recruiting and ArrowBar bring you the Top 25 Men's College Tennis Recruiting Classes for 2017.