Recruiting Feature
Countdown to Signing Day
by Dallas Oliver, 7 October 2011
November 9, 2011. Circle the date on your calendar, because that day is the beginning of the one-week period known throughout college sports as Signing Week. Signing Week is the highlight of the annual recruiting calendar for two reasons: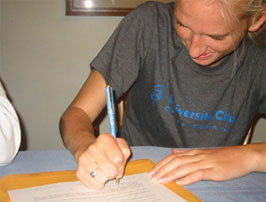 (1) November 9, also known as
Signing Day
, is the first opportunity for high school seniors to sign a National Letter of Intent with a Division I or Division II school.
(2) That week is the only opportunity for seniors to commit to a college program this year. The next opportunity is the spring signing period that begins in April 2012.
Our commitment lists (boys, girls) show a number of early verbal commitments - but those commitments are not official or binding. Several seniors who had made verbal commitments earlier this year have since changed their minds. November 9th is the first day when those commitments become official.
With Signing Week fast approaching, TennisRecruiting.net is once again ready to bring you all the action. These next few weeks, we have special coverage - known as the Countdown to Signing Day - to keep you up to date on all things Signing Week.
Take a look at our coverage schedule:
Countdown to Signing Day Series
And there you have it... our preliminary Countdown to Signing Day coverage schedule. It all gets started early next week with comments from Penn recruit Blaine Willenborg as well as a commitment announcement from Blue Chip senior Kyle McPhillips. And we may add more articles as news breaks from seniors in the Class of 2012. Check back over the next month - and enjoy a courtside seat for the Countdown to Signing Day!
Leave a Comment
More Website News
28-Apr-2017
Coming Soon ... May Madness Bracket Challenge
March is so passe. In the world of college tennis, it's all about May - and May Madness. This coming Tuesday evening, the NCAA will announce the teams participating in the NCAA Division I Men's and Women's Tennis Championships. Later that night, you can submit your picks in our annual May Madness Bracket Challenge.
13-Mar-2017
Countdown to Signing Day
It's that time of year... Signing Day is approaching. April 12 is the first day of the Spring Signing Period - when seniors from around the nation can sign on to play college tennis at Division I or Division II schools. And once again, The Tennis Recruiting Network and GAMMA are ready with the Countdown to Signing Day.
6-Mar-2017
Star Ratings '16-'17 - Spring Edition
Three Star Recruit? Or Four Star? You can find out right now, as The Tennis Recruiting Network proudly presents the Star Ratings for Spring 2017.