Recruiting Feature
Countdown to Signing Day
by Dallas Oliver, 12 March 2012
Don't look now, but we are less than a month away from the beginning of the Spring Signing Period.
April 11, 2012 is an important day on the recruiting calendar. That day, informally known as Signing Day, is the first day this calendar year when seniors can sign a National Letter of Intent to play college tennis at a Division I or Division II school.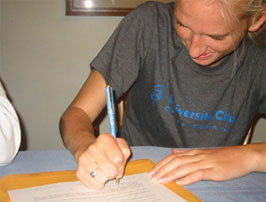 As always, The Tennis Recruiting Network has big plans for the next month, as we count down the days to April 11. Our special coverage is called the
Countdown to Signing Day
.
Our Countdown will keep you up-to-date with all the action. From the leanings of the Top 100... to advice from college coaches... to commitment announcements from top players... TennisRecruiting.net brings you a courtside seat to all the action.
Keep up with all the commitments of the senior boys and girls, presented by Eagle Fustar, and take a peek at some of the content we have planned for the next month:
Countdown to Signing Day Schedule
So that's it - our planned coverage in the Countdown to Signing Day. It all kicks off tomorrow with the first of our recruiting profiles, and it continues through Signing Week itself. Stay tuned to the Tennis Recruiting Network over the coming weeks for complete recruiting coverage!
Leave a Comment
More Website News
3-Mar-2014
Top Prospects '13-'14 - Spring Edition
Three Star Recruit? Or Four Star? You can find out right now, as The Tennis Recruiting Network proudly presents the Top Prospects for Spring 2014.
25-Jan-2014
Solfire to Sponsor Recruiting Class Rankings
Today, The Tennis Recruiting Network announces that Solfire, a tennis apparel company that combines original artwork with advanced technology and manufacturing techniques, will be the presenting sponsor for the widely acknowledged College Tennis Recruiting Class Rankings at the TennisRecruiting.net website.
6-Jan-2014
Top Prospect Spring Ratings Period Starts This Week
Twice a year, TennisRecruiting.net updates its Top Prospect ratings - sometimes known as "The Stars". Our next update to the Top Prospects comes in March - and those ratings will be based on players' highest rankings during the next eight weeks - from the week of January 6 to the week of February 24, 2014. We invite players to review their player records to ensure accurate ratings.