Recruiting Feature
Countdown to Signing Day
by Dallas Oliver, 12 March 2012
Don't look now, but we are less than a month away from the beginning of the Spring Signing Period.
April 11, 2012 is an important day on the recruiting calendar. That day, informally known as Signing Day, is the first day this calendar year when seniors can sign a National Letter of Intent to play college tennis at a Division I or Division II school.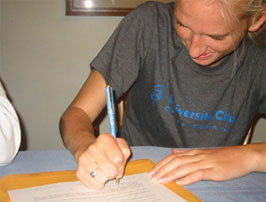 As always, The Tennis Recruiting Network has big plans for the next month, as we count down the days to April 11. Our special coverage is called the
Countdown to Signing Day
.
Our Countdown will keep you up-to-date with all the action. From the leanings of the Top 100... to advice from college coaches... to commitment announcements from top players... TennisRecruiting.net brings you a courtside seat to all the action.
Keep up with all the commitments of the senior boys and girls, presented by Eagle Fustar, and take a peek at some of the content we have planned for the next month:
Countdown to Signing Day Schedule
So that's it - our planned coverage in the Countdown to Signing Day. It all kicks off tomorrow with the first of our recruiting profiles, and it continues through Signing Week itself. Stay tuned to the Tennis Recruiting Network over the coming weeks for complete recruiting coverage!
Leave a Comment
More Website News
2-Jan-2017
Winter Nationals Week
While most people were enjoying a winter break, many top American junior tennis players were pursuing gold balls in Arizona. This week, Tennis Recruiting and Van Der Meer Academy celebrate the winners of the USTA National Winter Championships. Take a look at our coverage schedule for Winter Nationals Week.
10-Oct-2016
Countdown to Signing Day
Once again, in the junior and college tennis, the changing leaves mean that we are getting closer and closer to Signing Day. November 9th is is the first day of the one-week fall signing period - the only opportunity this calendar year for seniors to sign a National Letter of Intent with a Division I or Division II school. As always, The Tennis Recruiting Network and GAMMA are here to keep you up to date on all the happenings.
27-Sep-2016
TRN College Showcase at the ITA Convention
Tennis Recruiting is excited to announce that it will be running a College Showcase for high school age players at the ITA Coaches' Convention in Naples, Fla. This one-day event for 32 boys and 32 girls will take place on Saturday, December 10th, where players will have the chance to compete in front of hundreds of college coaches. All play will be on the Har-Tru courts at the Naples Grand Beach Resort.