Recruiting Feature
2013 Top NCAA Division III Men's Classes
by TennisRecruiting.net, 19 June 2013
As we near the middle of June, our recruiting class rankings are moving towards conclusion. Today and Monday we feature our final lists - starting with today's look at the top men's classes in NCAA Division III tennis.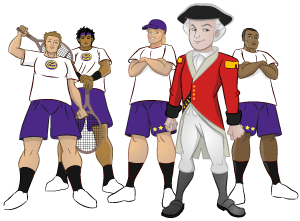 Division III tennis is very popular, and TennisRecruiting.net receives reports of many commitments to D-III schools. So far this year, there are more than 500 commitments to D-III schools on the commitment lists, including more than 100 commitments from players rated 3 Stars or better.
Top 25 NCAA D-III Men's Recruiting Classes (through May 31)
TennisRecruiting.net is excited to present the Top 25 NCAA Division III Men's Recruiting Classes for 2013. This list is based on commitments reported on or before May 31, 2013.
We enlisted the help of a number of NCAA Division III enthusiasts and insiders to aid in the rankings. While we do not publish a list of our helpers, we appreciate their assistance.
And now, take a look at the Top 25...
Also Receiving Consideration
A team of D-III insiders reviewed the resumes of more than 50 D-III recruiting classes in coming up with these rankings. Other recruiting classes put forward by the insiders that almost made our list are (alphabetically) as follows: Birmingham Southern, Lewis & Clark, NYU, RPI, Skidmore, Trinity (TX), UW-Whitewater, and Washington & Lee.
Leaping Lords
Amherst College has one of the premier tennis programs in Division III tennis. Since 2009, they have appeared in the NCAA title match three times, winning the NCAA Championship in 2011. Last month, the Lord Jeffs reached the Final Four before dropping a 5-0 decision to Claremont-Mudd-Scripps.
Head coach Chris Garner and assistant coach Matt Leitl have done a great job on the recruiting trail as well, posting Top 10 recruiting classes in all four years we have conducted these rankings. The Amherst recruiting class was ranked No. 1 in our D-III rankings in 2010 and 2012 - and they repeat again in the top spot today in 2013.
The Amherst recruiting class is headlined by 4-Star seniors Myles Tang and Anton Zykov. Tang, the No. 1 recruit from the state of Minnesota, posted three wins in last year's USTA National Team Championships. Andrew Arnaboldi and Samuel Silver round out the foursome that make up the No. 1 class.
Tight at the Top
While Amherst got the nod for No. 1, the decision was by no means unanimous. The recruiting classes from Claremont-Mudd-Scripps and Washington - St. Louis also received strong support.
The CMS Stags' recruiting class includes three 4-Star recruits, including Daniel Morkovine of California and Maxwell Macey of Connecticut - two players who were both ranked in the Top 100 earlier this year. This five-man class could help CMS - who reached the NCAA championship match - win their first national title since 1981.
The Washington University Bears have a proud tradition as well, reaching the Final Four this year in their best showing since winning the NCAA Championship in 2008. Head Coach Roger Follmer has brought in five recruits that are led by 4-Star seniors John Carswell and Jeremy Bush. Bush was featured at Tennis Recruiting this spring in one of our Countdown to Signing Day articles.
The defending champion Williams Ephs have the No. 4 recruiting class in our rankings, and Carnegie Mellon rounds out the Top 5.
Conference Call
Three D-III conferences can claim 15 of the spots in our Top 25: the NESCAC, UAA, and SCIAC.
The New England Small College Athletic Conference and University Athletic Association are toe to toe this year have almost half the programs all by themselves, with six ranked programs apiece and four Top 10 programs apiece as well - eight of the Top 10! Top-ranked Amherst leads the NESCAC, and they are joined by Williams (No. 4), Wesleyan (7), Bates (10), Tufts (11), and Colby (22).
The UAA is a smaller conference with only eight programs as compared with eleven for the NESCAC. The six ranked recruiting classes from the UAA are Washington University (No. 3), Carnegie Mellon (5), Chicago (6), Emory (8), Case Western (14), and Brandeis (17).
The Southern California Intercollegiate Athletic Conference is the only other conference with more than two programs: CMS (No. 2), Pomona-Pitzer (9), and Redlands (12) are all Top-12 programs.
State by State
The 25 programs in our rankings come from 16 different US states. The Commonwealth of Massachusetts leads all comers with five programs in the rankings. No. 21 MIT joins NESCAC and UAA programs Amherst, Williams, Tufts, and Brandeis as ranked classes from Massachusetts.
Other states with multiple programs in the rankings are California (3 ranked programs), Maine (2), Ohio (2), and Pennsylvania (2).
Coming Monday... the Women
On Monday, we conclude our look at 2013 recruiting classes with our Division III women's lists.
About ArrowBar
ArrowBar is proud to sponsor Recruiting Class Rankings at TennisRecruiting.net.
Life Is A Sport, Are You Playing?
Are you ready to fuel your body with what Tour Pros around the world are using? Join Team ArrowBar! Relied on for energy by the world's best tennis players. Time to take your on court nutrition to the next level. Join Team ArrowBar and receive exclusive discounts and offers not available to anyone else.
* Show off your sponsorship deal! Package includes 5 iron on ArrowBar patches for your shirt sleeves. Look and feel like an ATP Tour Pro!
About ArrowBar
ArrowBar is a great tasting, gluten free and all-natural, high performance energy bar developed by tennis players for tennis players!
Brand ambassadors and ArrowBar team members James Blake, John Isner, Michael Russell, and Steve Johnson have all played an integral part in the development of ArrowBar. From testing ArrowBars on the court, to eating them in their daily lives, they can tell you, ArrowBar works.
Currently available in Cinnamon Honey Oat and Chocolate Chip flavors, ArrowBar sources the finest, all natural ingredients, resulting in a filling, energy boosting, 200 calorie bar. Organic crispy rice, organic quick oats, natural almond butter, organic honey and organic brown rice syrup are a few of the core ingredients that blend simple carbohydrates with complex carbohydrates to provide quick and long lasting energy.
Connect with ArrowBar on Facebook, Twitter, and Instagram - or on their website.
Leave a Comment
More Recruiting Class Rankings
17-Jun-2016
2016 Top NCAA Division III Women's Classes
The Tennis Recruiting Network wraps up its spring recruiting class rankings with a look at the D-III women. Today we present our list of the Top 25 NCAA D-III women's recruiting classes for 2016. This year, the top of our rankings has a distinct Maroon hue ...
13-Jun-2016
2016 Top NCAA Division III Men's Classes
The Tennis Recruiting Network presents its recruiting class rankings for NCAA Division III conferences. Today we present our Top 25 D-III men's recruiting classes for 2016. This year, the No. 1 class comes from Amherst College for the first time since 2013.
10-Jun-2016
2016 Top Mid-Major Women's Classes
TennisRecruiting.net picks up where it left off on Monday with more rankings of mid-major recruiting classes. Today we present the Top 25 mid-major women's recruiting classes for 2016. Check out the Waves - who are cresting at the top of the rankings.