Recruiting Feature
Countdown to Signing Day
by Dallas Oliver, 12 October 2012
As we move into mid-October, Signing Week is on the horizon. November 14th is the first day of the one-week Fall Signing Period. That week is the only opportunity this calendar year for high school seniors to sign a National Letter of Intent with a Division I or Division II school.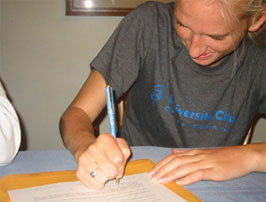 Our commitment lists (
boys
,
girls
) show a number of early verbal commitments - but those commitments are not official or binding. Several seniors who had made verbal commitments earlier this year have since changed their minds. November 10th is the first day when those commitments become official.
As always, TennisRecruiting.net is ready with a full slate of coverage - known as the Countdown to Signing Day. Our Countdown is a series of special articles over the next few weeks to keep you up to date on all the Fall signing happenings.
Take a look at our coverage schedule:
Countdown to Signing Day Series
You can also follow the articles and top commitments on Twitter at #TennisSigningDay.
And there you have it... our preliminary Countdown to Signing Day coverage schedule. It all gets started early next week with comments from seniors. And we may add more articles as news breaks from seniors in the Class of 2013. Check back over the next month - and enjoy a courtside seat for the Countdown to Signing Day!
Leave a Comment
More Website News
25-Jul-2016
Clay Court Championship Week
The USTA Clay Court Championships have concluded around the country. This week, TennisRecruiting.net and Van Der Meer Academy have roundups of all the action from the Boys' 12s to the Girls' 18s - from Virginia Beach to Fort Lauderdale. Check out coverage of all the tournaments - and meet the latest gold ball winners of all ages. Get ready... for Clay Court Championship Week.
20-Jul-2016
Top Prospect Fall Ratings Period Starts Next Week
Twice a year, TennisRecruiting.net updates its Top Prospect ratings - sometimes known as "The Stars". Our next update to the Top Prospects comes in late September - and those ratings will be based on players' highest rankings during the next eight weeks - from the week of July 25 to the week of September 12, 2016. We invite players to review their player records to ensure accurate ratings.
8-May-2016
SMU Tennis Programs To Be Featured On College Sports Weekly
Fox College Sports (FCS) will air a show featuring the SMU Tennis teams as well as the SMU Tennis Complex, beginning on Sunday at 8pm ET / 7 pm CT on FCS Atlantic.