Recruiting Feature
Countdown to Signing Day
by Dallas Oliver, 19 October 2007
Signing Week is almost here. November 14th is the first day of the one-week Fall Signing Period. That week is the only opportunity this calendar year for high school seniors to sign a National Letter of Intent with a Division I or Division II school.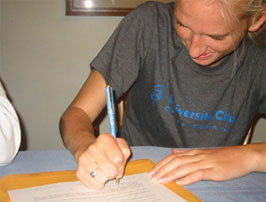 Until that date, high school seniors can only make verbal commitments to coaches. Nothing is binding until a player signs a NLI.
With Signing Week fast approaching, TennisRecruiting.net is ready with a courtside seat to all of the action. We will be running a series of special articles over the next few weeks to keep you up to date on all the Signing Week happenings.
Here is a partial schedule of our planned coverage:
Countdown to Signing Day Series
Signing Week Series
And there you have it... our preliminary Countdown to Signing Day coverage schedule. We also expect additional articles from our contributors in November. Check back over the next month for wall-to-wall coverage as we build towards Signing Day.
Leave a Comment
More Website News
15-Sep-2014
Top Prospects '14-'15 - Fall Edition
After months of waiting, here they are... the Top Prospects. Find out right now how many stars you have - as The Tennis Recruiting Network proudly presents the Fall Top Prospects for 2014-15.
28-Aug-2014
Best Wishes, Class of 2014
The high school Class of 2014 had their ceremonies back in June - and many of those young men and women are now heading off to college. Today is the day that the Tennis Recruiting Network bids them farewell. This week's rankings are our final edition for the 2013-14 year - and the final rankings for the outgoing Class of 2014.
11-Aug-2014
Hard Court Championship Week
Last week, the best American juniors were competing for gold balls at the USTA National Championships all across the country. National titles were awarded for both boys and girls in all four age divisions. TennisRecruiting.net announces its Championship Week coverage - with photo galleries and articles that celebrate the best of the best in junior tennis.