Who's Hot?
Prince Hot 100 List - July '10
by Amelia Thomas, 19 July 2010
As the summer heat blazes on and many take time off, junior tennis players battle on - as consistently as the hot temperature. Training and tournaments won't yield to any weather this summer, and we caught up with a few of these competitive athletes in the Prince Hot 100.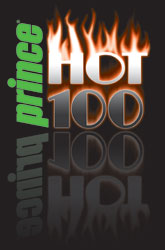 The Prince Hot 100 lists are published each month, and the July Hot 100 Lists feature the one hundred boys and girls who most improved their ranking during the month of June. You can find out more about the Prince Hot 100 - and how the lists are calculated - by reading here.
The very latest lists, published earlier today, are available here:
Let's take a closer look at a few of these players...
Roundup
Charles Boyce (Cedar Hill, Texas)
According to rising junior Charles Boyce's parents, Charles and Merle Boyce, the 6'1 recruit was first drawn to tennis because of its focus on independence. "It's a sport that allows him to problem solve and compete physically - but without having to depend on teammates to get positive results," they said.
More recently, Boyce's parents cite concentration as the reason for his success last month. "We credit Charles's recent results to the realignment of his focus and determination. We have also noticed that his conditioning has vastly improved."
Boyce agrees, crediting his recent good play to extra effort and the support of his parents. "I have learned to understand that no one becomes the best at what they do unless they put in the hard work required to do so. If I appear to be slacking off on my workouts, then my parents remind me that it is my dream to be the best, not theirs."
Self-motivation payed off for Boyce in June. Last month, he won two major Texas tournaments: the Texas Summer Grand Slam and the Texas Open. Boyce was dominant throughout, winning 12 of 13 matches in straight sets. He won the championships as a #5 and a #16 seed.
While winning these tournaments was a challenging feat, Boyce, however, names one match as his top achievement.
"All of the players at this level are very good. I don't take anyone for granted, but the toughest situation I was in lately was the quarterfinal match of the Texas Open. I had to save match point against Grant Solomon to move on to the semifinals."
As a rising junior, Boyce is beginning to think about college - as well as keeping up his hobbies of basketball, family time and music. He currently lists Duke, Baylor, Rice and Texas among his favorites.
Boyce works with coach Scott Baily of the Lone Star Tennis Academy in Cedar Hill. They are currently preparing for several upcoming clay court tournaments.
Patrick Elliott (Jeffersonville, Ind.)
Rising senior Patrick Elliott has always been a competitive athlete. Up until middle school, he was on AAU basketball and soccer teams - while taking tennis lessons on the side. Around sixth grade, Elliott decided to focus on tennis, and he has been improving ever since.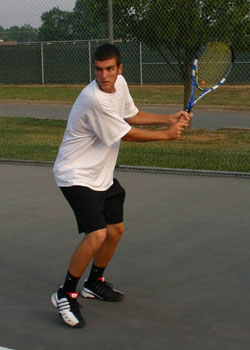 Elliott is currently a starting player on the Jeffersonville High School tennis team, where he works with coach Mark Reilly, a former player at
Indiana University Southeast
. Reilly commends Elliott as a tremendous asset to their team. "He is always the first one to show up. He is the hardest worker - and very coachable," said Reilly. "When you take those three attributes and then add his talent to the mix, you could not ask for anything else from a player."
Elliott also works with personal coach Joe Epkey, former number one player at Ball State University. Elliott's parents, Chick and Jane Elliott, feel that training with Epkey is responsible for much of Elliott's growth in tennis. "Patrick's recent good play has a lot to do with the time he has spent hitting with Joe Epkey. He hits with Joe several times a week and it has really helped him against tougher competition."
The 6'2" recruit also credits his good play to becoming comfortable with new racquets. Whatever it is, something clearly fell into place for Elliott the past few months - since May 14, he has posted a 22-4 record, won two titles, and made two straight appearance on the Prince Hot 100 list. After starting May ranked #298 in the Class of 2011, Elliott has climbed all the way to a career-high #170 this past week.
That record includes 11 victories over players rated three stars or higher. Among those wins, Elliott cites a match against four-star senior Ray Leonard in the semifinals of the Court One Memorial.
"I went on to win the tournament and I've been playing really well ever since then," Elliott said. "That was the match that gained a lot of my confidence back."
Elliott is an accomplished student as well as an athlete. A member of the National Honor Society, Elliott is enrolled in several AP classes and is ranked 23 in his class.
Natalia Janowicz (Palm Bay, Fla.)
Another player who is making her second straight appearance on the Prince Hot 100 is rising sophomore Natalia Janowicz. Janowicz started May ranked #219, but 20 wins over the past two months have pushed her ranking up nearly 100 spots to #130.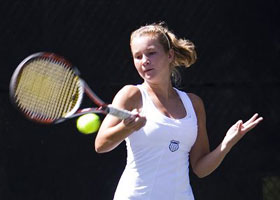 Janowicz defeated 10 players rated four stars or better, but the match that stands out the most came against 3-star junior
Claire Mitchell Andrews
at the
Florida Closed
. That match went the distance, with Janowicz prevailing by a score of 7-6(4), 6-7(4), 7-5.
"It was a battle since our styles are, in my opinion, similar," Janowicz said. "It was almost three hours long. I was down 4-5 in the third, but I fought to make a comeback."
Janowicz acknowledges her older sister, Gator recruit Olivia Janowicz, as the reason she started playing tennis. When Janowicz was just a toddler, her father began coaching her older sister in tennis, and Janowicz was instantly interested.
"Like any other sibling, I wanted to be just like her," Janowicz said.
Now, Janowicz's older sister is not only the origin but a big motivator in her game.
"She has a very big influence on me, and she's an inspiration. She made sure I never lost sight of my goals throughout the past year," Janowicz said.
Lately, Janowicz has been working with her coach, Ben Cappuccitti of the Kiwi Tennis Club on transitioning forward to the net. Janowicz's parents, Robert and Beata, say that this new technique has payed of for their daughter. "She seems to have a solid understanding of the court's geometry and has been taking advantage of it more and more," they said.
Robert and Beata Janowicz also say that their daughter learns from her mistakes quickly. "She's a risk taker who makes decisions very quickly," they said. "Sometimes this causes her trouble, but she can draw valuable lessons from such experiences. She is very self-driven and ambitious."
Riana Roberts (Silver Spring, Md.)
While many athletes have a positive attitude, how many of them would credit the power of thinking with 13 victories and two tournament titles? According to her parents, rising freshman Riana Roberts can lay such a claim.
"Although [Riana] loves tennis and enjoys winning, she realizes that losing does not define who she is as a person," said Colin and Sherridon Roberts. "She still maintains good character."
Roberts won the Girls' 16s event in the Germantown Prep Jr. Open before posting a 5-2 record at the Mid-Atlantic Sectionals in Fredericksburg, Va. Roberts carried her good play into July, when she won the Mid-Atlantic Challenger in Morgantown, W.V.
Roberts is most impressed with performance in a match against 3-star rising junior Erdenesuren Erdenebat.
"I was down love-3, 30-40 in the first set five minutes into the finals," Roberts said. "I then started to play better and won the next twelve games to win the match. My opponent was a very tough and strong player."
Roberts states that her game is very diverse. "I play with a variety of spins and pace," Roberts said. "I think that my backhand is my best shot. I hit more winners from that side."
Currently, Roberts and her coach Rozzell Lightfoot of the Ace Tennis Academy are working on finishing point at the net.
"I often get lots of short balls," Roberts said.
Roberts also works with her father.
Although Roberts has a few years to go, she has begun to think about college. She would like to attend a Division I or II school that is competitive in both athletics and academics.
Have a look over the Prince Hot 100 lists - and take a look at some of the other players who have stepped up their game.
The next edition of the Prince Hot 100 will be available on August 16.
Want to Be Featured?
Each month, we feature several boys and girls from the Hot 100 lists in a Hot 100 roundup article like this one.
If you would like to be considered for a feature, we need your current email address and phone number. Register for a free account and update your information.
Presented by Prince
Prince Sports, Inc., is proud to be the title sponsor of the Prince Hot 100.
Based in New Jersey, Prince is a company of racquet sports enthusiasts whose goal is to create cutting edge, functional and technically advanced products that deliver performance benefits for avid players. The Company's portfolio of brands includes Prince (tennis, squash and badminton), Ektelon (racquetball) and Viking (platform/paddle tennis). The Company has a history of innovation including inventing the first "oversize" and "longbody" racquets, the first "Natural Foot Shape" tennis shoe, the first "synthetic gut" string and the first electronic ball machine.
Today, Prince markets leading technologies in racquets (EXO3), string (Recoil), footwear (Precision Tube Technology) and apparel (Aerotech). It has operations on three continents with distribution in over 100 countries.
For more information on players, products or programs please visit Prince Sports, Prince Tennis, and the Prince EXO3 site.
Leave a Comment
More Roundup Articles
22-Nov-2019
Hot 100 List - November 2019
It's time to unveil the November 2019 edition of the Hot 100. The Hot 100 features 100 boys and 100 girls who have been playing outstanding tennis. These players have substantially improved their rankings over the past month.
28-Oct-2019
Countdown: Blue Chip Girls
Signing Day will be here before you know it, and recruiting is heating to a boiling point. Last week we looked at the boys ... today we check in on the Blue Chip Girls. Take a look at the status of some of the top girls in the Class of 2020.
23-Oct-2019
Hot 100 List - October 2019
It's time to unveil the October 2019 edition of the Hot 100. The Hot 100 features 100 boys and 100 girls who have been playing outstanding tennis. These players have substantially improved their rankings over the past month.
About Amelia Thomas
Amelia Thomas has been the author of the Hot 100 column at Tennis Recruiting since Fall 2009. Thomas, currently a student at Appalachian State University in Boone, has been involved in journalism in both high school and college. She served as editor of her school's online news site in 2011 and 2012, and she placed in a National Scholastic competition for Feature of the Year.