National Roundup
Welcome, Class of 2018!
by Dallas Oliver, 5 September 2011
Happy Labor Day! The unofficial end of summer marks the official beginning of another year at the Tennis Recruiting Network.
This week - the first full week of September - we are excited to welcome the Class of 2018 to the website. This week's rankings are the first official listings for the newly-minted sixth graders:
This article takes a brief glance at some of the top youngsters in the Class of 2018. These kids have already achieved strong results in junior tennis.
Anna Bright (Fort Worth, Tex.)
When the Babolat Class Rankings are published on Wednesday morning, the top-ranked girl in the sixth grade will likely be Anna Bright.
The numbers are pretty gaudy. Bright has posted a 101-24 singles record over the past year, including 24 wins over Blue Chip and Five Star opponents from older classes. Twenty-two of her victories came in the four National Championships - and she won 20 of those matches in straight sets. She was a perfect 5-0 for Texas in the
14s Zonals
in nearby Arlington, and she won a national title in doubles at the
National Clays
in Boca Raton.
How does someone so successful get started with tennis? In her case, Bright just played with her parents.
"My wife and I play tennis for fun," said her father, Kris Bright. "When she was about three, I started tossing balls to her and she liked it. It was very easy to teach her - she enjoyed it and I enjoyed it - and there was no pressure or master plan. We had no clue yet about junior tournaments. When she was six-and-a-half, she could get her serve in, and I figured it was time to try tournaments. She did well, enjoyed the competition, and it went from there."
The Bright family is able to take advantage of the strong competition in Texas. Of the 32 tournaments that Bright competed in during 2010-11, all but six of them took place in the Lone Star State. She traveled to nearby Arizona and Arkansas for a pair of USTA National Opens, and she competed out of state at the four National Championship tournaments.
Bright, a Texas native, lives with her parents, Kris and Liping Bright. She has two siblings who both play tennis - Cindy (9) and Emma (6). Tennis is quite the family affair - the Bright girls are all coached by their father.
"I'm her coach," said the elder Bright. "I teach Anna and her sisters at the park near our house."
The Brights are working to put more energy and offense into her game.
"Anna is very smart, and she is a tough counterpuncher on the court," said Kris Bright. "Those skills make her very good at doubles. She is getting better at aggression."
The five-foot right-hander also swims, and likes to spend time doing things typical of eleven-year-old girls.
"She loves spending time with her friends. She loves playing computer games - and games on our phones. And she is always listening to music."
Noah Schachter (Steilacoom, Wash.)
The state of Washington has been home to a number of top-ranked juniors in recent years. Names like Egger, Wiersholm, and Furman have won premier tournaments and make frequent appearances in tournament wrap-ups.
It's time to add Noah Schachter's name to that list.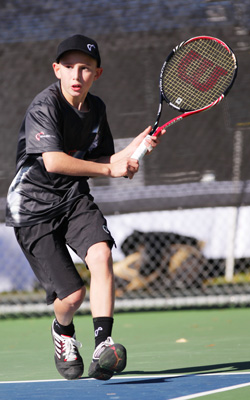 Schachter should be TRN's top-ranked sixth grader when our inaugural 2018 rankings come out this week, and he has the results to back it up. He holds a 87-19 record over the past year, with most of his losses coming against older opponents when he played up in older age divisions.
In the four national championships in 2010-11, Schachter posted a 23-4 record in singles, reaching the finals of Winter Nationals, winning the consolation event at the Spring Nationals, taking sixth at the Clay Courts, and winning another consolation event at the Hard Court Nationals in Little Rock. In three of the four tournaments, Schachter lost in the main draw to the eventual champion.
Schachter has had success at the highest level in doubles as well. He won the doubles title at the National Championships in Little Rock with partner Sam Riffice (Roseville, Calif.).
Of course, Schachter could have ended up on the baseball diamond rather than the tennis court.
"We used to pitch plastic baseballs to him when he was only three years old, and he was very good at hitting them," said his mother, Anne Champeaux. "We thought Noah might enjoy hitting tennis balls too, so we enrolled him in the tiny tot group lesson at the county facility. By the time Noah was five years old he was playing in his first 10-and-under USTA Rookie tournament. He's been playing tennis ever since."
Schachter had a lot of success at a young age. He participated in "Little Mo" tennis tournaments for years, winning the Boys' 9s national championship along with several regional and sectional titles.
The 4-foot-10 righthander also participates in other sports - he continues to play basketball, soccer, and run cross country. He is able to achieve national success at tennis at the highest level while splitting time with one or two other sports at a time. So much organized sports activity takes a lot of time, but the Schachter family is able to achieve a good balance.
"Noah tries to live a 'normal' life as much as possible," says his mother. "He is starting sixth grade at Charles Wright Academy this fall. He gets a lot of homework, and he is very diligent about completing it during any possible free moment - which includes driving to and from sporting activities. Noah has also been playing the piano since age six, and, just like other kids, Noah likes to play video games and watch TV."
Schachter, a native of Washington state, works with Mark Hanson at the Tacoma Lawn Tennis Club. He resides in Steilacoom with his mother and father, Anne Champeaux and David Schachter.
Patrick Kypson (Greenville, N.C.)
Patrick Kypson was born in Durham, North Carolina - not far from where the Carolina Hurricanes play in the National Hockey League. After a brief stint with hockey, Kypson turned from the ice to the tennis court - and he has never looked back.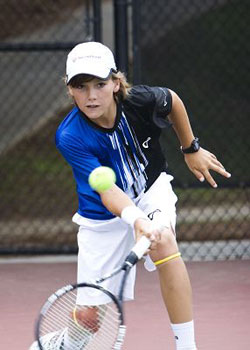 "Patrick played ice hockey from a very young age until he was five," said his father, Alan Kypson. "But he gave it up when he decided to focus on competitive tennis."
The younger Kypson played his first tournament in the summer of 2007, and he has been racking up highlights ever since. He won the Boys' 10 title at the 2008 North Carolina Closed Championships as an eight-year-old. He then moved on to sectional and national events, winning a Southern Designated tournament in the 12s division in 2009, and placing fourth at the USTA Winter Nationals last year in Tucson, Ariz.
Kypson has enjoyed a lot of success in his first year of the 12s. He won 20 matches in the National Championship events in 2010-11, earning silver and bronze balls in singles at the USTA Clay Court and Hard Court Nationals, respectively. Kypson also earned a national title - and his first gold ball - in doubles at the 2011 Spring Nationals.
The 5'0" Kypson makes a two-hour trek to Cary Tennis Park three times a week to train with coaches Jake Lester and Mat Cloer.
"Patrick has a well-rounded game with strong groundstrokes," says his father. "Right now, he is working with [his coaches] on his serve-and-volley game."
Kypson resides in Greenville with his parents, Kristal and Alan Kypson, and his sister Caroline. All the Kypsons play, and they enjoy playing doubles as a family.
Outside of tennis, Kypson works hard at school and to keep up with his social life.
"Patrick is very motivated to do well academically. He is home-schooled, and he gets up early every day to complete his schoolwork so that he can play tennis. He maintains friendships outside of tennis and enjoys other activities - like fishing and paint ball."
Claire Liu (Thousand Oaks, Calif.)
We wrap up our whirlwind tour of top sixth-graders with a visit to California and Claire Liu.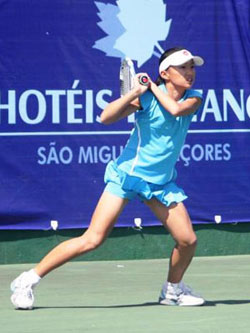 By the numbers, Liu has achieved success at every level in both the 12s and 14s divisions. Liu has gone 80-21 over the past year. Those victories include a third-place finish at the
SoCal Sectional
in June and a title at the
USTA Regional
in Las Vegas. She also placed third in National Opens in
Tucson
and
Upland
, and she was runner-up at the National Open in
Beaverton
.
Liu participated in three National Championships, where she won 15 matches and won the Northeast consolation events at both the Clay Court and Hard Court nationals.
Despite her busy schedule, Liu has always had a good time on the courts.
"Claire enjoys playing tennis, and she has made great friends through the game," said her mother, Wen Liu. "And she has great respect for the sport. She received the Southern California Tennis Association sportsmanship award for the Girls' 10s division in 2010."
Liu has worked with Mike Gennette, head coach of the men's tennis team at California Lutheran University since she was five. She also trains three times a week at USTA Player Development Program in Carson.
"The coaches are working with Claire on her serves, volleys and overheads," said her mother. "They also do fitness training daily, and teach her all aspects of the game, including warm up, cool down, nutrition, hydration, and rest."
Liu's mother describes her daughter as being an aggressive player with an advanced all-court game for her age.
"She has a very strong baseline game, but she has the ability to approach the net and finish the point there. She is a lot of fun to watch."
Off the court, Liu attends public school and leads a normal life.
"Claire loves to go to school," said her mother. "She goes to a regular school, and she loves to spend time with her classmates whenever she can. Her teachers and school are very supportive of her tennis activities."
Liu resides in Thousand Oaks, California with her parents, Wen and Longbin Liu.
Please join me in welcoming the Class of 2018 to the Tennis Recruiting Network family. We look forward to seven years of excellence from these kids!
Leave a Comment
More Roundup Articles
21-Sep-2017
Hot 100 List - September '17
Today we announce the September edition of the Hot 100. The Hot 100 features 100 boys and 100 girls who have been playing outstanding tennis. These players have substantially improved their rankings over the past month.
20-Sep-2017
Spotlight Players of the Week - Gabriel Jinich and Amy Kaplan
Each week TRN shines the spotlight on a boy and girl player randomly selected from our class ranking lists. Beyond match scores and tournament results, the players reveal more about their interests and personalities. Get to know sophomore Gabriel Jinich (La Jolla, Calif.) and junior Amy Kaplan (Brooklyn, N.Y.)
11-Sep-2017
Spotlight Players of the Week - Jessica Brown and Robert Wilson
Each week TRN shines the spotlight on a boy and girl player randomly selected from our class ranking lists. Beyond match scores and tournament results, the players reveal more about their interests and personalities. Check out our first installment - featuring seniors Jessica Brown (Midland, Mich.) and Robert Wilson (Sugar Land, Texas).