Recruiting Feature
2014 Top NCAA Division III Women's Classes
by TennisRecruiting.net, 20 June 2014
Over the past few weeks, the Tennis Recruiting Network and Solfire have been publishing rankings of recruiting classes. Today, we conclude our series with a look at the D-III women's programs.
Top 25 NCAA D-III Women's Recruiting Classes (through May 30)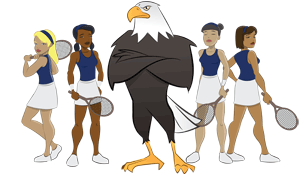 TennisRecruiting.net is excited to present the Top 25 NCAA Division III Women's Recruiting Classes for 2014. This list is based on commitments reported on or before May 20, 2014.
As always, we enlisted the help of a number of NCAA Division III enthusiasts, insiders and coaches to aid in the rankings. Our panelists did not consider incoming transfer students in their voting - and they also did not consider players that started college this past January.
But enough boilerplate... It is time to take your first look at our Top 25, presented by Solfire...
Also Receiving Consideration
A team of Division III college coaches reviewed the resumes of 50 top D-III recruiting classes to come up with these rankings. Other recruiting classes put forward by the insiders that almost made our list are (alphabetically) as follows: Babson, Denison, DePauw, Kenyon, Linfield, Mary Washington, Millsaps, Nichols, Whitman, and UW-La Crosse.
Proud Eagles
It would be hard to imagine a better year than 2014 for the Emory Eagles. Where should we start? How about the fact that they won the 2014 NCAA Division III National Championship last month in Claremont, Calif., and they did so in convincing fasion. Emory only lost three points in their five tournament matches, defeating the Amherst Lord Jeffs 5-1 in the final. It was Emory's first national title in women's tennis since 2006 - and their sixth overall.
But that's not all - not by a longshot. Emory finished the season with 28 wins - a program record, going undefeated against D-III competition. Senior Gabrielle Clark won the NCAA Singles Championship with a 6-2, 6-1 win over Amherst's Jordan Brewer, the second NCAA singles title of her career. Clark also teamed with Michelle Satterfield to reach the semifinals in the doubles competition. And last but not least, head coach Amy Bryant was named CaptainU D-III National Coach of the Year.
If you look over our Division III recruiting class rankings, those results might not be so surprising. Coach Bryant has pulled in Top-4 classes every year since 2010 - including the top-ranked class in 2013.
The strong recruiting continues in 2014. For the second straight year, the Emory Eagles have the brought in the No. 1 class in Division III tennis. Julie Fowler, Anna Fuhr, Bridget Harding, and Anita Safronenka make up an impressive four-woman class who caught the attention of our panel. Fowler, Fuhr, and Harding are all 4-Star recruits from across the Eastern Seaboard who have posted big wins in their respective sections. Safronenka is an international player from Belarus who scored victories in both the Eddie Herr and Orange Bowl this year.
The future has never looked brighter for the Eagles. While they lose all-everything Gabrielle Clark to graduation, all the other regular starters return to Atlanta next year. Mix in the top-ranked recruiting class in the country, and you have a recipe for prolonged future success.
Power Five
Another recruiting class that received considerable support from our panel was Williams College. Like the Eagles, the Ephs have three 4-Star recruits of their own in Mia Gancayco, Giulia McDonnellNietoDelRio, and Julia Cancio. Their class also features Juli Raventos from Costa Rica. Combining these new recruits with a strong returning veteran lineup that reached the Final Four this season could give the Ephs a chance to make some noise in 2013.
Rounding out the Top 5 are the Wesleyan Cardinals (No. 3), Pomona-Pitzer Sagehens (4), and Johns Hopkins Blue Jays (5).
Conference Call
As usual, schools from the University Athletic Association and New England Small College Athletic Conference dominate our rankings. Twelve of the 25 programs in our rankings are from these two conferences.
Six of the eight UAA programs made our list, including four Top 10 programs. In addition to No. 1 Emory, the UAA is represented by Carnegie Mellon (No. 6), Chicago (7), Case Western (10), Washington University (13), and Brandeis (22).
The NESCAC has six ranked classes of its own, including two of the Top 3: Williams (No. 2), Wesleyan (3), Tufts (11), Bowdoin (17), Connecticut (23), and Amherst (25).
Three other conferences had multiple teams in the rankings: NEWMAC, SCIAC, and the Liberty League each have two ranked recruiting classes.
New Arrivals
Three of the 25 programs in our rankings are making their first-ever appearances: Wesleyan (No. 3), Christopher Newport (15), and Connecticut (23).
At the other extreme, eight of the 25 programs have appeared in all five of our annual D-III recruiting class rankings.
Recruiting Class Wrap
This article concludes our spring series of recruiting class rankings. Check out all of our lists:
Leave a Comment
More Recruiting Class Rankings
6-Feb-2023
Top Women's Classes - 2023 Winter Rankings
The size of our commitment list is pushing 500 for the senior girls. With that in mind, today is a great time to check in on how schools are doing on the recruiting trail. Today, the Tennis Recruiting Network is proud to announce the Top 25 Women's Recruiting Classes for 2023.
30-Jan-2023
Top Men's Classes - 2023 Winter Rankings
As January comes to a close and the spring semester gets into full swing, today is a great time to take a look at the top college tennis recruiting classes. TRN is excited to present its 2023 Men's Recruiting Class Rankings - including the Top Dawgs ...
24-Jun-2022
2022 Top NCAA D-III Women's Classes
TRN wraps up three weeks of recruiting class rankings with a look at Division III. Our final list of the season shows the Top 25 NCAA Division III recruiting classes.