National Roundup
Welcome, Class of 2020!
by Dallas Oliver, 2 September 2013
Happy Labor Day! The unofficial end of summer marks the official beginning of another year at the Tennis Recruiting Network.
This week - the first full week of September - we are excited to welcome the Class of 2020 to the website. This week's rankings are the first official listings for the newly-minted sixth graders:
This article takes a brief glance at some of the top youngsters in the Class of 2020. These kids have already achieved strong results in junior tennis.
Adam Neff (Bradenton, Fla.)
When the first official Class Rankings List for sixth graders are released tomorrow, it's a pretty safe bet that Adam Neff will be at the top of the list. Neff, who turned 12 over the summer, has compiled a 73-21 record over the past year playing mainly in the 14s division. His last outing in the 12s came back in April when he won a gold ball at the USTA Spring Nationals in Delray Beach, Fla., with seven straight-set wins. And his overall total of 73 victories include 28 wins over older kids who are Blue Chip or Five-Star athletes.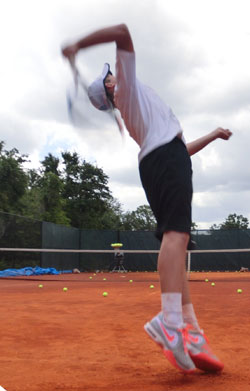 Neff is the son of Dr. Ann Neff and Dr. Guy Neff. His parents recall how their son - who enjoyed sports from a young age - got started with tennis.
"Adam started out with soccer and baseball," said his father. "He actually started playing tennis when he was six to help with his baseball skills. But he fell in love with the game, and so he got serious about tennis."
Neff trains at a state-of-the-art tennis facility in his backyard with his development coach, Lance Luciani, and his sparring partner, coach Emily Mowery, both from Luciani Player Development. He also works on his fitness with Doru Muriau of the Tennis Players Fitness Institute.
Neff has worked with Luciani for the past four years.
"Adam plays a game that is fun to watch," said Luciani. "He has always picked things up quickly, and he has learned my system very well. He has no plateau that I can see."
His performance on the court earned him an invitation to Paris during the French Open for the Longines Future Tennis Aces program, where he was the lone representative from the United States.
The 5'9" right-hander is excited about embracing the challenges of competing against older opponents, and he is working hard to get stronger.
"He is working on his movement," said hs father. "He is also adapting to higher speeds playing older players."
Coach Luciani also sees Neff getting tougher mentally.
"Decision making is an area where Adam is improving," said Luciani. "Currently our six month plan calls for more touch so we can compete with the European players on red clay a little better."
Neff has two younger siblings: Katie (10) who also plays tennis, and a five-year-old sister who will start tennis soon.
Neff's parents are understandably proud of their son, and they admire his spirit.
"Adam has a true belief that he will succeed," said his father. "He trusts his support team and his training team."
Sophia Edwards (Sarasota, Fla.)
We stay in Florida to take a look at the girl who will likely be No. 1 on the Class Rankings List for sixth graders: Sophia Edwards.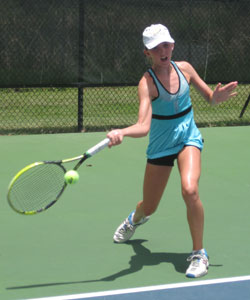 Edwards, who turned 12 this summer, has spent the bulk of the past year competing primarily in the 14s division. Her two most recent matches in the 12s division were strong showings at national championship events - she won a bronze ball in singles and a gold ball in doubles at the
USTA Winter Nationals
, and she earned a silver ball in singles at the
USTA Spring Nationals
. Her 58-37 record includes dozens of wins in sectional and designated tournaments across the Sunshine State, and she has posted 21 victories over Blue Chip and 5-Star athletes in older classes.
Most recently, Edwards helped the United States to a perfect 5-0 record and first-place finish at La Coupe Le Blanc competition in Québec.
Sophia Edwards, more commonly known as Sophie or "SoHo" - which is short for Sophia Hope - is the daughter of Ted "Marney" Edwards and Caroline Edwards. Edwards was born in Scottsdale, Ariz., where the family stayed until she was seven years old.
It was Arizona where Edwards picked up her first racket.
"She got her start in a tots clinic at a club in Arizona," said Caroline Edwards. "The coaches spread hula hoops around the court with one child standing in hula hoop to prevent the little kids from hitting each other. The coaches would use Frisbees, bean bags, and beach balls to teach the fundamentals of various tennis shots."
Soon thereafter the Edwards family moved to Sarasota, Fla., where they still reside today.
The 5'3" right-hander trains at United Tennis Academy in nearby Bradenton, Fla., with her coach, Jeff Russell.
"Sophie is an aggressive all-court player," said her mother. "She is working [with her coach] on improving her serve and her forehand."
Edwards has always been a high-energy girl, and she has embraced many activities over the years.
"Sophie played a wide variety of sports when we lived in Arizona," said her mother. "She had years of swim meets, dance recitals, and ice skating shows. She also did gymnastics, golf, basketball, and soccer. I would take her from one activity to the next, just trying to wear her out! (Laughs)"
Despite the busy schedule and online schooling, Edwards' parents makes sure their daughter stays grounded and has fun.
"Sophie attended traditional schools through the first semester of second grade, and then we decided to try virtual online school," said her mother. "She is a disciplined, hard-working, and gifted student. I enjoy being Sophie's "learning coach," but Sophie knows that she can always choose to attend a traditional school like her sister, Camille. Camille is a year younger than Sophie, so whether Sophie is at tennis or at home, she always has someone around who is close in age. She and Camille love spending time with friends on the weekends at the beach, movies, sleepovers, or just swimming in the pool."
Faris and Zane Khan (New Braunfels, Texas)
Elite tennis players are always looking for good sparring partners. Finding opponents with the same level of talent and dedication can be challenging. But that challenge gets much easier when you have a twin.
Faris
and
Zane Khan
of New Braunfels, Texas, are both expected to be Top 5 nationally when the first Class Rankings for sixth graders are published tomorrow. The brothers got started in tennis when their uncle, former
UTSA
player Shariq Khan, took them to play at the tender age of four.
"Shariq took the boys to the courts a couple of times a week just to have fun," said their mother, Farah Khan. "The kids started getting really good, and he began spending more and more time with them. He's been their full-time coach since they were four."
A couple of years ago, the Khan family decided that the boys needed to be in more of a tennis environment to continue to improve. The family decided to try out nearby John Newcombe Tennis Academy, and the boys loved what it had to offer. The boys now attend the academy, and their uncle has moved there as well - helping out at the academy while still focusing mainly on his nephews.
The development plan has worked out great so far for the 5'1" righthanders. The brothers posted 22 singles victories between them in the most recent USTA Winter Nationals, Clay Court Nationals, and Hardcourt Nationals. Faris won the silver consolation event at the Boys' 12 Nationals - including a walkover win over his brother in the semifinals.
The boys obviously bring a lot to the table, but they are different players.
"Zane probably hits the heaviest ball for his age that I've ever seen," says his coach. "He's got a huge forehand, and he is lightening quick - which gives him the ability to play incredible defense. Mentally, he is very strong and rarely ever gives up on a point.
"Faris has excellent feel," continues their coach. "He has a lot of shots in the bag. At the academy the other kids and staff have nicknamed him Gandalf [the Wizard] because of the shots he comes up with at times. He hits a pretty heavy ball as well, likes to come in, and uses the drop shot really well."
Their mother agrees that they are different kinds of tennis players - with very different personalities.
"I would say they are more different then similar! (Laughs) We can definitely say Faris is the more social one, where as Zane is always more business-minded. Faris is always hanging out with his friends and going to parties. Zane on the other hand limits himself to how much he socializes. Any free time he gets, he is always trying to work on improving his game. The similarity between them may be a bit far-fetched, but they both aspire to be the best in the world."
The boys have each other to help keep them grounded, and they also have a mother who watches them closely.
"The boys have learned how to manage their time with everything else. On the weekends they go to movies, parties with friends, and just do regular kid things."
Whitney Osuigwe (Bradenton, Fla.)
When your father is a tennis coach at IMG Academy, there is a good chance that you will at least give tennis a try. Such was the case for Whitney Osuigwe, who first picked up a tennis racquet at age 3.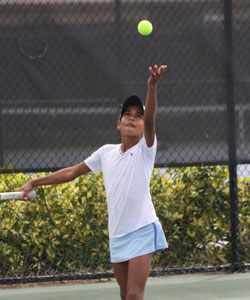 "Whitney saw her father teaching players at the Academy," said her mother, Jessica Osuigwe. "She thought it looked fun, and so he took her to play to see if she would like it."
She did.
Fast forward to today, where the 11-year-old Osuigwe has posted a 72-24 record over the past year, including 21 wins over girls from older classes. She has performed extremely well on the big stage, winning bronze balls in the 12s division at both the USTA Spring Nationals and Clay Courts and reaching the quarterfinals of the USTA Girls 12 Nationals.
That is the kind of performance that should be good enough to put Osuigwe towards the top of the sixth-grade list when it comes out on Wednesday.
Her father, Desmond Osuigwe, is proud and excited to work with her.
"I've been coaching her for her entire life, and it has been a lot of fun. Whitney has a strong forehand and great mobility on the court. She just turned eleven this past spring, so I am excited to watch her continue to mature on the court.
"Right now we are working on her serve, on ball recognition, and on consistencty."
The Bradenton native stands at only 4'8" tall, but she is tenacious on the court and in the classroom.
"Whitney is an aggressive baseliner," said her mother. "She competes hard on and off the court. She does extremely well academically - she is determined."
The family feels fortunate that Osuigwe is able to take advantage of all the amenities at IMG - academic as well as athletic.
"Whitney is blessed to be able to attend school at IMG Academy, so they help to keep that part balanced," said her mother. "On the days that she is not competing, we try to spend as much time with family and friends as possible."
Starting this week, and for the next 366 weeks, the Tennis Recruiting Network will provide rankings for the Class of 2020. Please join me in welcoming our newest players to TennisRecruiting.net!
Leave a Comment
More Roundup Articles
19-Oct-2017
Hot 100 List - October '17
Today we announce the October edition of the Hot 100. The Hot 100 features 100 boys and 100 girls who have been playing outstanding tennis. These players have substantially improved their rankings over the past month.
17-Oct-2017
Countdown: Family Matters To Ohio State-Bound Allen
Family support has helped Kolie Allen develop into a blue-chip recruit worthy of receiving multiple Division I offers. The Illinois native has committed to play at Ohio State, the first school she visited during the recruiting process.
16-Oct-2017
Countdown: Blue Chip Boys
With Signing Week just a few weeks away, the future of many college tennis programs is about to get a whole lot clearer. We have made every effort to contact the Blue Chip boys in the Class of 2018 about where they are in the recruiting process. Today we take a look at where things stand ...