National Roundup
Tennis Recruiting Welcomes the Class of 2021
by Dallas Oliver, 1 September 2014
Labor Day is the unofficial end of summer. School starts back up, and there are new sixth-graders walking the halls. This week's rankings at the Tennis Recruiting Network are the first of the 2014-15 season - and they also mark the arrival of the Class of 2021.
The calendar at TennisRecruiting.net runs from September 1 through August 31. We calculated the final rankings for the outgoing seniors last week, and we bade farewell to the Class of 2014.
This week, the first week of September, we welcome the new sixth graders from the Class of 2021. Tuesday and Wednesday's rankings are the first official lists for the 2021 boys and girls, respectively:
This article takes a brief glance at some of the top youngsters in the Class of 2021. These kids have performed quite well in the 12s division - as well as the 14s and 16s.
Zachary Svajda (San Diego, Calif.)
When it comes to the tennis court, Zachary Svajda has never been one to wait. He got his first racquet when he was two years old, and he asked his parents to hit with him every day. When he learned to rally - at age three - he never wanted to put his racquet down.
"Zach realized that the better he got, the more people wanted to play with him," said his father, Thomas Svajda.
A gifted athlete, the younger Svajda played many sports as a young boy, and the two he enjoyed most were tennis and baseball. But as he kept improving on the tennis courts, the older, higher-ranked players asked him to hit, Svajda asked if he could quit baseball and just play tennis.
"Even though baseball was easier for him, he zoned in on tennis after he realized the outcome in team sports was not always up to him," said his father, who is a tennis coach at Steve Adamson Tennis Academy. "He wanted the full responsibility for the outcome. As parents, we did not want him to specialize at age seven, but we always agreed that sports would be his decision."
The eleven-year-old right-hander's tendency to seek out older competition has continued now that he has moved to USTA tournaments. Ten of the eleven tournaments Svajda played over the past year were in the 14s or 16s division. The lone 12-and-under tournament Svajda played was a USTA Regional Tournament in Las Vegas - a tournament Svajda won when he was still just 10.
"Zach has never lost to anyone his birth age or younger - which he is proud of because he knows that changes as he gets older," said his father. "He doesn't play many tournaments because he knows when he does he will always be fresh and not burned out. He doesn't care about his Sectional or National USTA ranking. In the USTA Regional he won last year, he only lost nine games in the whole tournament. He has never played his age group for more than one year."
Svajda has had a great deal of success against older kids. He has posted six wins over over older opponents rated 4-Stars or higher, including three wins over 5-Star opponents and victories over opponents three years ahead of him in school.
Svajda has learned a lot from competing against older kids.
"Since all of his hitting partners are so much older, he is working on defending a little more and picking the right time to move forward," said his father. "The main focus is always taking time away from the opponent and not to lose focus because of the lead.
"Zach is an extremely aggressive baseliner with really good hands. He hits really hard and takes the ball extremely early off both sides. He is looking to take the big first cut to take time away from his opponents. His quick hands has helped him win 14-and-under designated doubles tournaments at ages ten and eleven."
Svajda is the son of Thomas and Anita Svajda. He also has a younger brother, Trevor, who enjoys the game.
"I hit everyday with my eight-year-old brother Trevor - sometimes twice a day," says Svajda. We also play some doubles tournaments together, and we have only lost one tournament."
Nina Gulbransen (Boca Raton, Fla.)
When the first Babolat Class Rankings List for sixth graders is released on Wednesday, the name at the top of the heap is likely to be Nina Gulbransen.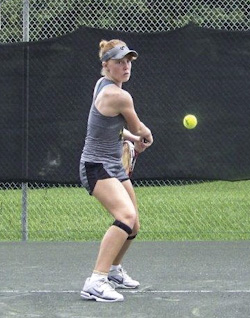 A quick look at her record shows that she belongs there. Over the past year, Gulbransen posted a eye-catching 66-11 record that includes five wins over Blue Chip seventh graders. With that record, it is not surprising that she won seven titles, was runner-up three times, and placed third twice in her 17 tournaments. Highlights include gold and bronze balls for doubles and singles in July's
USTA Clay Courts
, reaching the finals of the
Florida Designated
in the 14s division, and reaching the quarterfinals of the prestigious
Easter Bowl
.
Gulbransen, who plays a big game with her 5'8" frame, has had the advantage of an older sister to chase.
"I started playing because my sister [Anastacia Gulbransen] was playing tennis," said the younger Gulbransen. Ana, which is a nick name for Anastacia, is three years older than me. We are the best friends and it was very natural for me to start playing tennis. I was always watching her playing matches and practicing, so I learned a lot even before I really started playing.
"When I was seven, my family moved from Colorado to Bradenton, Fla., to further advance Ana's tennis skills. That's where I started taking formal tennis lessons. In 2011 we moved to Boca Raton, Fla., where we live now."
The Gulbransens are a tennis family, and their parents, David Parkin and Maria Gulbransen Parkin, are very involved in their development.
"Nina is practicing mostly at home with her Dad and her sister - working on the court on different aspects of the game," said her mother. "I spend some time coordinating the work - pointing important areas that need particular focus at any particular time."
Gulbransen also works with several high performance coaches, notably Richard Ashby, USTAPD Lead National Coach, as well as Max Fomin.
Gulbransen turned twelve less than a month ago, but she already towers over her peers at 5'8". She uses her size to her advantage with an aggressive and powerful game.
"Her game was always very aggressive, mostly because of her size - she has always been much bigger and stronger than her peers," said her father. "She has also wanted to prove to her big sister that she can play against her on even terms."
Gulbransen had a great start with tournament tennis, and she has continuosuly advanced her career.
"Six months after she started practicing, Nina entered her first 'Rookie' tournament and got to the final," said her father. "Shortly after she turned eight, she won her first Level 7 tournament in the 12s - it happened at Crandon Park in Key Biscayne, where the prestigious Miami Sony Open tournament is played. Nina has very special feelings toward that place - she hopes to some day play in the Sony Open!"
Despite all the tennis, Gulbransen and her sister seem to have achieved a good balance.
"Nina loves to make breakfast for the family, bake some cookies or even cook dinner," said her mother. "She is active at the Youth group at our church, where Nina and Ana made a lot of friends. She also loves to read, studies French, and would like to learn Norsk, the language of her ancestors."
Throughout it all, her parents are proud of their daughter's accomplishments.
"Nina is tall and strong. She really loves to play tennis. She gets up early to be on the court. She really believes in herself - and it's truly fun to watch her play."
Noah Gampel (Calabasas, Calif.)
Another rising sixth-grader who got an early jump on the game is Noah Gampel of Southern California, who first started hitting a ball at a very young age.
"He picked up a racquet and instantly fell in love with hitting the ball when he was just three-and-a-half years old," said his mother, Irene Gampel. "We tried to put him into lots of other sports - swimming, soccer, basketball - but he kept wanting to play tennis."
Gampel's love of playing continues today, and he has quite the résumé for an 11-year-old. He has competed in 23 high-level tournaments over the past year, posting a 70-22 record over that time. And while the bulk of his competition has come in his home state of California, he has competed in seven other states - mostly national-level events.
In addition to a number of tournament titles, Gampel posted eight wins in two national championship events - the USTA Clay Court Nationals in Winston-Salem, where he reached the quarterfinals, and the Spring Nationals in Indian Wells. He also placed third at the Southern California Sectionals in June.
The California native has achieved these results with an aggressive style of play where he dictates play.
"Noah is very attack-oriented in his game - very aggressive," said his father, Yury Gampel. "Sometimes he suffers from a lack of patience, but that is natural for someone his age, and we are working on it."
Gampel has been working on all aspects of his game under the direction of a number of well-known coaches.
"My husband has always been instrumental in Noah's development," said mother Irene. "He is very athletic - and he trains Noah all the time. He is always coordinating to find top coaches and players to train with. Some of Noah's coaches included Vince Spadea, Federico Browne, Rafael Font De Moro, and currently Ron Hightower."
In addition to honing his tennis skills and tactics, Gampel's coaches are working with him on patience, mental fortitude, and playing percentage tennis.
Tennis is a demanding game, but his parents see to it that he has down time, and his large family helps keep him grounded.
"Noah attends a private academic academy, which accommodates to his training and travel schedule," said his mother. "He has three sisters, and they hang out all the time. We also try to get other tennis kids to get together with him - as they understand the time and work commitment this sport requires."
The Gampels are understandably proud of their son, and they admire his work ethic.
"He truly sees himself being number one in the world someday. He's diligent about what he needs to do daily to get there. He gets up every morning by himself at 5:30am. He trains four hours each day - with another hour of fitness."
Gabriella Price (Montebello, N.Y.)
Not many girls have had the success on the tennis court that Gabriella Price has had in 2014.
In the last four national championship tournaments, Price has posted 18 singles victories - reaching the quarterfinals at both the
Spring Nationals
and
Hardcourts
- and barely missing out on a bronze ball at
Winter Nationals
. Price is quite the accomplished doubles player, too - winning a gold ball with Gulbransen at the
Clay Court Nationals
in July.
"Gabriella has an all court game now and plays very aggressively," says her father, Marc Price. The elder Price serves as Gabriella's coach when she is at home in New York. Price is also coached by Rick Macci at his Rick Macci Tennis Academy.
"Gabriella splits time between New York and Florida - depending on her training schedule," says her mother, Michelle Price. "Gabby has worked with Coach Macci since the age of four."
Like many other top young players, the 4'10" right-hander got an early start to the game - thanks to her father, who was a college tennis player.
"She trained with her dad in New York five days per week and just loved to play all the time," said her mother. "She loves to play other people - especially older ones - and beat them."
The entire Price family plays tennis. Her younger brothers, Jadon and Shane, who are eight and six years old, respectively, are improving rapidly and play with their father.
"I have picked it up, too," says her mother. "All the kids play - I felt like I needed to learn, too."
Despite traveling for training and so many tournaments, the Price family ensures that Gabriella has time away from tennis.
"Gab is very good at balancing her academics, sports and social life," says her mother. "She has specific times for tennis and school daily, so there is a routine. Gab has a very good social life. She goes to the beach with friends, frequently, swims, has sleepovers with friends when there are no tournaments, and she loves the movies."
With so much going for her, the sky is the limit for Price. And she is enjoying the ride.
"Gabriella is a great, well-balanced kid with tremendous passion. She puts her heart into tennis and has unlimited energy and drive. Tennis is a big part of her life and teaches her life lessons daily. She is always getting better and is a very driven child. She will train to the max daily to achieve her personal tennis goals."
Starting this week, and for the next 366 weeks, the Tennis Recruiting Network will provide rankings for the Class of 2021. Please join me in welcoming our newest players to TennisRecruiting.net!
Leave a Comment
More Roundup Articles
23-Apr-2021
Hot 100 List - April 2021
It's time to unveil the April 2021 edition of the Hot 100. The Lotto Hot 100 features 100 boys and 100 girls who have been playing outstanding tennis. These players have substantially improved their rankings over the past month.
17-Mar-2021
Hot 100 List - March 2021
It's time to unveil the March 2021 edition of the Hot 100. The Lotto Hot 100 features 100 boys and 100 girls who have been playing outstanding tennis. These players have substantially improved their rankings over the past month.
17-Feb-2021
Hot 100 List - February 2021
It's time to unveil the February 2021 edition of the Hot 100. The Lotto Hot 100 features 100 boys and 100 girls who have been playing outstanding tennis. These players have substantially improved their rankings over the past month.