Special Feature
Why Tennis is the Overall Best Sport
by George Edwards, 5 July 2015
Tennis is one of the most unique sports. It has been played since the 19th century and has evolved dramatically since playing with bare hands and wooden racquets! As simple as the game may seem, with a simple court layout and fundamental rules, it is in fact one the most complex sports. It is one of the few sports that thoroughly blends the mental and physical aspects, which are both equally integral to the sport. It is also one of the few sports that can be played at a high level throughout the entire course of a person's life. Tennis is the best sport to pick up during youth, and it comes with many benefits throughout life which can take a person to great places and yield epic experiences.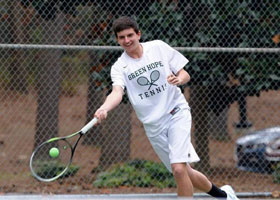 Tennis is often an overlooked sport. It isn't thought of as very physically challenging. In fact, tennis ranks 7th out of all sports as the overall most challenging. An average tennis match lasts around 2.5 hours - although the longest match ever recorded was 11 hours and spanned over three days! It requires an unreal amount of hand-eye coordination and a high level of skill and precision. Roger Federer is known for his exquisite touch and finesse.
Tennis requires both anaerobic and aerobic strength. You have to be able to sprint quickly to chase down shots - but also be able to grind out long points and last many hours. As light as a tennis racquet may seem, swinging it hard for a long duration of time becomes quite tiresome.
Tennis can be played in many different conditions. High winds, scorching heat, freezing cold, drizzling rain, and even clay or grass courts add to the adversity imposed by tennis on the players. There is always a new challenge to overcome, which adds to the fun of the sport.
Tennis is as much a mental game as it is a physical game. Most people will admit that tennis can become quite frustrating. It takes a high level of skill and lots of practice. Tennis often becomes very personal between opponents. Rivalries form quickly and can become bitter.
Since tennis is a one-on-one sport (except for doubles) and is very independent (no coaching allowed), it is very tough mentally. You are all alone for the entire time and have to figure out strategy and adjustments for yourself.
Lots of arguing can occur between opponents. It often becomes very dramatic. There are also cheating accusations, since integrity is a big part of the sport. Everyone has to make their own honest line calls and stay true to the score.
Edwards has a deep respect for the sport
Sometimes people have a good day and other times a bad day. Comebacks are also common. The sport never seems to get old, and is the opposite of repetitive sports such as bowling.
I have now played tennis for seven years and can confidently say that my favorite part has been competing in tournaments. I always seem to play my best tennis when in a serious competition. It's really fun to develop your ranking and play a variety of players. It's also fun to travel to new places and different tennis facilities.
You can also play tennis on a team such as a USTA Junior Tennis Team (JTT). Being part of a team can be a life-changing experience. Even though you are actually playing the sport alone, having your team cheering you on feels more at home. It's amazing how much having your teammates behind you helps your game.
You can also play on your high school tennis team, as I have done for the past three years. You earn a varsity letter and compete against different schools from all around the state. You may even travel out of state and play national tournaments.
Tennis also opens college opportunities. Colleges recruit high school players, and you can receive scholarship money to play tennis, which is a great opportunity. College tennis is very competitive. There are many levels of tennis, including NCAA Division I, II, and III, NAIA, and community colleges. Companies love to hire employees that have played college tennis. They view tennis players as more disciplined and independent than the average student. It is very tough to play college tennis, but if you are good enough, it is well worth it.
Tennis seems to spread like wildfire. My mom had a friend whose son played tennis and soon became involved. Once I started playing, my mom eventually joined a few tennis teams. There are tournaments available to kids as young as age eight, to as old as age 60+. This is truly a lifelong sport. It's a great way to make new friends and stay socially active.
The coaching aspect is also very rewarding in tennis. Coaching other kids to get better at tennis and to encourage them to take their games to the next level is very rewarding. Helping others actually reinforces techniques for yourself, and therefore also makes you better. Tennis is a sport where you can analyze yourself and make corrections very well.
Tennis truly is a huge commitment if you want to be first-class. There is so much preparation in order to stay healthy and in shape. It's one of those sports where you have to train to play the sport itself. You have to stretch often to stay flexible and prevent injury, condition to get stronger and gain endurance, and drink plenty of fluids to stay hydrated. There is also a vast amount of equipment you need such as racquets and shoes and apparel.
There is more to tennis than just developing a ranking and trying to become a professional. Rarely does anyone who plays tennis make it to the professional level. The purpose of all sports is to teach something greater.
Sports like tennis instill discipline. Tennis aids you in developing a strict routine and forces you to be a responsible person. Tennis makes you strive for perfection. It forces you to focus and get in the zone. Fighting for points increases your intensity and adrenaline. It helps you to perform well under pressure. It tests your integrity. It teaches you how to take tough losses and to close out matches for the win.
Nothing comes easy in tennis. You have to be dialed in for the entire match, because every point matters. It gives you the "never give up" mentality. It can be grueling and tedious at times, but this teaches you how to be patient and wait for the right moments to make a move. The strategy makes it a high-level thinking sport, and it is very instinctive at times. Sometimes when you have little time to react, you have to hit a reflex shot. You have to anticipate what your opponent will do next and try to stay "one move ahead". You have to be clever and crafty. Trickery is a vital part of the game. You have to control your emotions on the court and stay calm. These are all very valuable life lessons that should be taught at a young age. Playing tennis during youth can accomplish this task.
Tennis is ubiquitous. It can relate to almost any situation. It is a sport that involves skills from all parts of life. It improves your mental, physical, and emotional health. It can open up doors for you that are otherwise inaccessible. You can enjoy the game your entire life and pass it on to others. So my advice to you is, pick up tennis and be an advocate for future generations. I started at age nine and wish I had started earlier. It is never too late to start.
George Edwards is a 16-year-old rising senior at Green Hope High School in Cary, N.C. He plays on the Green Hope High School varsity tennis team. He was a finalist of the individual SWAC conference singles as a sophomore and state doubles semi-finalist as a junior year with partner Louis Rico. Edwards also plays USTA tournaments and has been ranked in the Top 25 in North Carolina for many years.
Leave a Comment
More Tournament Features
8-Dec-2023
Pacheco Mendez and Sonobe Claim Eddie Herr ITF Titles
Rodrigo Pacheco Mendez of Mexico ended his junior career on a high note, while Japan's Wakana Sonobe can look forward to building on her success after the two left-handers claimed ITF J300 Eddie Herr International titles Sunday at the IMG Academy.
7-Dec-2023
Penickova and Antonius Make History at Eddie Herr
Kristina Penickova and Michael Antonius are just getting started in their junior tennis careers, but they are already on a short list of players who have won two Eddie Herr singles championships after securing titles last week at the IMG Academy.
29-Nov-2023
Thanksgiving Champions Crowned at USTA National Indoors
Some of the top junior players in the country took to the courts during the Thanksgiving holiday weekend to contend for titles at the USTA National Indoor Championships. Singles and doubles winners in four divisions were crowned in boys and girls.