Recruiting 101
Check Out a College Recruiting Showcase
by Eric Parker, 25 May 2016
Want a leg up on your high school tennis colleagues looking to compete at the collegiate level? Try a college-recruiting tennis showcase.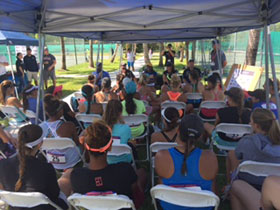 Players attend a Q&A session at an exposure showcase
© Eric Parker
If you're in a hurry or are overwhelmed by an unforgiving tournament schedule, a showcase is just the ticket. Usually no longer than two days, these events give players quick exposure to dozens of college coaches on site in a tournament-like environment. Cost for the events can range from $175 to $500 or more, but organizers argue there's plenty of bang for your buck. Some offer early registration discounts.
Players start attending showcases as early as their freshman year in high school, but most are sophomores, juniors, seniors and even junior college transfers.
"There's been such an influx in the last few years of these kinds of events," said Tim Donovan, who founded Donovan Tennis Strategies and started his first showcase 16 years ago. "I think the reason it's been so popular for us is the ease for players and coaches."
NCAA coaches from division I, II and III routinely attend the showcases, along with NAIA representatives. Showcases usually provide players with a list of coaches and schools that will be in attendance.
Will Riley, new head coach at Coppin State in Baltimore, Md. (and longtime head coach at Division II Stillman College in Tuscaloosa, Ala.) said such events help "save on travel" because he can get a long look at prospective recruits without the cost of international travel or numerous trips to national tournaments.
But there can be drawbacks.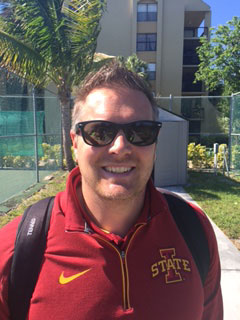 Donovan said the toughest part of running these events is having to turn away some players. During a recent showcase, DTS had 200 male applicants for 80 spots. On the girls' side, there were 140 applicants for 80 positions, Donovan said. Preference is given to the sponsoring company's consulting clients and then generally by TRN or UTR ratings. Geography and academic standing may also be a factor.
For DTS, a summer college exposure tournament (cost is $500, but discounts are available) is held for those who attended the showcase and others if room is available. The event draws coaches from across the country.
Univeristy Sports Program, Donovan, ImRecruitable, the John Newcombe Tennis Ranch, the USTA and the Intercollegiate Tennis Association are among other companies and organizations that put on showcases throughout the country during the year.
Anatomy of a Showcase
On May 5-6, a college exposure showcase was held in Delray Beach, Fla., and offered players and coaches a bit of everything: It was part tournament-style competition, part NFL combine, part chalk talk, and it kept the 71 prospective students (74 registered) and 25 college coaches (37 registered) engaged throughout the event.
The University Sports Showcase included a new twist: a combine that tested and rated speed, agility and jumping ability - more analytics for coaches to factor into their player profiles.
"I think for the girls, that's the first time I've seen that," said Autumn Williams, coach of
Texas A&M Kingsville
, an NCAA Division II school competing in the Lonestar Conference. "If you can see the athleticism of these girls, that would factor in (the scholarship decision)."
Some coaches made a quick trip, staying just one day before rushing back for conference tournaments and NCAA preparations.
What else was offered?
There was live video-streaming, individual player video, private meetings with college coaches, vendors promoting the latest tennis apps and a recruiting forum where a panel of coaches answered recruiting questions. There was also a special evaluation done by staffers showing players where they likely could attend, talent-wise, at colleges across the country. The list of 20 colleges per student included email addresses for coaches at the recommended schools.
For players like Grace Goble, a 2-star (and former 3-star) junior from Rapid City, S.D., the event offered up-close exposure to college coaches. Such opportunity is rare where she lives, about a 9-hour drive from her closest national tournaments in Minnesota.
"When you can look a coach right in the eye and say what you're looking for, that's valuable," said Grace's father, Jeff.
Marlane Ormesher, of Toronto, agreed. Her daughter, Samantha, 15, trains at a Florida academy. "This is just for her to get comfortable in that environment," Ormesher said.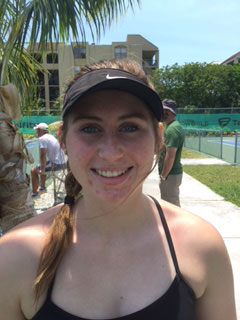 Grace Goble
and her father valued the opportunity to interact with so many coaches
© Eric Parker
Meanwhile, coaches were buzzing around the complex burning up phones and studying recruits. Some were trying to fill their fall 2016 rosters while others were looking to 2017 and beyond.
A large contingent of foreign players joined some U.S. hopefuls trying to land interest from the coaches.
"It's a good opportunity for a first look at some of these kids," said Brad Adams, director of tennis at Villanova University. "It's a live introduction rather than a DVD."
Iowa State Associate Women's Head Coach Chris Williams said there's opportunity for both player and coach in such showcases. "It's getting more exposure to the kids who haven't had it before," said Williams.
And Sean Cooper, an assistant men's coach at Florida A&M, was looking to 2017 with his eye on a couple of top recruits with the "it factor." He was looking at styles, focus and intensity or "hunger" to see if potential recruits could be the right fit.
Lyndsay Shosho, assistant women's coach at Georgia State, was looking to lock up a last recruit for this fall. She said the team withheld its last scholarship until coaches could thoroughly vet potential recruits. An offer was made following the visit, according to Oscar Miranda, one of the event's organizers.
Overall, the showcase mission is a simple one.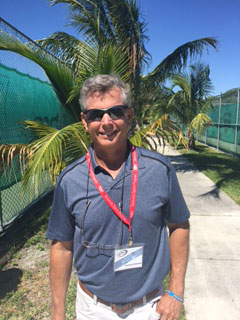 "The main thing is you give players a chance to be exposed to coaches," said Thomas Anderson, founder of the University Sports Program (USP), which has been running these types of events for the last 12 years. USP holds a more heavily attended showcase in the spring.
Got Time? Go Camping
If you're looking for more than a quick hit, try a college exposure tennis camp. A more lengthy alternative to showcases, Ed Krass' camps offer high school players aged 15-18 (with a highly regarded 14-year old occasionally admitted) the opportunity to train exclusively with college coaches while helping players transition from junior tennis to college.
Costs can range from several hundred dollars for shorter camps to more than $1,500 for a 5-day camp. Early registration discounts often are available at both camps and showcases can provide you with a list of college coaches who plan to attend.
Krass, a former Harvard head women's coach who also founded One-on-One Doubles, said the events are tailor-made for 9th-and-10th graders, but open to all juniors from 1-stars to 5-stars.
"It's kind of gained a lot of notoriety and good reputation," said Krass. Coaches get to see the kids work ethic ... coachability ... personality."
Whether the immediacy and urgency of a showcase is the best fit, or a longer, more instructional college exposure camp is better, there are plenty of summer options for players and their parents. The best way to find the right fit? Make some phone calls, scour the Web and talk to colleagues.
Showcase Showdown
With apologies to the Price is Right, here are some links to many of the more heavily-attended showcases and camps. Some start in June with registration closing soon:
Private Events
Sectional Events
About Wilson
Wilson Tennis is proud to sponsor the Recruiting 101 series of articles at TennisRecruiting.net.
Connect with Wilson on Facebook, Twitter, Instagram, and YouTube - or on their website.
Leave a Comment
More Recruiting 101 Articles
8-Jul-2019
Recruiting Terms and Calendar for 2019-20
Knowing the important dates and terms is a crucial part of the recruiting process. If you need a quick guide to help navigate the path to college, we've got you covered with our recruiting calendar. There are some key date changes at the Division I level this year.
19-Jun-2019
Want To Get Recruited? Fill Out Your Free TRN Profile
More than 2,000 college coaches research recruits through the Tennis Recruiting Network database. But they need help. They need more players to fill out their recruiting profiles thoroughly and provide updated contact information. Find out how to make it easier to get recruited for free.
12-Jun-2019
From No Interest To An Offer, Parks Is A Combine Success Story
Lane Parks arrived at the All-American College Combine in 2017 without any ranking or recruiting rating. He left with interest from three college coaches, including Paul Brower at Nichols College. Parks just completed his freshman season for the Division III program.
About Eric Parker
Eric Parker is a longtime teaching professional, freelance writer and former journalist at the Long Beach Press-Telegram and San Diego Union-Tribune. He played collegiately for the University of Colorado and now tries to figure out how to raise two teenage daughters with his wife, Cheryl. Help, anyone?