College Feature
NCAA Tournament Roundtable - Part II
by TennisRecruiting.net, 12 May 2017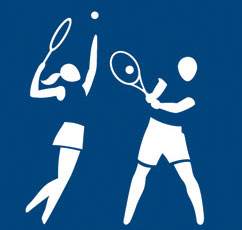 The NCAA Division I Tennis Championships start today. The top men's and women's college tennis programs face off in first-round action across the country, with all teams competing for tickets to Athens, Georgia, and a spot in the Sweet 16. Those later rounds of the tournament take place May 18-23, with the championship matches contested on the 23rd.
You can check out the NCAA Division I Championship brackets here (men, women). The D-II championships (men, women) are going on right now in Altamonte Springs, Fla., while the D-III tournaments (men, women) are advancing toward their championship rounds in Chattanooga, Tenn. Finally, the NAIA championships (men, women) start May 16 in Mobile, Ala.
This past Monday, our college tennis contributors reviewed the field. Today, they return to comment on these regional rounds - and the teams that have a shot to go the distance.
Questions and Answers
Q) Generally speaking, the top 16 seeds get to play the first two rounds on their home courts before 16 men's and women's teams advance to the National Championships. The home teams usually do quite well, with only a handful of upsets. 2016 actually saw six unseeded teams advance - which is the most in recent memory. Name an unseeded team who you think has a strong chance to advance to the championship rounds in Athens.

Tony Minnis, College Sports Weekly host
I am going to pick two teams who made it to the Sweet 16 last year in Tulsa but are both unseeded this year. On the men's side, I am going to pick Mississippi State. The Bulldogs have been playing some very solid tennis lately - including an upset of Texas A&M at the SEC tournament before reaching the finals.
On the women's side, I am going to have to go with Texas. It seems like Howard Joffe consistently has his teams peaking at the right times and is poised for a potential upset to make it to the Sweet 16 again.

Marc Lucero, Co-founder and Director of Tennis, RAMP Tennis Academy:
There are a lot of potential second rounds that I like on the men's side, but most of them I shy away from making predictions because a lot of the teams I like are more indoor-style teams playing teams that are outdoor teams. So I'm going to go with the LSU women advancing out of Berkeley.

Granger Huntress, Texas College Tennis
I actually think quite a few unseeded teams have a chance to advance to the Sweet 16, but I will stick with two: the Mississippi State men and the Texas women. The Bulldogs play some great doubles and have a very strong singles lineup. The Texas women are young and tough.
On the men's side, I think Michigan in Stanford's region, and Mississippi State in Oklahoma's region, both have good chances to earn trips to Athens. For the women, I think UCLA may manage to turn one of their recent 4-3 losses into a win at Pepperdine, and Texas could keep host South Carolina out of the Sweet 16.
Julie Wrege, TennisRecruiting.net
The Arizona State women are in a great spot in the draw and could come through to Athens.
The Michigan men could surprise #16 seeded Stanford and make it through.

Rick Limpert, College Contributor
On the men's side, Georgia Tech. For the women, let's say UCLA.

Joey Dillon, College Contributor
On the men's side, Michigan could definitely take out Stanford, who edged the Wolverines in the rankings to get a hosting bid. With the women, my eyes immediately went to Waco, Texas, where Texas A&M could edge out Baylor in a real slugfest. I expect that one to go down to the wire.
Scott Treibly, USTA College Tennis Top 25 Poll coordinator
On the women's side, I am looking at Arkansas. I think they can overcome Wichita State - and then we'll see how well the SEC has prepared them for Oklahoma State. For the men, I think Mississippi State has the chance to make some noise.
Bobby Knight, College Tennis Today
On the men's side I'll go with Georgia Tech over Florida. On the women's side I'll take the winner of the Arizona State/Florida State match against Auburn.

Sonny Dearth, Daily Press
Georgia Tech's men have looked solid throughout the ACC season and should give No. 15 Florida a challenge if they meet in the second round. That match would pit Ramblin' Wreck coach Kenny Thorne against his college teammate and friend since their childhood in Alabama, Georgia Tech alum Bryan Shelton. ... Michigan's men, who recently have seen a high level in Ohio State, could have a good opportunity in the second round at No. 16 Stanford, despite the Cardinal's prolific history.

Lisa Stone, ParentingAces.com
On the men's side, I think Georgia Tech and Tulane could upset their host seeds. Both have had stellar seasons. On the women's side, Texas A&M, Mississippi State, UCLA, and Texas all have shots at upsets.

Jeffrey McMillan, Tennis Atlantic
On the men's side there are a few unseeded teams who I think could make it to Athens. Georgia Tech had a strong season and was in position to host most of the year before fading slightly at the end. They could pose the host Florida Gators a lot of problems if they are on their game (if they beat Minnesota in the first round - which is not a given). The Yellow Jackets would love to make it to Athens, the home of their fierce rivals.
Another team that could upset their way to Athens is Oregon. A very talented team that always challenges, the question is, can they finally pull off a huge program changing win in College Station? It will be difficult - but I believe Oregon has a serious chance.
Q) As we mentioned last week, there does seem to be a bit more parity in college tennis toward the top of the field. On the men's side, the top four seeds have combined for 10 losses on the season, and there are 8 such losses on the women's side. There are no undefeated teams in either field. I'm going to put you on the spot... name one of the champions - and pick a darkhorse - who will hold the championship trophy on May 23 in Athens.
Stone: On the women's side, I don't see anyone upsetting Florida this year. On the men's side, though, I could see any of the top 5 seeds walking away with the championship trophy. With no service lets and no-ad scoring, there is just too much left up to chance to say any one team is a sure bet to win it all.
Huntress: On the women's side, I am going with Vandy over Stanford. For the men I will take Virginia over USC. For a dark horse I'll go with the North Carolina men. They have only lost to UVA (3 times) and Wake Forest. All of those were 4-3, save for the Indoors loss.
McMillan:
This will be a very competitive year in Athens on the men's side. However I do not see the national title being all that open. I think there are two big favorites, two with an outside shot, and one dark horse. The favorites are
Wake Forest
and
Virginia
who just went to battle in the ACC championship. I believe that in the end Virginia will take home the title and send legendary coach Brian Boland out of Charlottesville with yet another national title to cement his legacy. The teams with an outside chance at the title are
Ohio State
and
TCU
but both of their relatively tough draws hurt their chances as they would have to play each other in the quarters and then likely Virginia in the semifinals. My dark horse for the national title is
North Carolina
. The Tar Heels came very close to beating Virginia in the ACC semifinals and have been underranked all year. They have the team capable of pulling off a string of big wins and taking home the title if everything goes their way.
Treibly: I'll give you one champion and one darkhorse. If you make me pick a favorite, I'll go with the UVA men. I think Brian Boland goes out a winner and captures a third straight NCAA team title in his final college match. I'll take a darkhorse from the women's side ... Georgia Tech has played tough tennis all season - beating all 14 other ACC teams and peaking at the right time.
Dillon:
Picking champions on both sides this year is tough - but that's part of the May magic. I have
Virginia
edging out
Wake Forest
in the men's final and
Stanford
downing
Florida
on the women's side. Though both are No. 3 seeds,
Ohio State
is my darkhorse on both sides. They're both incredibly well-coached - and they are really hungry to prove a lot of naysayers wrong. The
Georgia men
- and the
women
, for that matter - can really go far with 100% health and the homecrowd support, too.
Dearth: When in doubt - and there's plenty of doubt in this year of balance - I'll go with the ACC. I'll take UVA over Wake in a spine-tingling men's final, and I'll predict the North Carolina women to edge Florida and give Coach Brian Kalbas his first NCAA team championship.
Knight: On the men's side I'm going to take Virginia to win it for a third year in a row; they have too much big-match experience and you know the guys want to send Brian Boland out with another national championship. For my darkhorse I'll go with TCU; If they can find a way to get to the finals I think it'll be one epic post-match video from David Roditi.
On the women's side I'll take Florida - I know both Vanderbilt and Georgia (the two teams to beat them) are on their side of the draw but I think the Gators will flip the switch on and take care of business. For my darkhorse I'm going to take Texas Tech; they won their first-ever Big 12 Tournament Championship and are playing with a lot of confidence.
Limpert:
For the men, it looks as though his
Virginia
players may send head coach, Brian Boland, out in style with another championship. I'm not sure if you can call the No. men's 6 seed
TCU
a darkhorse since they are on a 14-match winning streak, but don't sleep on the Horned Frogs!
Wrege: Not really a dark horse, but the Virginia men are on a mission for their coach. And I would never count #13 Georgia out.
I feel that the women's champion will be decided with the winner of the Florida vs. Vanderbilt match in the semis.
Lucero: My dark horse - if you can call it that because they're one of the hottest teams in the country - is TCU. I guess anyone other than Virginia has to be a dark horse, so I'm ok with that identification. They are peaking at the right time of year, and as long as the tournament stays dry and outdoors I like their chances.
On the womens side, I like Vanderbilt to return to TitleTown. If they face Florida in the final, I think a third win over the Gators in the span of just a few weeks is going to be extremely difficult, but I think the Commodores can get it done.
Lewis:
If the defending champion can be a dark horse, I'll take the
Stanford women
, although the seventh-seeded Cardinal are not double-digit seeds as they were the past two times they've claimed the team title.
Texas could make some noise on the men's side if they are healthy. I don't see them beating defending champion Virginia should the Longhorns advance to a quarterfinal meeting with the Cavaliers, but it could be an exciting match.
Even my picks for the championships could be considered dark horses, with neither of them 1 or 2 seeds, although the Ohio State women should have been. I'm counting on the chip that should be on their collective shoulders driving them to a title. After a miserable start to their season the TCU men are firing on all cylinders now, and although it's tempting to pick a Wake Forest - Virginia final, I'll go with the Horned Frogs instead.
Leave a Comment
More College Coverage
24-Jun-2021
USTA Announces 2021 Collegiate Summer Team
The USTA announced the 10 American college players named to the 2021 USTA Collegiate Summer Team, a training program designed to help America's best college players assimilate to professional tennis in a team-oriented environment.
26-May-2021
Emory Men and Women Sweep NCAA Division III Team Titles
The Emory men's and women's teams swept the NCAA Division III team titles on Wednesday in Chattanooga, Tennessee. Amid scorching heat, the women made quick work of defending champion Wesleyan while the men grinded out a victory over Case Western Reserve.
24-May-2021
Barry University Men and Women Sweep NCAA Division II Titles
The Barry University men's and women's teams captured the NCAA Division II Championships. It marked the second time in school history both teams brought the championship trophy home to Miami Shores, Florida. That feat was also accomplished in 2019, the last time the championships were held because of the COVID-19 pandemic.