Special Feature
Bolton Sisters Inspire Each Other to Achieve Athletic Dreams
by Rhiannon Potkey, 25 January 2019
Elysia Bolton can always summon the energy to chase down another ball or dig deep to win another point. The UCLA freshman owes that persistence to her training partner back home in New York.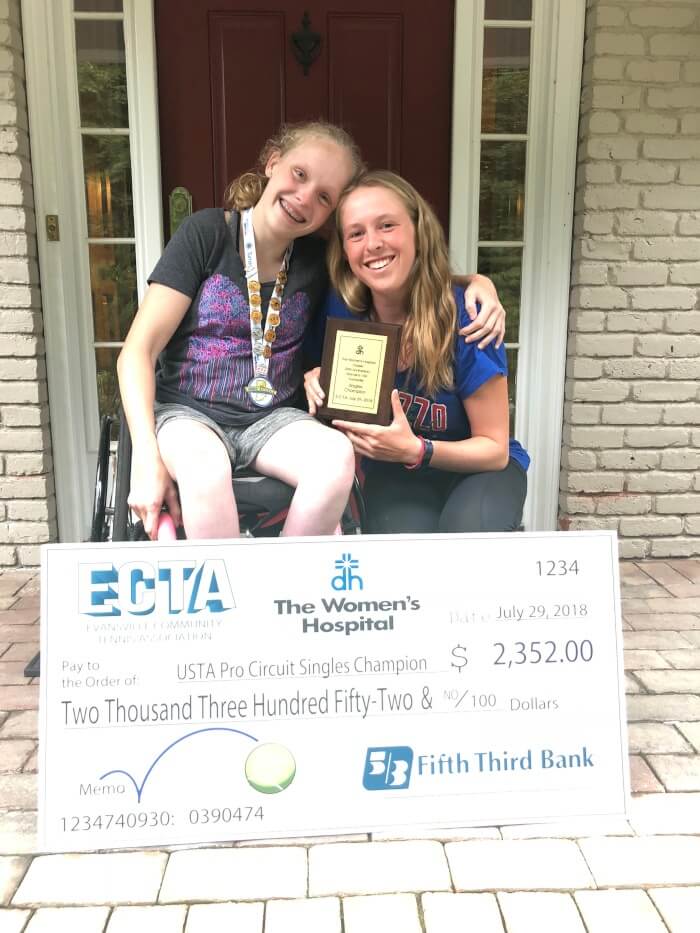 Sarah and Elysia Bolton Pose with Their Awards
Elysia and her younger sister, Sarah, often work out together at the local high school track. Anytime Elysia think she's reached her breaking point, she looks over at Sarah and realizes she's not even close.
Sarah is pushing her wheelchair down the lanes, striving to get faster and reach her own athletic goals.
Sarah, 14, was born with Leukodystrophy, a group of rare genetic disorders that affect the central nervous system by disrupting the growth or maintenance of the myelin sheath. She's been in a wheelchair her entire life.
"She is amazing. She is so inspirational," Elysia, 18, said. "She is my main motivator, and is always pushing me to be better."
Although Sarah's condition has limited her mobility, it hasn't stopped her from pursuing her ambitions. She's a high-level wheelchair athlete, a successful student and a talented singer.
She represented the United States in the Junior International Wheelchair and Ambulatory Games in Ireland last summer, competing in the 100, 200 and 400 meter races.
"I try to make the best of it. There are times when I don't, but most of the time I do try to," Sarah said. "It's just kind of my normal now and I find ways to do things my way and for myself."
Sarah's diagnosis was the reason her parents remained living in the U.S. rather than move back to their native Australia. Her mother, Karen, is an information technology professional and was on assignment in the U.S. for work at the time of Sarah's birth.
"Once we found out Sarah had this disease we really wanted to stay because the country does a much better job than anywhere else in the world for people with disabilities in terms of overall accessibility," Karen said. "The Americans with Disabilities Act has really provided an environment for people with disabilities that I think is far stronger than any other country."
During the early years of Elysia's tennis career, Sarah attended nearly every tournament and became friends with the younger siblings of Elysia's opponents.
Sarah yearned to find her own athletic outlet, and began participating in wheelchair tennis, sled hockey, basketball and track. Not only did the sports help keep her body strong, they gave her a sense of freedom and confidence.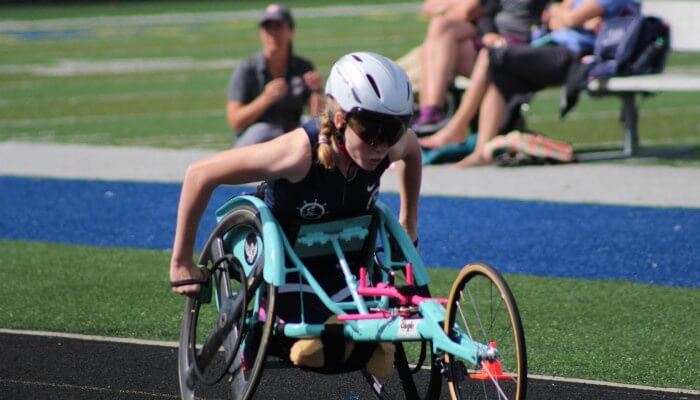 Sarah Bolton Competes in the 100, 200 and 400
"I love competing, and sports makes me feel like I can do that," Sarah said. "Watching my sister compete growing up was part of it too. I wanted to be like her and I wanted to be as competitive as her."
Sarah began excelling in track, and joined the New Jersey Navigators of the Tri-State Wheelchair Athletic Association. She trains six days a week, using a roller system at home or track workouts with her club.
Representing the U.S. in Ireland was Sarah's first international competition, and her family traveled to watch and provide support.
"That was probably one of the coolest experiences that I have ever gotten to do," Sarah said. "I stayed with the team, and I got to meet a lot of people from different countries that you wouldn't really come across every day."
Elysia felt a sense of pride seeing her sister compete on the world stage like she had done before in tennis. The two have a close relationship that has only strengthened over time. They have called or texted each other every day since Elysia moved across the country to attend UCLA.
"When Sarah was young, she was very sick so I tried to take care of her and to treasure all my moments with her," Elysia said. "As she got older, our bond just kind of grew. Of course, we fight. We are sisters. But at the end of the day, we always make up and are always looking out for each other."
Once Sarah became more involved in sports, the sisters began training together and providing encouragement during the highs and lows of competition.
"Giving up isn't a real option, and that is how we inspire each other to keep going," Sarah said. "We can push each other to be the best athletes we can be."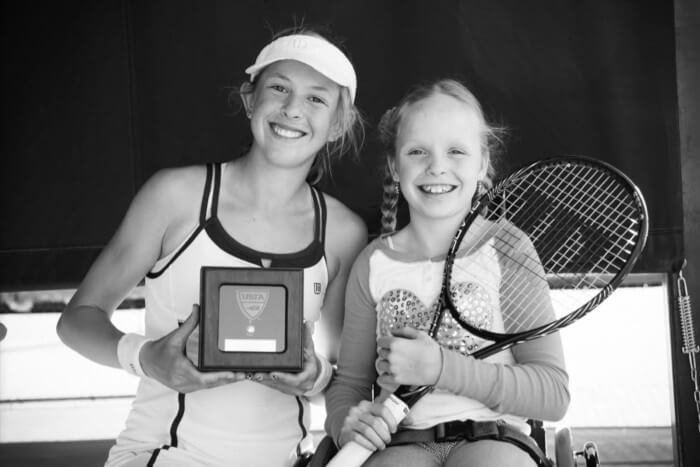 Elysia and Sarah Have Been Close Since Childhood
© GameFace
Track isn't the only place where Sarah excels. She discovered a passion for singing after Frozen was released in 2013, and began taking lessons. She has participated in state level competitions, and had musical theatre parts in Mary Poppins, School of Rock and Bye, Bye Birdie.
"She is an amazing singer, she is very smart and she is athletically gifted. It's not fair," Elysia said with a laugh. "I just got the athletics."
Having a sister in a wheelchair has provided Elysia with more perspective during her tennis career and allowed her to play with less pressure.
"She's had to deal with so much. If I lose a tennis match, it's not the end of the world," Elysia said. "I want to win because I am super competitive, but it helps you realize it's not the most important thing in life."
Sarah wants to keep participating in track in college. A few schools offer adaptive sports programs, with Illinois and Arizona having strong track and field teams.
Sarah's goal is to eventually compete in the Paralympics and try to win a medal for the U.S. Having watched her sister develop into a successful tennis player, Sarah is glad she found her own athletic calling.
"Some people know me as Elysia's sister and some know her as my sister," Sarah said. "That feels really good to share it now."
Leave a Comment
More Special Features
12-Sep-2019
From Three-Star to All-American, Touliatos Thrives in College
Preston Touliatos was a three-star recruit with hardly any offers out of high school. After playing one year at Eastern Illinois, he transferred to Tennessee as a walk-on and developed into a doubles All-American for the Vols. Touliatos is now pursuing a pro career before entering med school.
19-Aug-2019
Gorzny on the Road to Recovery Following Major Health Scare
Sebastian Gorzny suffered a serious health scare during the USTA Boys 16s National Championships in Kalamazoo. The 15-year-old was hospitalized for seven days after his father found him unconcious and having seizures in his hotel room bed at 2 a.m.
9-Aug-2019
Spizzirri Brothers Reach International Heights in Tennis, Squash
Twins Eliot and Nicholas Spizzirri are both experiencing international success with racquets, only in different sports. Eliot is one of the top rising senior tennis players in the world while Nicholas is charting his own path in squash.
About Rhiannon Potkey
Rhiannon Potkey is a veteran sportswriter with more than two decades of experience in journalism. Potkey has covered many sports at many levels and has a passion for finding great stories. Potkey has covered the U.S. Open, junior sectional and national events, college conference championships and Davis Cup matches. Potkey is currently Content Strategist for Tennis Recruiting. You can reach Rhiannon by email at
[email protected]
.