ITA National Indoors
Emory Women Capture Third Straight ITA Indoor Title
by Rhiannon Potkey, 3 March 2019
The Emory women reigned supreme indoors yet again.
The second-seeded Eagles captured their third straight ITA Division III Women's National Team Indoor title on Sunday by defeating top-seeded Claremont-Mudd-Scripps 5-3 at the Ensworth School in Nashville, Tennessee.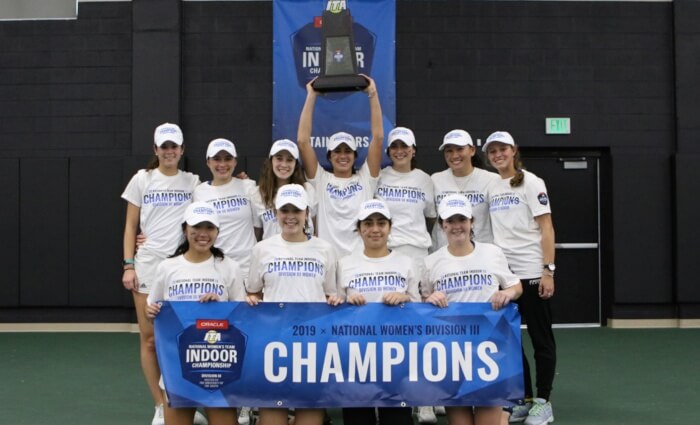 Freshman Emma Cartledge clinched the title for Emory by defeating Sydney Lee 7-6, 6-4 at No. 4 singles.
The showdown between Emory (6-0) and CMS (7-1) was a rematch of last year's NCAA final, in which CMS beat Emory 5-4 to capture its first national title in program history.
"Every tournament has its own unique flavor. That is what is exciting about college tennis," Emory head coach Amy Bryant said. "This match felt particularly good because we lost to CMS in the NCAA final last year, so it was nice to have a great team that you battle with and a team that brings out the best in you."
Emory was making its sixth appearance in the event, and has reached at least the final in every appearance. The Eagles have won titles in 2010, 2011, 2017, 2018 and 2019 while finishing runner-up in the inaugural championship match in 2009.
Emory, a young team with five sophomores and four freshmen on its 11-player roster, didn't drop a single point to reach the final, beating No. 7 Sewanee 9-0 in the quarterfinals and No. 3 Pomona-Pitzer 9-0 in the semifinals.
CMS charted a similar course, beating No. 8 Wash U 9-0 in the quarterfinals and No. 5 Chicago 7-2 in the semifinals.
Emory led 2-1 in doubles after victories by Cartledge and Daniel Lopez on Court 2 and Stephanie Taylor and Christina Watson on Court 3.
CMS knotted the match 2-2 when Caroline Cox defeated Taylor 6-3, 6-1 at No 5 singles.
But Emory re-took the lead for good with Defne Olcay defeating Nicole Tan 6-4, 6-4 at No. 2 singles and Jessica Fatemi defeating Sarah Bahsoun 7-6, 6-3 at No. 6 singles.
Rebecca Berger drew CMS within 4-3 with a 6-1, 1-6, 7-6 victory over Lauren Yoon at the No. 3 spot before Cartledge secured the title for Emory.
Top-ranked Ysabel Gonzalez-Rico of Emory led Catherine Allen 3-6, 7-6, 3-1 at No. 1 singles when the match concluded.
"I don't really have a good explanation," Bryant said when asked about the program's sustained excellence at Indoors. "We don't practice indoors exclusively for this event. We practice outside as much as possible. The best explanation is it's a tournament and the players tend to put out their best stuff when it matters, which is great."
Emory has much more it wants to achieve this season, and the young Eagles are hoping to use the Indoor title as a springboard for future success.
"The girls are really good at keeping the big picture in mind. While this tournament is exciting, it is early March and we have a lot of season left," Bryant said. "They are really committed and motivated to continue to work hard and there is more to come. I don't think we've reached our full potential with this group yet."
About K-Swiss
College Content at TennisRecruiting.net is sponsored by K-Swiss.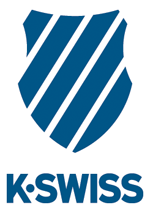 At K-Swiss we are 100% invested in the sport of Tennis and committed to helping players play their very best and win at every level. From a competitive junior or adult player to the greatest doubles team of all-time, Mike and Bob Bryan. For over 50 years we have been making some of the most innovative, high quality tennis footwear in the game featuring the very best in comfort with a consistent fit.
We encourage you to try the K-Swiss shoe that is best for your game.
Connect with K-Swiss on Facebook, Twitter, and YouTube - or on their website.
Leave a Comment
More College Coverage
8-Oct-2019
Wyoming's Clower Hasn't Let MS Impact His Coaching Climb
Wyoming women's coach Dean Clower was diagnosed with multiple sclerosis at age 23. But Clower never let it hinder his dreams. He credits two coaches for saving his life and keeping him motivated to excel in the profession.
24-Sep-2019
Bailey Finds Another Head Coaching Opportunity at Charlotte
Kyle Bailey was waiting for another chance to become a head coach. He saw a great opportunity for growth at Charlotte, and took over the men's program earlier this month. The former South Carolina assistant has relied on key mentors to help him reach his goals.
10-Sep-2019
Backed By Players, Whitlinger Promoted to Furman Head Coach
The Furman men's players wrote emails and met with administrators championing the promotion of J.J. Whitlinger to head coach of the program. The support helped boost Whitlinger's spirits during the long coaching search process, which ended with him getting his first chance to be a head coach.
About Rhiannon Potkey
Rhiannon Potkey is a veteran sportswriter with more than two decades of experience in journalism. Potkey has covered many sports at many levels and has a passion for finding great stories. Potkey has covered the U.S. Open, junior sectional and national events, college conference championships and Davis Cup matches. Potkey is currently Content Strategist for Tennis Recruiting. You can reach Rhiannon by email at
[email protected]
.