College Feature
NCAA Tournament Roundtable - Part II
by TennisRecruiting.net, 9 May 2014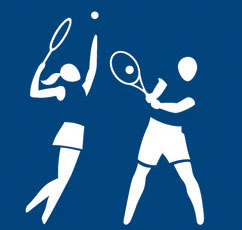 The NCAA Division I Tennis Championships start today. The top men's and women's college tennis programs face off in first-round action across the country, with all teams competing for tickets to Athens, Georgia, and a spot in the Sweet 16. Those later rounds of the tournament take place May 15-20, with the championship matches contested on the 20th.
You can check out the NCAA Division I Championship brackets here (men, women). The D-II championships (men, women) start with the Round of 16 in Altamonte Springs, Fla., next Wednesday, while the first round of the D-III tournament (men, women) started yesterday - with the final rounds in Claremont, Calif. Finally, the NAIA championships (men, women) start May 13 in Mobile, Ala.
This past Monday, our college tennis contributors reviewed the field. Today, they return to comment on these regional rounds - and the teams that have a shot to go the distance. Let's get to it...
Questions and Answers
Q) With only one exception, the top 16 seeds in the men's and women's tournament get to play the first two rounds on their home courts before 32 teams advance to the National Championships. Last year, 29 of the 32 top seeds advanced.
Name an unseeded team who you think has a strong chance to advance to the championship rounds in Athens.

Colette Lewis, ZooTennis.com
Last year 15 of 16 seeded women's team made it to Champaign-Urbana, with short-handed Duke the only surprise, which is not a word usually attached to the Blue Devils in NCAA competition. With No. 16 seed Southern Cal losing Sabrina Santamaria from the top of their lineup this spring, they must be considered vulnerable to No. 17 Michigan. No. 19 Georgia Tech also has a chance to keep No. 9 seed Vanderbilt from advancing.
For the men, Memphis and Cal were the party-crashers last year, and this year has seen even more parity, but I can't pinpoint an obviously vulnerable seed, unless it's No. 16 Columbia, who must face a good Vanderbilt team on the road.

Sonny Dearth, Daily Press
The Clemson men, who took U.Va. to 4-3 and have spent much of the year ranked among the seeded group, could be a big threat at Kentucky. The Wildcats will need to be on their A-game to advance.

Rick Limpert, College Contributor
This is tough. While there is parity at the top of both the men's and women's fields, there is what one might call a divide once you dive past the top 16 or so teams. For the men, I like a battle-tested Mississippi to win at Notre Dame. For the women, it's back to Los Angeles where those Michigan women have a better than 50% chance to upset the Lady Trojans.

Granger Huntress, Texas College Tennis
I'm going to stay away from Vandy-Columbia, as that one is obvious. If I have to pick just one, then I think the Lexington Regional might be the most susceptible for an upset. Clemson definitely has the opportunity to beat Kentucky.
For the women, I would pick Michigan at USC, but the Wolverines are going to have to prove it outdoors. I also think Rice will have a shot at Baylor.

Dave "Koz" Kozlowski, Inside Tennis With The Koz
There are a few unseeded teams I think can make some noise in the tournament and end up in Athens. Vandy, who knocked off Georgia in the SEC Tournament, is unseeded but hosting the first and second rounds. Columbia is the high seed there, but I like Vandy's chances at home. I wouldn't be shocked to see Tennessee get past Elon and Duke.
Another interesting regional is in Champaign, Illinois. Illinois is the top seed, but you have a very dangerous Memphis team that is led by five seniors and upset Ole Miss last season to make the Sweet 16. Memphis will first have to get by Drake - who actually upset the Tigers during the regular season.

Ross Greenstein, Scholarship for Athletes:
Vandy on the mens side and Michigan on the women's side have the best chances as unseeded teams.

Tony Minnis, Inside College Tennis host:
I would have to say on the men's side it's Vanderbilt. The Vanderbilt men have the fortune of being an unseeded team and hosting this year with Columbia being the top seed. Vanderbilt also hosted the SEC tournament and knocked off the top seed University of Georgia two weeks ago and has a lot of momentum going into the tournament.
On the women's side, I am going to pick the University of Michigan in the USC region. Michigan has had another solid year and just barely missed hosting by losing a heartbreaker in the Big 10 tournament. USC has also had numerous injuries this year.

Julie Wrege, TennisRecruiting.net
The Florida men will have a challenge in both of the first two rounds they host. And Vanderbilt could well get through to Athens with Columbia as the 16th seed in their foursome.
On the women's side. Michigan could well come out of the first two rounds.
Marc Lucero, Co-founder and Director of Tennis, RAMP Tennis Academy:
The Vanderbilt men at home get through against the 16 seed Columbia.

Bobby Knight, College Tennis Online author:
I think Vanderbilt, who is hosting its own regional as a No. 2 seed, will knock off both Virginia Tech and Columbia and make it to the Championship Rounds for the second year in a row. I don't think any other top 16 seeds will lose though, the two with the best chance to go down at home would be #14 Florida at the hands of Florida State or #11 Duke at the hands of Tennessee. A year ago, Florida was stunned in the first round by Denver in a rare 4 over 1 upset, so I'm sure that Coach Shelton is reinforcing the point to his team that they can't be looking past St. John's and ahead to a possible second round match with either South Florida or Florida State. Two of Duke's six losses this year came to the teams in the 2 vs. 3 matchup (Tennessee/Elon) so they'll need to stay focused to pull through over either one of them.
Over on the women's side I think Michigan has more than a puncher's chance against USC in the second round. The Wolverines had their 13 match winning streak snapped in the Big 10 Tournament Finals against Northwestern in a match that saw Northwestern win three tight third sets. USC I think all other seeds will advance to the final 16 in Athens.
Q) With most of the top teams participating in the National Indoors, it is not surprising that there are no undefeated teams heading into the NCAA Championships. There has been a lot of parity and movement up and down the ITA rankings, and the top seeds include several surprising teams. But that said, I have to put you on the spot...
Name at least one of the two champions - and pick a darkhorse that has a chance to win the title when all is said and done on May 20?
Limpert: On the women's side, I just don't know.
So let's look at the men's draw and Ohio State. That team is on a roll. They are peaking at the right time. Since this is a team championship - and Ohio State is what I would call the true definition of a "tennis team" - let's say the Buckeyes win some close matches and take the men's title in Athens.
A darkhorse to win the title? Let's go over to a wide open women's draw and look at Cal. The PAC-12 champs feature veteran players that have made run in the NCAA Tournament in the past and bring to the table some talented freshman and sophomores. With a few breaks... who knows? Cal is my darkhorse.

Harry Cicma, WNBC Sports Anchor, Lead Announcer for NCAA Championship Broadcast for Turner Sports
Picking a champion on the men's side is a toss-up among the Top 4 seeds. All teams have the fire power to make a championship run. That said, I learned last year never to count Virginia out. I'm looking forward to calling the action in the broadcast booth. Buckle your safety belts, because we have an exciting tournament coming up.
Greenstein: On men's side, the winner of UCLA and USC will win it all. UCLA should have been higher than a 6 seed. Baylor would be my dark horse to win it all.
On women's side, the Georgia women have a huge advantage being at home - but also a lot of pressure. I like the winner of Stanford vs. Cal to beat Georgia in the finals. I like the UCLA women to win it all. Look out for UNC as a dark horse.
Knight: On the men's side I've got to go with UCLA as my favorite to bring the title back to Westwood. With Adrien Puget back in both the singles and doubles lineup the Bruins seem to be firing on all cylinders now and I think the title is theirs for the taking.
My darkhorse on the men's side would have to be Georgia. It seems that whenever Georgia hosts the NCAAs they usually have at least one upset in their bag and sometimes more. For Georgia to make a run all the way to the title they'd have to get better play out Ben Wagland in the No. 4 slot and would need to have everyone playing their best tennis at the same time. The Bulldogs can't afford a performance like they had at the SEC Tournament or a lot of folks in Athens will be going home disappointed.
On the women's side I think UCLA will make it a Bruin sweep of both the men's and women's titles by knocking off PAC-12 rival Stanford in the finals. Having said that, my darkhorse on the women's side would be Stanford. The Cardinal only dropped two matches all year, but their ranking and seed were kept low in part due to not playing in the National Indoors - which would have had them face several Top 15 schools.
Dearth: I suppose if they're the No. 11 seed, you've got to call the Stanford women darkhorses. But history is on their side, and isn't it amazing that the Cardinal could meet their archrival, No. 6 Cal, in the round of 16? I'm sure Cal's 6-1 win April 19 has Stanford plenty motivated.
I'm quite curious to see how the North Carolina men, at No. 7, will fare. They could encounter a challenge in Chapel Hill, and they could face a hostile crowd at No. 10 Georgia. But if they get to the quarterfinals, they should be loose and dangerous in Athens.
For champions, seedings be danged, I'll pick the UCLA men and UNC women.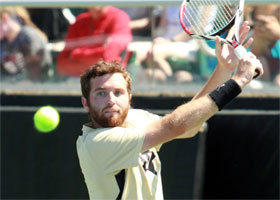 The men's seedings baffled me. UCLA leads
USC
14-12 in head-to-head team points, yet the Trojans are seeded first and the Bruins sixth? Whoa. USC didn't even win a set at the lower three positions in their last match vs. UCLA. Call me a homer if I pick
Virginia
, which I definitely could, but I'm leaning toward the Bruins - they're heavily underseeded and motivated. I can't remember any other team losing a national championship after holding a team match point, and I'm sure no team
ever
had a lost a match like that by stumbling into the net on match point. Remember Mitchell Frank's memorable win for Virginia on line 3 over Adrien Puget, who played on line 6 in the Bruins' last dual match?
Speaking of underseeded, how about those No. 7 UNC women? They've got Jamie Loeb and Hayley Carter, a fantastic 1-2 combo that each won in straight sets in their last singles meetings against U.Va. and Duke. Three of UNC's five team losses are to Duke, including a couple of classics, and the Blue Devils aren't on their side of the draw. I say this is the year for UNC coach Brian Kalbas to capture his first team crown. I'll say the breaks even out and the Tar Heels take the big trophy, though Duke and U.Va. also can.
Minnis: I am going to pick the Ohio State men as one of the two champions of the National Indoors. The Buckeyes have been knocking on the door for some time now. They were No. 1 in the country earlier this year, and this may be the year where they finally break through.
My darkhorse on the men's side is 6th-seeded UCLA. UCLA has had an outstanding year and carries a lot of momentum from the PAC-12 tournament. On the women's side, I am going to have to go with 11th-seeded Stanford. They were actually seeded around this same area last year when they went through the tournament and claimed another title.
Huntress: On the men's side there seems to be a bit of confusion with the top seeds. USC is seeded first, but UCLA, whom they lost to last weekend is 6th? I like both, but am going to go with Baylor as both my dark horse and champion. I am going with experience. Baylor's starting six have an average age of 22.5 and only Julien Lenz will be younger than 22 when the tournament starts.
On the women's side, I'd take any of the top three PAC-12 teams. For my absolute championship pick I think UCLA will be tough. As my dark horse, I will go with Stanford.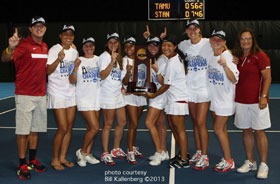 Lewis:
On the men's side, I'd be surprised if the winner doesn't come from
USC
,
Virginia
or
UCLA
. If Adrien Puget is anywhere near 100 percent, I think the Bruins can avenge their painful loss to Virginia last year. But you bet against USC's Peter Smith this time of year at your peril. My darkhorse is
Baylor
, but they would have to post wins over Virginia and USC just to reach the final.
For the women, I like the PAC-12 to take the title. If the defending champions can be a darkhorse, which I guess at the No. 11 seed they can be, I'll take Stanford in that role. But No. 6 Cal is also a great team (and that's a round of 16 match I wouldn't miss for the world), as is UCLA. The Bruins were unaccountably moved downed from No. 3 in the rankings to No. 5 in the seedings, but if they stay healthy, I've got them winning NCAA title No. 2.
Wrege: On the women's side, Stanford is always dangerous, and all teams playing this 11th seed need to be cautious. The Duke men could shock some as they progress through the draw.
Lucero: I like Virginia women and one of the LA schools on the mens side but I won't pick one. Too close to call. My darkhorse for the women is #7 seed North Carolina. Is that a dark horse?
Kozlowski: I am looking for Virginia to repeat for the men, and my darkhorse would be Baylor.
About ASICS
College Content at TennisRecruiting.net is sponosored by ASICS and the ASICS BZ 100.
The All-New ASICS BZ100 Racquet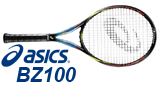 The ASICS BZ 100 is designed to meet the needs of players who desire controllable power. The patent pending bending zone optimizes the flex of the racquet to achieve the ideal level of controlled power for groundstrokes. Increased velocity on serve is derived from the bending zone configuration, which allows the racquet to move through the air with less friction.
Connect with ASICS on Facebook, Twitter, YouTube, and Pintrest - or on their website.
Leave a Comment
More College Coverage
5-Mar-2015
Trinity, Hopkins Take Titles
It's been a whirlwind the past two weeks with both the Men's and Women's Indoor Nationals being completed in the Midwest. This article will go through some details regarding the tournament, but I do think this was the best Men's Indoors to date, and the Women's Indoors provided some amazing matches as well. Without further ado, let's get into the details behind both awesome weekends just in case you missed them!
3-Mar-2015
Transitioning to College with Chris Eubanks
Freshman Chris Eubanks grew up in Atlanta where he is now attending Georgia Tech. Lisa Stone of ParentingAces.com spoke with him about the challenges of transitioning from junior tennis to Division I college tennis.
25-Feb-2015
ITA D-III Women's National Indoors Preview
It is my pleasure to bring to you a preview of the 2015 ITA Division III National Women's Team Indoor Championships. The ITA Women's Indoor Championships is a fairly new event, with the first tournament taking place in 2009. The 2015 event is taking place in Indiana and will be hosted by DePauw. Let's take a look at the field for the tournament that gets underway this weekend...