Recruiting Feature
Top Men's Classes - 2010 Spring Rankings
by TennisRecruiting.net, 24 May 2010
Life in Athens is getting hot, where the 2010 NCAA Division I Tennis Championships are now through to the semifinals. The men's bracket features the top two seeds Virginia and Tennessee taking on USC and host school Georgia, respectively. On the women's side, the top seed is gone. Second-seeded North Carolina meets #3 Florida, while #8 Stanford faces #5 Notre Dame.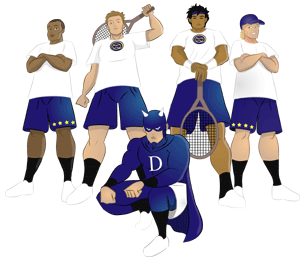 But before the matches begin, TennisRecruiting.net casts an eye to the future - and the top recruiting classes arriving this fall. With more than twelve hundred committed seniors, the majority of schools have completed their recruiting for this year's class.
Today, the Tennis Recruiting Network announces the Top 25 men's recruiting classes for the Class of 2010.
Media Poll
The Tennis Recruiting Network has again enlisted the aid of junior tennis experts to determine the top classes. Reporters, national and international tournament directors, referees, ranking chairmen, and writers from across the country have donated their time and talents to vote on these top classes. Panelists for this voting period are shown below.
Each of our panelists submitted his/her take on the Top 25 recruiting classes. Schools received 25 points for each first-place vote, 24 points for each second-place vote, on down to 1 point for each 25th-place vote. The panelists were told not to consider incoming transfer students in their voting.
Top 25 Men's Recruiting Classes (through May 7)
Here are the Spring Rankings of the top men's college recruiting classes, presented by the Tennis Recruiting Network. The Top 25 classes are shown in order, with the point totals and previous ranking from the winter in the two columns at right. The number of first-place votes is shown in parentheses next to the school name.
New recruits for schools are shown in bold italics. These lists are based on all commitments reported through May 7, 2010.
Also Receiving Votes
Other men's programs receiving votes are: Central Florida (50), Harvard (38), Penn State (32), Air Force (19), William & Mary (19), Cornell (16), Furman (16), Louisville (16), Texas A&M (16), UNC Wilmington (16), Elon (14), Dartmouth (6), Amherst (5), Baylor (2), Middle Tennessee (2), Middlebury (1), Washington (1).
Stock Rising
There are five new faces in our Top 25, and one of those teams - the Florida State Seminoles - surged all the way to #9 in these rankings. Our voters had a great deal of respect for Texan Blake Davis, giving 220 votes to FSU's one-man class. TennisRecruiting.net carried Davis' commitment announcement during its coverage of Spring Signing Week.
Other programs new to the Top 25 are Mississippi (No. 15), Brown (21), Georgia State (22), and Kentucky (25).
Devils Stay Strong
With no changes to the recruiting classes of the teams near the top, the Duke Blue Devils once again headline our rankings. Coach Smith's team garnered 9 of the 17 first-place votes and 415 out of 425 possible points.
No. 2 UCLA and No. 3 Michigan took the remaining first-place votes, with the Bruins gathering 6 of the votes to Big Blue's 2.
Georgia and Notre Dame round out the top 5.
Conference Call
The SEC leads all conferences with 5 programs in the rankings, followed by the ACC and Ivy League (4 programs apiece). Other conferences with multiple recruiting classes in the Top 25 are the Big 10 (3), Pac 10 (3), WCC (2).
The West Coast Conference once again leads all mid-major conferences with two schools in the rankings - San Diego and Santa Clara. Both schools were able to land Blue Chip recruits.
Other mid-major conferences represented in these rankings are the Colonial Athletic League (Georgia State) and the Patriot League (Army). We expect all of these mid-major programs to be near the top of our mid-major recruiting class rankings that will be released in just a couple of weeks.
Panelists for May 2010
The 17 panelists for this voting period are shown below alphabetically. Please join us in thanking them for donating their time and talents to this effort.
Joe Braden, Director of Tennis at Schwartz Tennis Center, Purdue University, Vice-President of Central Indiana Tennis Association, USPTA Member
Casey Chapin, USTA National Referee and Director, Director, Hudlow Tennis Center
Sonny Dearth, Daily Press newspaper and dailypress.com Web site in Newport News, Va.
Tim Donovan, Donovan Tennis Strategies, DTS College Prospects Showcases
Sally Grabham, National Tournament Director, USTA Winter Nationals, President of USTA Central Arizona
Granger Huntress, Texas College Tennis blog, Communications/IT manager for USTA/Texas
Larry Jackson, Director, Dayton Center Courts and Tennis Academy, National Tournament Director
Pua Johnson, USTA National and ITA Collegiate Referee
Ali Jones, Contributor to TennisRecruiting.net.
Ernie Katko, Director at Herrmann Tennis Academy, USTA High Performance Coach, USPTA, USPTR
Patty Lambropoulos, Junior Tennis Coordinator, College Park Athletic Club, National Tournament Director, Chicago District Board of Director and Endorser, Midwest Junior Competion Committee.
Colette Lewis, ZooTennis.com, USTA Hardcourts
Marc Lucero, Contributor to TennisRecruiting.net, Private Coach, Former Princeton assistant tennis coach
Phil Parrish, Tennis Director, The Longfellow Club, National Tournament Director, Former College Coach
Kathy Sell, Former head coach, Princeton women's tennis, private coach
Clayton Taylor, Director of U.S. ITF Hardcourt Championships, Director of Tennis at The Atlantic Club,
Julie Wrege, TennisInformation.com, TennisRecruiting.net, National Tournament Director, former USTA ranking chair
Rankings, Rankings Everywhere...
These are only the first of our Recruiting Class Rankings. Rankings for the women's classes will be released next Monday, May 31st, followed by rankings of Mid-major as well as NCAA Division III schools.
Leave a Comment
More Recruiting Class Rankings
22-May-2017
Top Men's Classes - 2017 Spring Rankings
Today we release our spring rankings of the Top 25 Men's Recruiting Classes. A rash of recent commitments have moved a number of programs up the list - including two previously unranked classes who are now in the Top 10. One thing that hasn't changed on our list is that the top class overall is heading to Berkeley this fall ...
6-Feb-2017
Top Women's Classes - 2017 Winter Rankings
Spring Signing Day is just over two months away, and coaches are busy finalizing their recruiting classes. A number of highly-ranked seniors have already made their college choices - they have made verbal commitments or signing NLIs during the Fall Signing Period. Find out which women's teams are looking good at this stage - as The Tennis Recruiting Network and ArrowBar proudly present the Top 25 Women's College Tennis Recruiting Classes of 2017.
30-Jan-2017
Top Men's Classes - 2017 Winter Rankings
Late January is a great time to take a look at college recruiting. More than 850 seniors have made their college choices, and recruiting classes are really shaping up. How is your favorite team doing? Let's find out ... as Tennis Recruiting and ArrowBar bring you the Top 25 Men's College Tennis Recruiting Classes for 2017.