Recruiting Feature
2010 Top NCAA Division III Women's Classes
by TennisRecruiting.net, 14 June 2010
Over the past few weeks, the Tennis Recruiting Network has been publishing rankings of recruiting classes. Today, we conclude our series with a look at the Division III women's programs.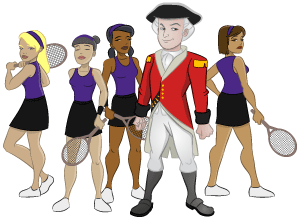 NCAA Division III tennis is a strong brand - as evidenced by D-III teams showing up in our mid-major and even our overall recruiting class rankings. Two D-III women's programs - Amherst and Emory - were actually in the Top 10 of our recent mid-major recruiting class rankings.
But this week, Division III takes center stage. On Friday we published our D-III men's rankings. Now it is the ladies' turn.
Top 25 NCAA Division III Women's Recruiting Classes (through June 1)
TennisRecruiting.net is excited to present the Top 25 NCAA Division III Women's Recruiting Classes for 2010. This list is based on commitments reported on or before June 1, 2010.
We enlisted the help of a number of NCAA Division III enthusiasts and insiders to aid in the rankings. While we do not publish a list of our helpers, we appreciate their assistance.
And now, without further ado, the Top 25...
Also Receiving Consideration
Our knowledgable team of D-III insiders carefully reviewed the incoming classes of more than 50 D-III programs for these rankings. Other recruiting classes that received strong consideration for inclusion on our list are (alphabetically) as follows: Augustana (IL), Chapman, Emerson, Otterbein, Redlands, and UC Santa Cruz.
High Standards
NCAA Division III tennis has many strong programs, but there are a few teams that keep popping up at the very top. Three of those teams are Amherst, Emory, and Williams.
The Williams Ephs and Emory Eagles have won nine of the past ten NCAA team championships, with Amherst placing second or third many of those years.
If you take a look above at the top of this list, you will see those same three schools.
The Amherst Lord Jeffs, whose last team title came in 1999, are looking to surge ahead with this recruiting class. Jordan Brewer, Gabrielle Devlin, Jennifer Newman, Lauren Slutsky, Zoe Pangalos, and Isabel Camacho all head to Massachusetts this fall, giving Amherst two Top-100 players as well as a whole lot of quality depth.
Conference Breakdown
Thirteen conferences have programs in these rankings, but the New England Small College Athletic Conference (NESCAC) leads all comers with 5 schools. In addition to Amherst and Williams, the NESCAC is represented by Tufts (No. 5), Bowdoin (8), and Middlebury (22). Four of these programs are in the Top 10 - also leading all conferences.
Emory is one of four schools from the University Athletic Association in the rankings. Other UAA programs are Washington (No. 10), Brandeis (No. 18), and Case Western (No. 21).
Five more conferences each have two ranked recruiting classes: the Centennial, NEWMAC, ODAC, SCAC, and SCIAC conferences.
State of the States
If you have to pick just one state to watch Division III women's tennis, Massachusetts would be a pretty good choice. The Bay State has a whopping six programs in these recruiting class rankings - three in the Top 10. Programs from Massachusetts are Amherst, Williams, Tufts, MIT, Wellesley, and Brandeis.
Only two other states have more than one recruiting class in the rankings: Virginia (3 programs) and California (2).
Rankings Wrap
Over the past two weeks, TennisRecruiting.net has put out six sets of recruiting class rankings. These rankings recognize hundreds of athletes from the Class of 2010 - and more than 100 college tennis programs from across the nation. Take a moment to check out all of our recruiting class rankings:
Leave a Comment
More Recruiting Class Rankings
6-Feb-2017
Top Women's Classes - 2017 Winter Rankings
Spring Signing Day is just over two months away, and coaches are busy finalizing their recruiting classes. A number of highly-ranked seniors have already made their college choices - they have made verbal commitments or signing NLIs during the Fall Signing Period. Find out which women's teams are looking good at this stage - as The Tennis Recruiting Network and ArrowBar proudly present the Top 25 Women's College Tennis Recruiting Classes of 2017.
30-Jan-2017
Top Men's Classes - 2017 Winter Rankings
Late January is a great time to take a look at college recruiting. More than 850 seniors have made their college choices, and recruiting classes are really shaping up. How is your favorite team doing? Let's find out ... as Tennis Recruiting and ArrowBar bring you the Top 25 Men's College Tennis Recruiting Classes for 2017.
17-Jun-2016
2016 Top NCAA Division III Women's Classes
The Tennis Recruiting Network wraps up its spring recruiting class rankings with a look at the D-III women. Today we present our list of the Top 25 NCAA D-III women's recruiting classes for 2016. This year, the top of our rankings has a distinct Maroon hue ...