Recruiting 101
Spring Signing Week '15: Recruiting Strategy and Tips for Unsigned Seniors
Tarek Merchant, 14 April 2015
Special from
ImRecruitable
The Spring Signing Period that starts later this week on April 15th is an exciting time for many high school senior tennis players and their families who sign with college teams. Players are embarking on a new chapter in their lives - and an opportunity to play tennis at the next level.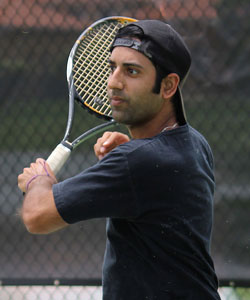 But what happens when you don't have a college secured? If you're in the position of watching your friends, teammates and competitors commit to a college, it's only natural to feel discouraged, worried, and insecure. The most important thing
not
to do is panic. Over the past eight years, we have worked with hundreds of student-athletes and got them recruited to play college tennis. Not all of them have secured a college in April. In fact, there is still time to be recruited.
There are many reasons why a player may not have committed to a college. Most players will fall under one of the following categories:
I started the process late
I have sent a lot of emails - but I haven't received any positive responses
I am not interested in any of the colleges that are recruiting me
I was waiting for coaches to recruit me
I am waiting to get a full ride offer
Regardless of the reason, every prospect navigating the recruiting process should understand important information on recruiting during signing period and the steps to follow.
Spring/Summer Signing Period Continues
The Spring Signing Period that starts this Wednesday actually runs through late summer in August. Here is key information you should be aware of...
Coaches recruiting strategies
College coaches want to recruit the best players they can. Every college has different academic requirements, and every team has different recruiting standards. Coaches create long lists of potential recruits and rank them. You may be a Top 5 recruit for one coach while another coach has you much further down the list. The list can change at any given time - placing you higher or lower in the ranks. This can be due to prospects committing to other colleges, prospects or players not meeting academic requirements, changes in program funding (scholarships), new prospects, etc.
Sudden change in roster openings
There are many reasons why roster opening may change at any time during the year including:
Players who verbally commit but decide to withdraw before singing the NLI (National Letter of Intent).
Players who decide not to return after the season
Players who become ineligible due to not meeting academic requirements
Coaches who do not renew scholarships for players at the end of the season
Slipping through the cracks
Coaches receive hundreds of emails a month, and it can be difficult for them to manage inquiries. College tennis is a non-revenue generating sport, and teams do not have the staff or resources that a football, basketball or baseball team may have. Coaching staffs consist of a head coach and assistant - and in some cases it is only a head coach. Your interest in the college could easily have been overlooked.
So, how do you hone in on your recruiting process and use this information to your advantage?
Next Steps
There are several steps you should take to ensure the best possible fit.
(1) Recruiting Preferences
Identify your most important recruiting preferences. There are several factors all prospective student-athletes should consider - and the list below is a good place to start. If you have previously made a list, revisit it again to see if any of your preferences have changed.
Location: Northeast, Midwest, Southeast, Southwest, West
Athletic Selectivity: NCAA D-I, D-II, or D-III, NAIA, NJCAA
School size: Less than 2,000 students? 2K to 15K? More than 15K?
College Setting: Urban, suburban, or rural?
College Major (list)
Other preferences
Writing down your preferences is always a good idea.
Helpful tips:
Choosing athletic selectivity: Although a majority of Division I teams are playing at the highest level, it does not mean that a Division II or III program cannot have a stronger team than a Division I program. If you are a 4-Star or higher player, you will likely have a lot of Division I opportunities, if you are a 3 Star, you may have some, while a 2 or 1 Star will not likely have many opportunities at Division I.
It is difficult to find a college that meets all your preferences. Selecting multiple options in each category will give you more options.
There is nothing wrong with being a walk-on to start and earn your scholarship if you really like a school academically and athletically.
(2) Regroup and Create a List of Colleges
Make a list of all the colleges you contacted or contacted you and the current status for each. Are you in communication with the coach? Did you receive an offer? Did you ever get a response? In other words, you want to have notes on where you stand with each college. Then ask yourself if these colleges match up with your preferences. Eliminate the ones that don't and keep the ones that do! Add additional colleges to your list. It is a good idea to have fifty or more colleges to contact.
Helpful tips:
You can find colleges that match up with your preferences by going to collegeboard.org and search colleges. You can select filters from the left hand side, add your preferences and then see the results.
Finding out if you match up with a team's athletic ability is always tough. You can always write the coach and find out, but waiting for the coaches response is not the most efficient way. Doing your own homework can speed up the process and ensure you are at the level required to be an active member of the team. A great way to evaluate your level is to use Universal Tennis or Tennis Recruiting and compare your level with that of current players and recruits. You are probably already familiar with Tennis Recruiting, but you can go to Universal Tennis, register for an account, and find your rating. Then you can conduct an advanced college search and filter by your preferences. The Power6 range will indicate the rating of the Top 6 players. If your level is similar to the players on the current team, then it could be a potential opportunity.
(3) Contact and Communicate
Initial contact and on-going communication with coaches is the most important step in the recruiting process. The initial introduction should be in the form of an email, and it must be personalized to each coach. Mention something about the college, the team, and why you are interested. Don't forget to include your player profile - academic and athletic information. You should also call the coach as a follow up to the email you sent. If you don't get a hold of the coach, have a scripted message to leave on the voicemail and include your name, your telephone number and the date you sent them an email. Revisit colleges that you already contacted and re-introduce yourself. The coaches' situation may have changed.
Lastly, if you can respond to coaches and submit information they have requested in a timely manor, your rate of success will increase tremendously.
Helpful tips:
Be persistent! If a coach has not responded to your email or phone call, send them a follow-up. You want to get an answer from the coach, but don't be annoying. Give the coach time to respond - about one week. Find out if he/she is interested in recruiting you. Do they have open roster spots? If the outcome is no, then scratch them off the list and move on. If the outcome is positive, ask them what they need from you to take the next step.
Find coaches' email addresses and telephone numbers on the college athletic websites. The coach contact information is usually listed on the team page - but at times it is listed in the staff directory.
Recruiting experts at ImRecruitable have a database of coaches' personal contact information and can save players and their families a lot of time and heartache by contacting them on the player's behalf. A minimal investment working with a recruiting expert can go a long way, especially when you are limited on time.
Tarek Merchant is the Founder and Recruiting Expert of ImRecruitable.com, an organization that helps student-athletes and their families simplify the college recruiting process. Tarek has hosted many college showcases and recruiting events over the years and has helped hundreds of players receive scholarship opportunities and pursue their dream of playing college tennis. You can contact Tarek by email at [email protected] or by phone at (904) 400-2044.
Next Up, Signing Day!
Tomorrow is the big day... Signing Day. We have you covered with three Blue Chip commitment announcements. First thing tomorrow morning, Joanna Zalewski of Linden, N.J., announces her decision between Army and Wake Forest. Later on in the day, Blue Chip juniors Alexander Keyser and Alexis Nelson share their commitments as well.
In the meantime, sit back, relax, and get ready for your courtside seat to Spring Signing Day!
About CrampsAWAY
CrampsAWAY is proud to sponsor the Countdown to Signing Day series of articles at TennisRecruiting.net.
What is CrampsAWAY Pro?

CrampsAWAY Pro is an all-natural, food-grade liquid supplement that can prevent or instantly stop cramps. CrampsAWAY comes in convenient single-serve packets, perfect for any athlete on-the-go. CrampsAWAY Pro is completely safe and free of any banned substances. It's also NSF Certified for Sport, so athletes can use it whenever needed, with the assurance that they are not putting anything foreign, unhealthy or illegal into their bodies.
Are any elite athletes using CrampsAWAY?
Absolutely! CrampsAWAY Pro has become the go-to cramp solution for many of the best athletes in the world; including pro sports teams in the NCAA, NFL, NBA, MLB and MLS. Also, many top ATP players use CrampsAWAY Pro as a competitive advantage, including John Isner, Jack Sock, James Blake and Tim Smyczek.
Connect with CrampsAWAY on Facebook, Instagram, Twitter, and YouTube - or on their website.
About Wilson
Wilson Tennis is proud to sponsor the Recruiting 101 series of articles at TennisRecruiting.net.
Connect with Wilson on Facebook, Twitter, Instagram, and YouTube - or on their website.
Leave a Comment
More Recruiting 101 Articles
9-Dec-2019
Alternate Reality: Billups Takes Advantage of Showcase Entry
Leyton Billups arrived for the TRN College Showcase at the ITA Coaches Convention on Sunday as an alternate. After somone pulled out of the draw, the junior took advantage of the opportunity to help get seen by coaches and pursue his dream of playing college tennis.
3-Dec-2019
Coachspeak: Talking Points for Recruits to College Coaches
Communication is paramount in the recruiting process. But what are the most important questions for recruits to ask during their correspondence with college coaches? We provide a list of essential talking points to find out as much as possible about a school, program and coach.
19-Nov-2019
Ten Things to Know About the USTA Junior Structure Changes
Beginning in January of 2021, the USTA is making changes to its competitive junior structure. There are 10 important things to know about the changes to get everyone prepared and informed.