Recruiting Feature
Top Women's Classes - 2008 Spring Rankings
by TennisRecruiting.net, 2 June 2008
Last week, TennisRecruiting.net ranked the men's recruiting classes. It's time for the women to have their turn.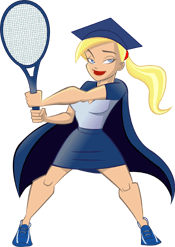 We have talked with many college coaches and high school senior players, and the vast majority of top American college-bound seniors have reported commitments. Commitments continue to roll in every day, but they are unlikely to impact the top classes.
Today, we take a look at the top women's recruiting classes for next year in the Spring Recruiting Class Rankings.
Media Poll
A panel of junior tennis experts has once again volunteered to help us determine the top classes. Journalists, tournament directors, referees, and ranking chairmen from across the country have taken the time to vote on these recruiting classes. The panelists for this list are shown later in the article.
Each panelist submitted his/her list of the Top 25 recruiting classes. Schools received 25 points for each first-place vote, 24 points for each second-place vote, on down to 1 point for each 25th-place vote. Because data for transfer students is so hard to come by, we asked the panelists to not consider transfer students in the voting process.
Top 25 Women's Recruiting Classes (through May 15)
Here are the Spring Rankings of the top women's college recruiting classes, presented by the Tennis Recruiting Network. The Top 25 classes are shown in order, with the point totals and previous ranking from the winter in the two columns at right. The number of first-place votes is shown in parentheses next to the school name.
New recruits for schools are shown in bold italics. These lists are based on all commitments reported through May 15, 2008.
Also Receiving Votes
Other women's programs receiving votes are: Columbia (25), TCU (23), Illinois (21), Washington (14), Wisconsin (13), Central Florida (11), Tennessee (5), Air Force (4), Akron (3), Chicago (3), St. Mary's (CA) (2).
Three of these programs were ranked in our Winter poll: Columbia (#21), TCU (#25), and Central Florida (#24).
Moving Up... and Moving Out
Two teams that made big moves up the rankings are Florida and UCLA.
The Gators recently added highly-regarded Jessica Alexander to their recruiting class. Alexander, a junior, plans to enroll in January and play alongside her older sister Megan in Gainesville. Alexander and Joanna Mather together make up the #9 recruiting class, up from #20 in February.
The Bruins have a strong class headlined by
Nina Pantic
. The Canadian phenom has won 41 matches on the women's professional circuit, achieving a career-high ranking of #530 in April 2007.
Alexandria Walters
and
Jordan Heitzner
round out the #15 class in the nation.
At the other extreme, Georgia Tech dropped from #3 down to #20 when Rebecca Marino announced that she was taking a year off before joining Bryan Shelton's Yellow Jackets.
Conference Call
Four conferences have multiple teams in the rankings, and those conferences boast 18 of the Top 25 recruiting classes: ACC (6), SEC (5), Pac-10 (4), and Ivy League (3).
Four of the 25 schools come from mid-major conferences: BYU (Mountain West), UC Irvine (Big West), Boston University (America East), and Tulane (Conference USA).
Panelists for May/June 2008
The panelists for this voting period are shown below alphabetically. Please join us in thanking them for donating their time and talents to this effort.
Joseph Braden, Director of Tennis at Schwartz Tennis Center, USTA/Midwest Tournament Director.
Adam Carey, Director of Tennis Andre Agassi Charitable Foundation, Former NCAA Division I Head Coach, Nevada Tennis Junior Competition Committee.
Sally Grabham, National Tournament Director, USTA Winter Nationals, Southwest Section and Central Arizona Board of Directors, Southwest Section Volunteer and Advocacy Committee.
Marty Hennessy, Director of Tennis at The Stirling Club, 35 year USPTA professional, National Tournament Director
Larry Jackson, Director, Dayton Center Courts and Tennis Academy, National Tournament Director
Adam Jasick, Director of Tennis-Miller Tennis Center, National Tournament Director, PTR National Tester and Clinician, USA Tennis High Performance Coaching Program Graduate
Ernie Katko, Director of Herrmann Tennis Academy, USTA High Performance Coach, USPTA, USPTR
Patty Lambropoulos, Junior Tennis Coordinator, College Park Athletic Club, National Tournament Director, Chicago District Board of Director and Endorser, Midwest Junior Competion Committee.
Peter Lebedevs, National Tournament Director, USTA Clay Courts
Colette Lewis, ZooTennis.com, USTA Hardcourts
Marc Lucero, Contributor to TennisRecruiting.net, Former Princeton assistant tennis coach
Phil Parrish, Tennis Director, The Longfellow Club, National Tournament Director, Former College Coach
Clayton Taylor, Tennis Director, The Atlantic Club, National Tournament Director
Julie Wrege, TennisInformation.com, TennisRecruiting.net, National Tournament Director, former USTA ranking chair
Mid-Major Rankings
Over the next week, the Tennis Recruiting Network will present the top men's and women's recruiting classes for mid-major colleges. The mid-major rankings will include all colleges in all divisions except for those in the so-called "major conferences". The major conferences for tennis include schools affiliated with Bowl Championship Series conferences - the ACC, Big East, Big 10, Big 12, Pac 10, and SEC - as well as the Ivy League.
Come by later this week for a look at the men's mid-major rankings.
Leave a Comment
More Recruiting Class Rankings
6-Feb-2023
Top Women's Classes - 2023 Winter Rankings
The size of our commitment list is pushing 500 for the senior girls. With that in mind, today is a great time to check in on how schools are doing on the recruiting trail. Today, the Tennis Recruiting Network is proud to announce the Top 25 Women's Recruiting Classes for 2023.
30-Jan-2023
Top Men's Classes - 2023 Winter Rankings
As January comes to a close and the spring semester gets into full swing, today is a great time to take a look at the top college tennis recruiting classes. TRN is excited to present its 2023 Men's Recruiting Class Rankings - including the Top Dawgs ...
24-Jun-2022
2022 Top NCAA D-III Women's Classes
TRN wraps up three weeks of recruiting class rankings with a look at Division III. Our final list of the season shows the Top 25 NCAA Division III recruiting classes.