Coverage Announcement
Clay Court Championship Week
by Rhiannon Potkey, 23 July 2018
The heart of the American junior tennis calendar has arrived, with championships being contested at the district, section and national levels. At the highest echelon, gold balls are available in July and August.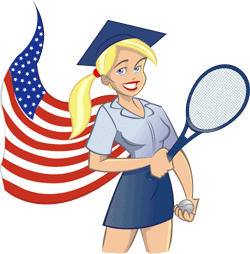 Last week, top American juniors headed south to Florida, South Carolina and Tennessee for the USTA National Clay Court Championships. National titles were awarded for boys and girls in all four age divisions.
The Tennis Recruiting Network and Kirschbaum are back with another edition of Clay Court Championship Week - with wrap-ups of all eight tournaments. From the 12s to the 18s, all the gold ball winners will be featured on TennisRecruiting.net. We are proud to celebrate the top athletes in American junior tennis.
Here is our planned coverage schedule:
Kirschbaum Clay Court Championship Week Series
We hope you enjoy our complete coverage schedule of Clay Court Championship Week. Check in each day for coverage of the top boys and girls from across the country.
About Kirschbaum
We are excited to have Kirschbaum as the title sponsor of Championship Week at TennisRecruiting.net.
Kirschbaum - "The Highest Power and Still Controllable"
Kirschbaum is a German manufacturer of tennis strings, tennis grips, and an assortment of tennis accessories.
Recognizing the diversity of players needs, game styles and evolving parallel technologies, Kirschbaum has developed a great variety of strings and gauges that almost customizes the racquet/string combination to take most advantage of each player's skills and types of game styles.
Without extreme marketing expenditures Kirschbaum has approximately 5000 players worldwide under contract, among them are the top juniors of many countries and naturally numerous professionals of the ATP and WTA.
Shop for Kirschbaum products at Tennis Warehouse - or connect with them on Facebook and Twitter.
Leave a Comment
More Website News
15-Oct-2018
Countdown to Signing Day 2018
It's that time of year. We are less than a month away from the most important day on the college tennis recruiting calendar - Signing Day. November 14th is the opening of the signing period, when seniors can begin signing a National Letter of Intent with Division I and Division II schools. As always, the Tennis Recruiting Network is here to keep you up to date on everything.
12-Oct-2018
USTA Player Development Announces New Coaching Leadership
USTA Player Development announced today that Ola Malmqvist has been promoted to Director of Coaching while Kathy Rinaldi and Kent Kinnear will take over as Head of Women's and Men's Tennis, respectively. Rinaldi will continue in her role as U.S. Fed Cup Captain.
17-Sep-2018
Star Ratings '18-'19 - Fall Edition
After months of waiting, here they are... the Star Ratings. Find out right now how many stars you have - as The Tennis Recruiting Network proudly presents the Fall Star Ratings for 2018-19.
About Rhiannon Potkey
Rhiannon Potkey is a veteran sportswriter with more than two decades of experience in journalism. Potkey has covered many sports at many levels and has a passion for finding great stories. Potkey has covered the U.S. Open, junior sectional and national events, college conference championships and Davis Cup matches. Potkey is currently Content Strategist for Tennis Recruiting.