Recruiting 101
NCAA Eligibility Center is a Great Resource For All Recruits
by Rhiannon Potkey, 19 March 2019
The college recruiting process can feel overwhelming and confusing to many players and parents. They often wish they had a guide to help them navigate all the steps involved.
The NCAA Eligibility Center is a great resource.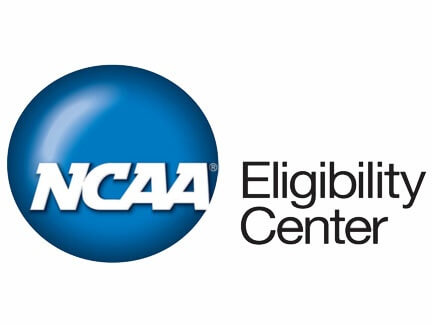 Through its Twitter account and online PDF files, the Eligibility Center allows student-athletes to stay on track for college sports participation. It offers explanations of dead periods and quiet periods and reminders of important deadlines.
The Eligibility Center recommends that student-athletes register with the center during their sophomore year in high school. They can upload transcripts and have tests scores sent directly to the Eligibility Center.
The NCAA consists of three divisions and more than 1,100 schools, and downloading the guide for the college-bound student-athlete provides a thorough review of any level a student-athlete may be considering.
The guide also has great tips for how to manage being a collegiate student-athlete and interesting facts and figures to consider.
Student-athletes can create profile pages to see if they fit best at a Division I or Division II school. Still need to learn more about Division I and Division II? Here are quick references guides for Division I and Division II.
Homeschooling is extremely popular in tennis, and there is a homeschool toolkit to learn what documentation the NCAA requires.
Preparing to make a campus visit? Find out what questions to ask coaches and admissions offices.
The Eligibility Center provides a helpful high school timeline for all student-athletes to follow as they progress through each grade:
Grade 9: Plan
Take the right courses and earn the best grades you can
Ask your counselor for a list of your high school's NCAA core courses to make sure you are in the right courses. Or find your high school's list of NCAA core courses at eligibilitycenter.org/courselist
Grade 10: Register
Register for a Certification Account or Profile Page with the NCAA Eligibility Center at eligibilitycenter.org
If you fall behind on courses, don't take shortcuts to catch up. Ask your counselor for help with finding approved courses or programs you can take.
Grade 11: Study
Check with your counselor to make sure you are on track to graduate on time.
Take the ACT or SAT
At the end of the year, ask your counselor to upload your official transcript.
Grade 12: Graduate
Take the ACT or SAT again, if necessary.
Request your final amateurism certification after April 1
After you graduate, ask your counselor to upload your final official transcript with proof of graduation.
It's a good idea to download all this information or bookmark the pages to help ease the stress of the college recruiting process. Playing in college is a rewarding experience, and the Eligibility Center can help make it more of a reality.
About Wilson
Wilson Tennis is proud to sponsor the Recruiting 101 series of articles at TennisRecruiting.net.
Connect with Wilson on Facebook, Twitter, Instagram, and YouTube - or on their website.
Leave a Comment
More Recruiting 101 Articles
26-Sep-2019
Need a Checklist to Stay on Track for College? Check This Out
Staying on track to be eligible to play in college can be an extensive undertaking. The USTA has created a checklist for prospective student-athletes that is broken down by high school grade levels.
29-Aug-2019
Focusing On Process, Not Outcome Can Help Improve Results
Players often ask what is the best way to improve their rankings or ratings to get recruited by more colleges. Former college coach David Donn of Donovan Tennis Strategies says focusing on the process rather than the end result is the best place to start.
8-Jul-2019
Recruiting Terms and Calendar for 2019-20
Knowing the important dates and terms is a crucial part of the recruiting process. If you need a quick guide to help navigate the path to college, we've got you covered with our recruiting calendar. There are some key date changes at the Division I level this year.
About Rhiannon Potkey
Rhiannon Potkey is a veteran sportswriter with more than two decades of experience in journalism. Potkey has covered many sports at many levels and has a passion for finding great stories. Potkey has covered the U.S. Open, junior sectional and national events, college conference championships and Davis Cup matches. Potkey is currently Content Strategist for Tennis Recruiting. You can reach Rhiannon by email at
[email protected]
.