Recruiting Feature
2012 Top NCAA Division III Women's Classes
by TennisRecruiting.net, 15 June 2012
Over the past few weeks, the Tennis Recruiting Network has been publishing rankings of recruiting classes. Today, we conclude our series with a look at the D-III women's programs.
Top 25 NCAA D-III Women's Recruiting Classes (through May 21)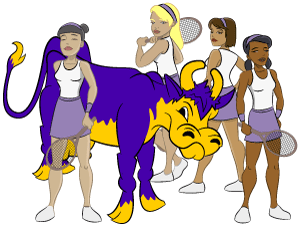 TennisRecruiting.net is excited to present the Top 25 NCAA Division III Women's Recruiting Classes for 2012. This list is based on commitments reported on or before May 21, 2012.
As always, we enlisted the help of a number of NCAA Division III enthusiasts and insiders to aid in the rankings. Our panelists did not consider incoming transfer students in their voting - and they also did not consider players that started college this past January.
But enough boilerplate... It is time to take your first look at our Top 25...
Also Receiving Consideration
A team of D-III insiders - including the folks at Division 3 Tennis - reviewed the resumes of 50 top D-III recruiting classes to come up with these rankings. Other recruiting classes put forward by the insiders that almost made our list are (alphabetically) as follows: Allegheny, La Verne, Ohio Northern, Swarthmore, Texas Lutheran, Washington & Lee, and Wellesley.
Cow Power
If you have paid any attention to D-III tennis over the past few years, then you should be more than a little bit familiar with Williams College. The Ephs just wrapped up their fifth straight NCAA national championship, posting a 5-2 win over the University of Chicago on May 31 in Cary, N.C. The Ephs became the first team in history to win five consecutive Division III titles.
Eph head coach Allison Swain has to replace three key seniors - including ITA Senior Player of the Year Kristin Alotta - and she seems to have done so with her 2012 recruiting class. Our experts rank the four Williams recruits as the top class in the nation.
Marica McCoy - an American currently living abroad - holds a career-high ITF ranking of No. 341. 4-star senior Katie Pollan and 3-star recruits Maya Hart and Alexandra Stone round out a class that provides enough depth to give Williams a chance to continue its dynasty.
Five Spot
Another recruiting class that received considerable support from our experts was the Emory Eagles. Those experts who did not choose the Ephs gave the nod to the Eagles.
Twelve-year Head Coach Amy Bryant is bringing a class with both strength and depth to Emory - four 4-Star recruits and two 3-Star recruits are heading for Decatur this fall. Combining these new recruits with a strong returning veteran lineup that reached the Final Four this season could give the Eagles a recipe for success in 2013.
Rounding out the Top 5 are the Middlebury Panthers (No. 3), Amherst Lord Jeffs (4), and Bowdoin Polar Bears (5).
Conference Call
As usual, schools from the University Athletic Association and New England Small College Athletic Conference dominate our rankings. Eleven of the 25 programs in our rankings are from these two conferences.
Six of the eight UAA programs made our list. In addition to Top 10 programs Emory (No. 2), Carnegie Mellon (9), and Washington University (10), the UAA is represented by Chicago (13), NYU (19), and CWRU (23).
The NESCAC has five ranked teams, including four of the Top 5: Williams (No. 1), Middlebury (3), Amherst (4), Bowdoin (5), and Trinity (14).
The only other conference with more than one team in the rankings is the SCIAC, with three ranked recruiting classes.
New Arrivals
Eight of the 25 programs in our rankings are making their first-ever appearances:
At the other extreme, ten of the 25 programs have appeared in all three of our annual D-III recruiting class rankings.
Recruiting Class Wrap
This article concludes our spring series of recruiting class rankings. Check out all of our lists:
Leave a Comment
More Recruiting Class Rankings
25-May-2015
Top Men's Classes - 2015 Spring Rankings
Today we release our spring rankings of the Top 25 Men's Recruiting Classes. New commitments - including a number of Blue Chip and international players - have moved a number of teams up and down. There have been some movers and shakers: six teams are new to the rankings since the Winter, two programs have popped into the Top 10, and a new team is Hunkering Down in the top spot...
2-Feb-2015
Top Women's Classes - 2015 Winter Rankings
Spring Signing Day is a little over two months away, and coaches are busy locking up their recruits. A number of highly-ranked seniors have already made their college choices - they have made verbal commitments or signed during the Fall Signing Period. Find out which women's teams are looking good at this point - as The Tennis Recruiting Network proudly presents the Top 25 Women's College Tennis Recruiting Classes of 2015.
26-Jan-2015
Top Men's Classes - 2015 Winter Rankings
The end of January is at the midway point between the fall and spring signing periods. Many high school seniors made formal commitments in November, and lots more are making verbal commitments every week as we move towards the spring. With more than 850 commitments, there is no time like the present to check up on how the programs are doing. Today, the Tennis Recruiting Network is proud to bring you the Top 25 Men's College Tennis Recruiting Classes.