Recruiting Feature
Signing Week 2021
by Julie Wrege, 8 November 2021
We made it. The Countdown is over, and Signing Week has arrived.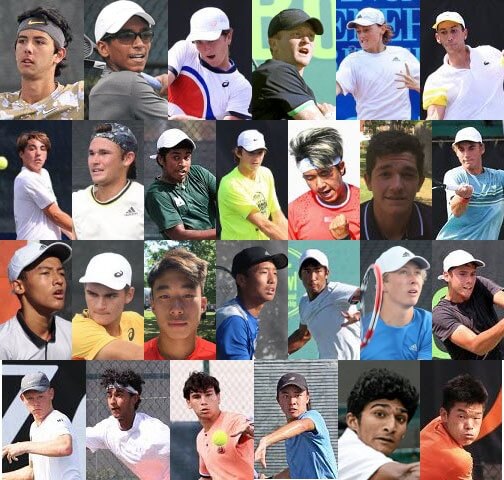 This Wednesday, November 10, is Signing Day - the first day that high school seniors can formally commit to Division I or Division II tennis programs by signing their National Letters of Intent. TRN has been counting down the days for almost a month, and we are primed and ready for Signing Week.
This week is all about the seniors and college tennis recruiting. We have a mix of roundup articles and profiles of committed seniors - including today's Blue Chip Roundup where we take one last peek at the top senior boys and girls. Once Wednesday arrives, we celebrate the opening of the Signing Period with more articles and plenty of updates to our commitment lists (boys, girls).
Check out our coverage schedule - and then get up-to-date on the Blue Chips ...
Signing Week Series
Blue Chip Update
The tables below show the Blue Chip athletes and their updated recruiting status. The Commitment column shows whether the recruit has made a verbal commitment or is undecided, while the Interests column indicates schools of interest.
Boys Status
| Name | State | Commitment | Interests |
| --- | --- | --- | --- |
| Jack Anthrop | FL | Ohio State | Ohio State |
| Samir Banerjee | NJ | Stanford | Stanford |
| Nishesh Basavareddy | IN | Stanford | Stanford |
| Alexander Bernard | FL | | Open |
| Jonah Braswell | FL | Florida | Florida |
| Ignacio Buse | FL | | Open |
| Ozan Colak | MI | | Open |
| Ryan Colby | VA | USC | USC, Columbia, Cornell, Florida, Harvard, Michigan, Notre Dame, South Carolina, Stanford, Texas |
| Nathan Cox | LA | Vanderbilt | Columbia, Duke, Harvard, LSU, Stanford, UCLA, Vanderbilt, Yale |
| Vignesh Gogineni | OH | Yale | Yale |
| Sebastian Gorzny | CA | TCU | TCU |
| Nicholas Heng | AL | Auburn | Auburn |
| Benjamin Kittay | MD | | Open |
| Nicolas Kotzen | NJ | Columbia | Columbia |
| Bruno Kuzuhara | FL | | Open |
| Victor Lilov | NC | Turned Pro | Open |
| Nathan Nguyen | VA | Navy | Navy |
| Fnu Nidunjianzan | FL | Princeton | Princeton |
| Masato Perera | CA | Harvard | Harvard |
| Ethan Quinn | CA | Georgia | Florida, North Carolina, Stanford, Texas, USC, Georgia, Pepperdine, Oklahoma |
| Sebastian Sec | NY | Princeton | Princeton |
| Bjorn Swenson | MN | Michigan | Michigan |
| Aadarsh Tripathi | CA | UCLA | UCLA |
| Teddy Truwit | CT | Duke | Duke |
| Azuma Visaya | HI | UCLA | UCLA |
| Michael Zheng | NJ | Deciding Soon | Columbia, Stanford |
Cardinal North
Since our original look at the Blue Chips last month, two more boys have made commitments - and they are both heading to Palo Alto.
Samir Banerjee (Basking Ridge, N.J.) and Nishesh Basavareddy (Carmel, Ind.) have both committed to Stanford and will arrive on campus Fall 2022.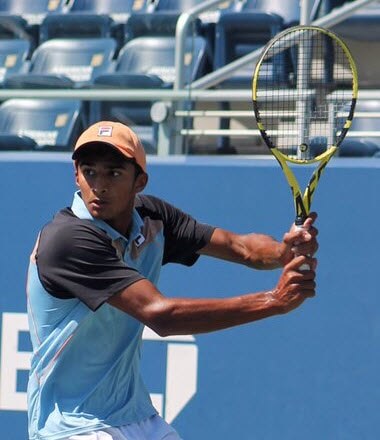 Samir Banerjee has committed to Stanford
Banerjee is excited to work with Paul Goldstein and the entire Cardinal coaching staff.
"I am looking to transition to college tennis under Coach Goldstein and Coach Coupe," said Banerjee. "It's not every day that you get to work with a group that has an impressive past track record on the Pro Tour. I also like their commitment to advancing the program."
Banerjee looks forward to arriving on campus next Fall.
"I am eager to soak in the total Stanford experience," he said. "I know I will grow and mature - both as an athlete and as an individual."
As you can see from the table, only 6 college-bound Blue Chip boys remain on the board, and we expect some of those to declare over the coming days and weeks.
Girls Status
Growing Ivy
Commitments to Ivy League programs generally filter in later than most, but the number of Blue Chip Ivy commits has grown from 1 to 3 since our last look at the Blue Chip girls.
Ann Guerry of Atlanta, Ga., announced her commitment to Yale, while Charlotte Owensby of Boca Raton, Fla., is heading to rival Harvard. Perhaps the two athletes will get a chance to catch up at The Game in Cambridge next Fall.
Charlotte Owensby is heading to Harvard
As is often the case with Ivy institutions, Owensby was impressed with the wealth of opportunities available at Harvard.
"Harvard is a place where I can combine high-level tennis and academics without sacrificing either," said Owensby. "The resources available are unmatched, which should enhance my educational and athletic experience - and Harvard is famous for its incredible global alumni network."
Owensby had great conversations with Crimson Head Coach Traci Green during the recruiting process.
"The coaches are very positive, and I am excited about the goals they have set for the team and for me as an individual."
Although Guerry and Owensby are off the board, the table shows that there are still 7 college-bound Blue Chip girls available. We do expect most of these girls to play college tennis.
We will keep an eye on things as more stories develop this week … but make sure to make TennisRecruiting.net your online home for all things Signing Week!
Leave a Comment
More Roundup Articles
17-Nov-2021
Hot 100 List - November 2021
It's time to unveil the November 2021 edition of the Hot 100. The Lotto Hot 100 features 100 boys and 100 girls who have been playing outstanding tennis. These players have substantially improved their rankings over the past month.
27-Oct-2021
Countdown: Blue Chip Girls
Signing Day will be here before you know it, and the focus on recruiting is building quickly. Last week we looked at the boys ... today we check in on the Blue Chip Girls. Take a look at the status of some of the top girls in the Class of 2022.
20-Oct-2021
Countdown: Blue Chip Boys
Signing Week is just a few weeks away, when high school tennis players begin to formally commit to college tennis programs. We have been talking with many tennis players about their decision process, and today we check in with the Blue Chips in the Class of 2022. Take a look at where things stand ...