Recruiting Feature
2010 Top Mid-Major Women's Classes
by TennisRecruiting.net, 7 June 2010
On Friday, the Tennis Recruiting Network published its list of the top men's mid-major recruiting classes. Today, we take a look at the women.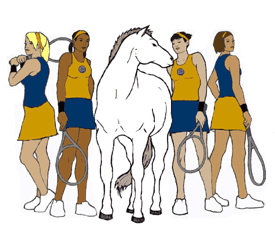 Almost 650 girls are on the commitment lists at TennisRecruiting.net, and the bulk of these commitmets are to schools outside the so-called "high major" conferences that are affiliated with Bowl Championship Series conferences in football. In tennis, the high majors are the ACC, Big East, Big 10, Big 12, Pac 10, and SEC - as well as the Ivy League.
The rankings in this article include all teams outside of those conferences.
Top 25 Mid-Major Women's Recruiting Classes (through May 20)
TennisRecruiting.net is excited to present the Top 25 Mid-Major Women's Recruiting Classes for 2010. This list is based on commitments reported on or before May 20, 2010.
And here they are - the Top 25...
Also Receiving Consideration
We reviewed the resumes for more than 50 teams for these rankings. Teams that received strong consideration and almost made our list are (alphabetically) as follows: Cal State LA, Cleveland State, Liberty, Stetson, Western Michigan, and Williams.
Aggies and Friends
Coach Bill Maze has put together a banner recruiting class for UC Davis in 2010. Kelly Chui, Megan Heneghan, and Nicole Koehly are all Top 100 recruits, while Top-200 recruit Melissa Kobayakawa has won six titles in the past year. Those four recruits should push the Aggies up the Big West standings in the coming years.
No. 2 UMass and No. 3 Rice are making their first appearances in our mid-major rankings since 2007 and 2006, respectively. Both schools have a nice mix of U.S. and international talent coming in next year.
Rounding out the top 5 are NCAA Division III powerhouses Amherst (No. 4) and Emory (No. 5).
Conference Call
Only one conference has at least three programs in these rankings: the Colonial Athletic Association. No. 6 UNC Wilmington, No. 7 William & Mary, and No. 17 James Madison all hail from the CAA.
Conferences with two programs include the Atlantic 10, Atlantic Sun, Big West, Conference USA, Patriot League, and the Southern Conference.
State by State
Sixteen states and the District of Columbia are represented in these rankings. But which state is at the top in terms of numbers? There is a tie, actually. Two states have three programs each in the Top 25: California and Massachusetts.
The Golden State is represented by No. 1 UC Davis, No. 10 Cal Poly, and No. 15 Santa Clara. The Bay State features No. 2 UMass, No. 4 Amherst, and No. 18 Boston University in the rankings.
Four states have two ranked recruiting classes: Georgia, North Carolina, Tennessee, and Virginia.
Next Up... NCAA Division III Rankings
We will wrap up our recruiting class rankings over the next week with our first-ever rankings of the NCAA Division III men and women. Stay tuned to TennisRecruiting.net - as we continue to analyze the Class of 2010.
Leave a Comment
More Recruiting Class Rankings
29-May-2023
Top Men's Classes - 2023 Rankings
Today we release our spring rankings of the Top 25 Men's Recruiting Classes. Recent commitments have moved a number of programs up the list - including five previously unranked classes. But a familiar face is hunkering down at the top of the list.
6-Feb-2023
Top Women's Classes - 2023 Winter Rankings
The size of our commitment list is pushing 500 for the senior girls. With that in mind, today is a great time to check in on how schools are doing on the recruiting trail. Today, the Tennis Recruiting Network is proud to announce the Top 25 Women's Recruiting Classes for 2023.
30-Jan-2023
Top Men's Classes - 2023 Winter Rankings
As January comes to a close and the spring semester gets into full swing, today is a great time to take a look at the top college tennis recruiting classes. TRN is excited to present its 2023 Men's Recruiting Class Rankings - including the Top Dawgs ...