Notes
The table above lists all recruits as of May 7, 2023. In addition to the Star Rating, we display the highest TRN and ITF junior rankings - as well as the best UTR and World Tennis Number (WTN) ratings - for the 6-month period prior to the voting. For international players we display the TRN ranking they would hold if eligible.
Also Receiving Votes
Other men's programs receiving votes are: Liberty (43), Duke (21), Georgia Tech (20), Old Dominion (19), Arizona (11), Purdue (10), Navy (8), Cal Poly (5), Jacksonville State (5), Air Force (4), Louisiana (4), Northwestern (3), Skidmore (3), Carnegie Mellon (1), Dartmouth (1)
Hunker Down
While these spring recruiting class rankings have a different look from the list we published over the winter, things look much the same at the top. As we saw in January, the Georgia Bulldogs have a firm hold on the No. 1 recruiting class in college tennis for 2023-24.
Head Coach Manny Diaz and his staff have brought in a five-man class that earned 489 of 500 possible points - including 13 of 20 first-place votes - from our panel. These five recruits all currently reside in America and represent five different states.
Alex Michelsen of Aliso Viejo, Calif., the No. 1 recruit in the Class of 2023, is expected to make an immediate impact in both singles and doubles for a Georgia squad that reached the quarterfinals of the NCAA Tournament earlier this month. Michelsen has won titles at the ITF Junior Grade 1 level as well as in professional events. Fellow Blue Chip senior Ignacio Buse, a native of Peru who resides in Bradenton, Fla., has played in all four of the junior slams. Buse brings a wealth of experience both at the junior and professional level to Athens.
Michelsen and Buse will be joined at Georgia by Top 100 recruits Parker Jacques (Huntsville, Ala.), Parker Mariencheck (Raleigh, N.C.), and Davis Taylor (Atlanta, Ga.). This trio has won USTA gold balls, high school state championships, and all competed at the 2022 USTA Boys 18 Nationals in Kalamazoo.
"We are excited about our group of signees for next year," said Diaz in a school release. "Their accomplishments are impressive but more importantly, they are hungry and dedicated and have very high expectations going forward."
High Five
The Stanford Cardinal once again holds down the No. 2 spot in the rankings. Six of our panelists voted Stanford No. 1, and the Cardinal earned 476 points in the rankings - only 13 points behind Georgia and more than 50 points better than any other team on the list. The three Blue Chip recruits - Nicholas Godsick (Chagrin Falls, Ohio), Kyle Kang (Fullerton, Calif.), and Hudson Rivera (Rancho Santa Fe, Calif.) - received 6 first-place votes from our panel.
The only other class to receive a first-place vote is the University of Tennessee. The Volunteers - who ranked No. 8 on our winter list - added two more strong prospects to its recruiting haul. Olaf Pieczkowski of Poland and Filip Apltauer of the Czech Republic committed this spring - adding to the already-impressive group consisting of international standouts Filip Pieczonka (Poland), Nicolas Kobelt (Switzerland) and James Newton (Australia).
The Florida Gators and Princeton Tigers round out our Top 5.
Conference Call
The 25 teams in our rankings hail from only 7 conferences, but 3 conferences stand out - the SEC, ACC, and Ivy League.
The SEC and ACC are tied with the most programs in our rankings - six ranked classes apiece. The SEC is impressive in terms of both depth and breadth, with three classes among the Top 5 and five of the Top 10. Georgia (No. 1), Tennessee (3) and Florida (4) are joined in the rankings by the Kentucky Wildcats (7), South Carolina Gamecocks (9), and Texas A&M Aggies (18).
The ACC has 6 ranked classes of its own, headlined by the University of Miami who checks in at No. 11. Other ACC teams in the rankings are the Wake Forest Demon Deacons (12), Virginia Cavaliers (14), Notre Dame Fighting Irish (15), Clemson Tigers (16), and Florida State Seminoles (22).
Also notable is the Ivy League with 5 ranked classes. Compared to larger conferences like the ACC (13 programs) and SEC (13 programs now - climbing to 15 in 2024-25), the Ivy League is impressive in that more than half - 5 of 8 - of its programs have ranked recruiting classes. Pound for pound, the Ivy League brings in top talent year after year. In addition to Princeton at No. 5, the Ivies are represented by the Harvard Crimson (6), Yale Bulldogs (17), Cornell Big Red (23), and Penn Quakers (25).
Major Strides
24 of the 25 classes in our rankings hail from the so-called "power conferences" of college tennis - the Power 5 football conferences and the Ivy League. The lone program outside of those conferences on our list is Pepperdine University at No. 8.
Head Coach Adam Schaechterle has Pepperdine heading in the right direction. The 2023 season saw the Waves win its first WCC Tournament Title in more than a decade, and they advanced to the second round of the NCAA Tournament for the third time in as many years.
Pepperdine will look to build on its recent success in 2023-24 with a strong recruiting class headlined by Australian standout Edward Winter. Winter has competed in all four junior slam tournaments - and he has won tournaments in ITF men's events as well. Other Wave recruits include 5-Star recruit and in-state senior Kurt Miller (Los Gatos, Calif.) as well as international recruits Photos Photiades (Cypress) and Alessio Vasquez Gehrke (Germany).
Drop Shots
Scattershooting through the rankings …
Don't Mess with Texas ... or Florida - The 25 schools in our rankings come from 18 different states. Texas and Florida each have three programs on the list. Texas A&M (No. 18), Baylor (19) and TCU (24) all come from the Lone Star State, while the Sunshine State is represented by Florida (4), Miami (11) and Florida State (22).
I Know You - All 25 of the programs on the list have had ranked recruiting classes in previous years. Each program has had at least 3 ranked classes since we started these rankings in 2005-06.
Run It Back - 12 of the 25 programs with ranked recruiting classes have strung together multiple ranked recruiting classes in a row. Georgia (1), Stanford (2), Florida (4), Princeton (5), Harvard (6), Pepperdine (8), Ohio State (10), Notre Dame (15), Yale (17), Baylor (19), TCU (24), and Penn (25) have had ranked classes for at least two consecutive years.
Streaking - The program with the longest consecutive streak of ranked classes is Princeton. These 2023 rankings feature the fourth ranked class in as many years for the Tigers.
Happy Returns - Wake Forest (12) has a ranked class for the first time since 2017 - the longest hiatus for any program on our list. Wisconsin (20) and Indiana (21) are back in the rankings for the first time since 2018.
Historic Marks - For Tennessee (3), Pepperdine (8) and Wisconsin (20), 2023 marks the highest-rated recruiting classes in school history. Congratulations to Coaches Woodruff, Schaechterle, and Westerman on their recruiting hauls.
Panelists for Spring 2023
The 20 panelists for this voting period are shown below alphabetically. Please join us in thanking them for donating their time and talents to this effort.
Joseph Braden - Director of Tennis at Schwartz Tennis Center, USTA/Midwest Tournament Director
Scott Colson - Payers and Players Podcast
Brian Cory - Director of Tennis at Carmel Valley Athletic Club, National Tournament Director
Sonny Dearth - Daily Press newspaper and dailypress.com Web site in Newport News, Va.
Joey Dillon - TRN contributor, freelance writer
David Donn - Donovan Tennis Strategies, DTS College Prospects Showcases
Tim Donovan - Donovan Tennis Strategies, DTS College Prospects Showcases
Larry Haugness - Former ITF and USTA National Tournament Director, PTR National Tester, USPTA, Junior Davis Cup Coach
Pua Johnson - USTA National and ITA Collegiate Referee
Bobby Knight - CollegeTennisToday.com
Matt Knoll - American College Placement, Former Head Coach at Baylor University.
Dave "The Koz" Kozlowski - Inside Tennis With The Koz, The Tennis Channel
Patty Lambropoulos - Junior Tennis Coordinator, College Park Athletic Club, National/Sectional/Local Tournament Director, Chicago District Board of Director, USTA National Jr Competition Committee, Midwest Junior Competition Committee
Colette Lewis - ZooTennis.com
Rick Limpert - TRN contributor, freelance writer
Phil Parrish - Tennis Director, The Longfellow Club, National Tournament Director, Former College Coach
Robert Sasseville - National Tournament Director, USTA National Referee, Former USTA Junior Competition Committee Member
Peri Sheinin - Host of On the Rise podcast, Sports Anchor and News Reporter at WHSV in Harrisonburg, Va.
Lisa Stone - Host of ParentingAces – The Junior Tennis and College Tennis Podcast
Julie Wrege - TRN principal, former National Tournament Director, former USTA junior ranking chair and USTA Tennis Rules Committee member
About Inspiration Academy
Inspiration Academy is proud to sponsor the Roundtable Discussion series of articles at TennisRecruiting.net.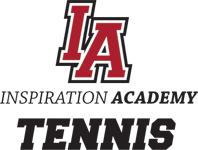 Inspiration Academy is a LIFE preparatory school that believes in training student athletes from the inside-out. Whether it's baseball, tennis, sand volleyball, Filmmaking, Music or strictly Innovative Education you're after, Inspiration Academy provides industry professional mentors specifically designated to each student for the most individualized training program you will find anywhere. With boarding, beaches, great training facilities and world class coaching - get Inspiration!
For more information on what Innovation Academy looks like, check them out on Instagram, Facebook, and YouTube - or on their website.
Leave a Comment