Notes
The table above lists all recruits as of May 7, 2023. In addition to the Star Rating, we display the highest TRN and ITF junior rankings - as well as the best UTR and World Tennis Number (WTN) ratings - for the 6-month period prior to the voting. For international players we display the TRN ranking they would hold if eligible.
Also Receiving Votes
Other women's programs receiving votes are: Iowa State (48), Wisconsin (27), LSU (26), Mississippi State (19), Alabama (14), Seattle (12), South Carolina (11), Boston University (10), Florida State (10), Lipscomb (10), Washington (10), Cincinnati (9), Kansas State (7), Cornell (6), Dartmouth (6), Furman (4), Georgia Tech (3), Grand Canyon (1)
Tree Tops
Four months after our first look over the winter, Stanford University remains the No. 1 recruiting class in college tennis. The Cardinal, who reached the Final Four at the 2023 NCAA Championships, have a two-woman class that earned 7 of 17 first-place votes and 409 of 425 possible points from our panel.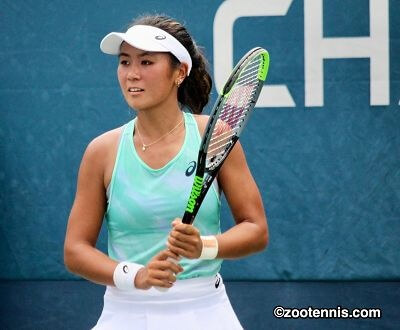 Eleana Yu of Mason, Ohio, competed in only one USTA tournament over the past year. But when that tournament is the USTA Nationals - and when you win the singles title to earn a wildcard into the US Open - that one tournament will turn some heads. Yu will bring her experience on the professional circuit to Palo Alto next year.
Yu will be joined on The Farm by fellow Blue Chip athlete Katherine Hui of San Diego, Calif. Hui, who reached the semifinals at the USTA Nationals, has emerged as the No. 1 senior recruit on both of our ranking lists.
2023 marks the fifth time Stanford and Head Coach Lele Forood have earned the nod as the No. 1 recruiting class from our panel. This top-rated class follows up recent highly-regarded classes that were rated No. 1 and 2 in 2021 and 2022, respectively.
High Five
Voting was tight this time around - particularly for the top spot. The UCF Knights challenged for No. 1 with a trio of highly-regarded recruits.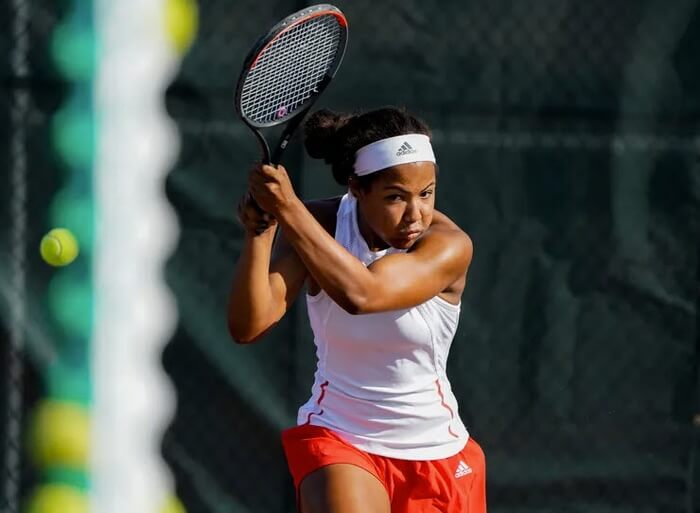 Blue Chip senior Grace Levelston combined with Olivia Lincer and Mihaela Tsoneva to form a class that also earned 7 first-place votes from our panel to secure the No.2 spot in our rankings. Lincer, who resides in Windsor, Conn., also represents Poland on the ITF circuit, while Tsoneva hails from Bulgaria. All three recruits are active in the ITF professional tournaments. Congratulations to Knights Head Coach Brian Koniecko on bringing in UCF's highest-ranked class two seasons in a row.
The Vanderbilt Commodores sit at No. 3 on our list - their 387 points are only 1 point behind UCF. Fourth-year head coach Aleke Tsoubanos is bringing Blue Chip senior Valeria Ray of Doral, Fla., and top Canadian Kayla Cross to Music City this Fall.
The Georgia Bulldogs and NCAA Finalist N.C. State Wolfpack round out our top 5 at No. 4 and 5, respectively.
Ivy Accolades
The 25 recruiting classes in our rankings represent 11 different conferences. Of these 11, the Ivy League stands tall this season with five ranked classes - more than any other conference.
The Harvard Crimson leads the way for the conference at No. 6 on our list. The Princeton Tigers, who advanced to the second round of the NCAA Tournament this May, join Harvard in the Top 10 at No. 9. Other recruiting classes in our rankings from the Ancient Eight are the Columbia Lions (No. 11), Yale Bulldogs (12), and Penn Quakers (17). These five conference programs have 16 recruits arriving this Fall - 10 Blue Chip, 4 Five Stars, and 2 international recruits. Not too shabby!
The only other conference with more than 3 programs in the rankings is the Pac-12 with 4 ranked classes.
Power Play
Five classes in our rankings come from programs outside of the six power conferences - starting with the Rice Owls of the American Athletic Conference. Head Coach Elizabeth Schmidt has attracted a powerful duo to Houston - Blue Chip senior Anushka Ashar of Boca Raton, Fla., and international standout Divna Ratkovic of Montenegro. The Owls check in at No. 16 in our rankings - their highest mark since 2014.
Other schools outside the 6 power conferences are the VCU Rams (No. 18), FIU Panthers (21), UCSB Gauchos (22), and Old Dominion Monarchs (23).
Next week our recruiting class rankings will return with a look at the mid-majors which exclude the power conferences - all five of these teams should feature prominently on that list.
Service Winners
Scattershooting through the rankings …
Golden Sunshine - 17 different states have programs in our rankings - led by California and Florida with 3 ranked classes apiece. Top ranked Stanford is joined in our rankings by fellow California programs UCLA (No. 19) and UCSB (22), while the Sunshine State is represented by UCF (2), Florida (15), and FIU (21).
Splitting the Difference - Just over half - 13 - of the programs on our list have a streak of at least 2 years. Stanford (1), UCF (2), Vanderbilt (3), Harvard (6), Oklahoma (7), Columbia (11), Yale (12), Michigan (13), North Carolina (14), Florida (15), VCU (18), UCLA (19), and Arizona (20) all followed up their ranked classes in 2022 with another one this year in 2023.
Year After Year - The Harvard Crimson (6) have the longest streak of consecutive recruiting classes at 12. Head Coach Traci Green has had a ranked class every year since 2012. Next best? Stanford at 9 straight years.
Most Consistent - Stanford (1) has the most appearances in our rankings of any program with 17. The Cardinal have appeared in 17 of the 18 lists we have published - every year except 2014.
Welcome Back - Rice (16) is back in our rankings for the first time since 2014 - the longest hiatus of any school.
Welcome Aboard - The UCSB Gauchos have their first ranked class in program history. After earning votes in 2018 and 2021, Head Coach Simon Thibodeau breaks through in 2023 with the No. 22 spot on our list.
Panelists for 2023
The 17 panelists for this voting period are shown below alphabetically. Please join us in thanking them for donating their time and talents to this effort.
Joseph Braden - Director of Tennis at Schwartz Tennis Center, USTA/Midwest Tournament Director
Scott Colson - Payers and Players Podcast
Sonny Dearth - Daily Press newspaper and dailypress.com Web site in Newport News, Va.
Joey Dillon - TRN contributor, freelance writer
David Donn - Donovan Tennis Strategies, DTS College Prospects Showcases
Tim Donovan - Donovan Tennis Strategies, DTS College Prospects Showcases
Larry Haugness - Former ITF and USTA National Tournament Director, PTR National Tester, USPTA, Junior Davis Cup Coach
Pua Johnson - USTA National and ITA Collegiate Referee
Matt Knoll - American College Placement, Former Head Coach at Baylor University.
Colette Lewis - ZooTennis.com
Rick Limpert - TRN contributor, freelance writer
Parsa Nemati - Junior and college tennis insider, Parsa Bombs
Phil Parrish - Tennis Director, The Longfellow Club, National Tournament Director, Former College Coach
Robert Sasseville - National Tournament Director, USTA National Referee, Former USTA Junior Competition Committee Member
Peri Sheinin - Host of On the Rise podcast, Sports Anchor and News Reporter at WHSV in Harrisonburg, Va.
Lisa Stone - Host of ParentingAces – The Junior Tennis and College Tennis Podcast
Julie Wrege - TRN principal, former National Tournament Director, former USTA junior ranking chair and USTA Tennis Rules Committee member
About Inspiration Academy
Inspiration Academy is proud to sponsor the Roundtable Discussion series of articles at TennisRecruiting.net.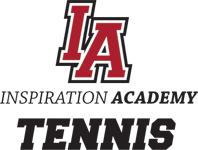 Inspiration Academy is a LIFE preparatory school that believes in training student athletes from the inside-out. Whether it's baseball, tennis, sand volleyball, Filmmaking, Music or strictly Innovative Education you're after, Inspiration Academy provides industry professional mentors specifically designated to each student for the most individualized training program you will find anywhere. With boarding, beaches, great training facilities and world class coaching - get Inspiration!
For more information on what Innovation Academy looks like, check them out on Instagram, Facebook, and YouTube - or on their website.
Leave a Comment
More Recruiting Class Rankings
23-Jun-2023
2023 Top NCAA D-III Women's Classes
We wrap up our recruiting class ranking series with another look at NCAA Division III programs. Today we present the Top 25 NCAA D-III Women's Recruiting Class Rankings for the Class of 2023.
19-Jun-2023
2023 Top NCAA D-III Men's Classes
TRN continues its recruiting class ranking series this week with a look at Division III. Today we present the Top 25 NCAA D-III Men's Recruiting Class Rankings for the Class of 2023.
16-Jun-2023
2023 Top Mid-Major Women's Classes
The Tennis Recruiting Network continues its recruiting class ranking series this week with a look at the mid-majors. Today we present the Top 25 Women's Mid-Major Recruiting Class Rankings for the Class of 2023.