Recruiting Feature
Top Men's Classes - 2012 Spring Rankings
by TennisRecruiting.net, 21 May 2012
All eyes of the college tennis world are still on Athens, where the 2012 NCAA Division I Tennis Championships are now through to the semifinals. The men's bracket features Virginia with a trio of schools from the Los Angeles area - defending champion and top-seeded USC, UCLA, and Pepperdine. On the women's side, we see defending champion Florida along with top-seeded UCLA, Duke, and USC.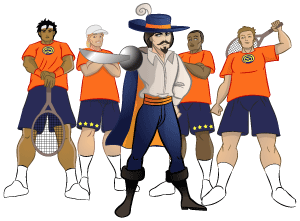 But the time has also come for TennisRecruiting.net to look ahead to the future. The lifeblood of any college tennis program is recruiting, and college tennis programs have reported almost 1,600 commitments. The majority of schools have completed their recruiting for this year's class.
Today, the Tennis Recruiting Network announces the Top 25 men's recruiting classes for the Class of 2012.
Media Poll
The Tennis Recruiting Network has again enlisted the aid of junior tennis experts to determine the top classes. Reporters, national and international tournament directors, referees, ranking chairmen, and writers from across the country have donated their time and talents to vote on these top classes. Panelists for this voting period are shown below.
Each of our panelists submitted his/her take on the Top 25 recruiting classes. Schools received 25 points for each first-place vote, 24 points for each second-place vote, on down to 1 point for each 25th-place vote. The panelists were told not to consider incoming transfer students in their voting - and also did not consider players that started college in January.
Top 25 Men's Recruiting Classes (through May 1)
Here are the Spring Rankings of the top men's college recruiting classes, presented by the Tennis Recruiting Network. The Top 25 classes are shown in order, with the point totals and previous ranking from the winter in the two columns at right. The number of first-place votes is shown in parentheses next to the school name.
New recruits for schools are shown in bold italics. These lists are based on all commitments reported through May 1, 2012.
Also Receiving Votes
Other men's programs receiving votes are: Denver (46), Washington (40), LSU (15), Dartmouth (13), George Washington (13), Xavier (10), Mississippi (7), Alabama (5), Cal Poly (5), San Diego (4), Virginia Tech (4), Michigan State (3), Penn State (3), Iowa (2), Kennesaw State (2), Carnegie Mellon (1), IUPUI (1).
Wahoos Claim Top Spot
Virginia head coach Brian Boland has added another premier recruit - Jonathan Cornish of Essex, England - to a highly-touted recruiting class that ranked second in our poll this past January. This spring, our panel tabs the Cavaliers as the No. 1 recruiting class, awarding them 10 of the 19 first-place votes and 464 of 475 points overall.
All four of the American recruits - Mitchell Polnet, Harrison Richmond, Ryan Shane, and Mac Styslinger - have been ranked among the Top 20 in the Class of 2012 over the course of the past year, and Cornish was ranked Top 100 in the ITF rankings earlier this season. While the Cavaliers have been a fixture in the Top 10 of our rankings, 2012 marks the first time Virginia has been recognized as the top-ranked class.
Coach Boland commented on his recruits in a school release.
"There is no question from a coaching staff's perspective that this class will add significant value to our every day practice sessions and fitness workouts, but they will also make us a much tougher team to compete against beginning in the spring of 2013."
Shuffling the Top 10
Our Top 10 programs are the same ones that appeared in the Winter Rankings, but a handful of new recruits have shuffled things around.
In the second position is the Stanford Cardinal. Coach Whitlinger's group earned the remaining 9 first-place votes in a tightly-contested race. The Cardinal had been the top-rated class over the winter. The Duke Blue Devils remain in the No. 3 spot.
Texas A&M checks in at No. 4 with arguably the best 1-2 punch in the country. Mitchell Krueger and Shane Vinsant have both been ranked among the nation's top five seniors.
The next two programs in our rankings - Texas (No. 5) and Illinois (6) each added a Blue Chip recruit to their recruiting haul. Harrison Adams and Brian Page committed to the Longhorns and Illini, respectively, moving the programs up in the rankings.
Rounding out the Top 10 are Georgia, Wake Forest, Notre Dame, and North Carolina. The Bulldogs dropped to No. 7 when we learned that Casey Kay had enrolled in January.
New Arrivals
There are three programs in the rankings that did not appear in our winter poll, starting with the Fresno State at No. 12.
Head Coach Jay Udwadia has been building the Bulldogs program during his 8-year tenure, winning the WAC Title for the second straight season and advancing to the NCAA Championships for the third time in as many years. However, this is the first appearance for Fresno State in our recruiting class rankings. Both of their international recruits - Ahmed Triki and Boris Arias - are ranked among the ITF's top 100, and Arias has several ATP singles and doubles wins. Throw in Richard Del Nunzio - the first Blue Chip recruit to commit to the Bulldogs in school history - and you have the recipe for the No. 12 class.
Other new arrivals are the Central Florida Knights (No. 17) and Clemson Tigers (23).
Conference Call
The ACC leads all conferences with 7 of their 11 squads among the Top 25 programs, including 4 schools among the Top 10. In addition to top-ranked Virginia, the ACC is represented by Duke (No. 3), Wake Forest (8), North Carolina (10), Florida State (19), Georgia Tech (20), and Clemson (23).
The only other conference with more than two programs in the rankings is the SEC with 3.
2012 is a banner year for programs outside of the so-called "high major" conferences - 7 of the 25 programs in these rankings come from mid-major programs. Seven is a huge number - the largest in the history of our rankings, almost twice as many as the previous high mark of 4 that we have seen several times, most recently in 2010.
Conference USA and the Big West Conference have two schools apiece in the rankings, while two other Division I conferences - the Sun Belt and WAC - each have one.
Also of note is Division III powerhouse Amherst College who sneaks into the rankings at No. 25.
All of these programs should figure prominently in our mid-major and D-III rankings which will be published over the next few weeks.
Panelists for May 2012
The 19 panelists for this voting period are shown below alphabetically. We sincerely appreciate them donating their time and talents to this effort. Please join us in thanking them when you see them out and about in the tennis world.
Joseph Braden, Director of Tennis at Schwartz Tennis Center, USTA/Midwest Tournament Director.
Casey Chapin, National Tournament Director, Director, Hudlow Tennis Center
Sonny Dearth, Daily Press newspaper and dailypress.com Web site in Newport News, Va.
Tim Donovan, Donovan Tennis Strategies, DTS College Prospects Showcases
Sally Grabham, National Tournament Director, USTA Winter Nationals, USTA/Southwest Section and Central Arizona Board of Directors
Larry Haugness, USTA/Missouri Valley Board of Directors, National Tournament Director, PTR National Tester, USPTA, Junior Davis Cup Coach
Larry Jackson, Director, Dayton Center Courts and Tennis Academy, National Tournament Director
Pua Johnson, USTA National and ITA Collegiate Referee
Ali Jones, Contributor to TennisRecruiting.net, USTA/Texas Junior Tennis Blog
Ernie Katko, Junior Development Coach in Chicago, USTA High Performance Coach, USPTA, PTR, Member of USTA/Midwest Coaches Commission
Patty Lambropoulos, Junior Tennis Coordinator, College Park Athletic Club, National Tournament Director, Chicago District Board of Director and Endorser, Midwest Junior Competion Committee.
Colette Lewis, ZooTennis.com, USTA Hardcourts
Phil Parrish, Tennis Director, The Longfellow Club, National Tournament Director, Former College Coach
Erica Perkins Jasper, Senior Manager, USTA Junior and Collegiate Competition, USTA Player Development
Robert Sasseville, National Tournament Director, USTA National Referee
Jeffrey Szekely, Former National Tournament Director, USTA Clay Courts
Clayton Taylor, Director of U.S. ITF Hardcourt Championships, Director of Tennis at The Atlantic Club
Julie Wrege, TennisInformation.com, TennisRecruiting.net, former National Tournament Director, former USTA ranking chair
Evan Zeder, Athletic DNA
Rankings, Rankings Everywhere...
These are only the first of our Recruiting Class Rankings. Rankings for the women's classes will be released next Monday, May 28th, followed by rankings of Mid-major as well as NCAA Division III schools.
Leave a Comment
More Recruiting Class Rankings
24-Jun-2022
2022 Top NCAA D-III Women's Classes
TRN wraps up three weeks of recruiting class rankings with a look at Division III. Our final list of the season shows the Top 25 NCAA Division III recruiting classes.
20-Jun-2022
2022 Top NCAA D-III Men's Classes
The Tennis Recruiting Network is excited to present its recruiting class rankings for NCAA Division III conferences. Today we unveil our Top 25 D-III men's recruiting classes for 2022.
17-Jun-2022
2022 Top Mid-Major Women's Classes
The Tennis Recruiting Network continue its recruiting class ranking series this week with a look at the mid-majors. Today we present the Top 25 Women's Mid-Major Recruiting Class Rankings for the Class of 2022.