Recruiting 101
Fall Signing Week '15: Keys to Success in Recruiting
Tarek Merchant, 13 November 2015
Special from
ImRecruitable
I have been in the sports recruiting business for about six years now, and over the years I have seen some players successful in recruiting while others have struggled. The difference between those who end up playing college tennis and those who do not is not always who is a better player - but often who is willing to work harder and smarter than their competition. Below are keys to success in the recruiting process.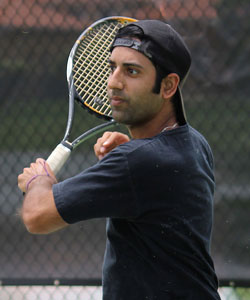 (1) Get Educated Early
I have never heard of anyone who got into trouble because of starting the process too early. Starting early usually offers players maximum opportunities from college coaches - while late starters lose opportunities.
You must understand and follow the recruiting process. Learn how many scholarships are available, what coaches are looking for, what the recruiting rules are, and the timelines. Technology drives the recruiting process and the way college coaches recruit, so you need to stay ahead of the ongoing learning curve. Below are some ways to get you started.
Go online to get information on tennis recruiting/scholarships and the steps you need to take in the process. This is as easy as searching in google "college tennis scholarships, or college tennis recruiting".


Research colleges and start building a list. You can search colleges and filter your intended major, tennis division I, II, III, NAIA, location, size of college, etc., all on collegeboard.org. You can use tools such as college program websites, TennisRecruiting.net and UniversalTennis.com to learn more about the team schedule, match results, roster and coaches.


Get evaluated by a recruiting expert. In the summer or start of your junior year, it is important to understand where you stand academically and athletically in comparison to the colleges you are interested in and the scholarship you are looking for. Everyone has different needs and wants, and you must go through a detailed evaluation to get an understanding of where your best-fit opportunities will come.
(2) Take Charge
Student-athletes should be the front-runner in the recruiting process and be the one contacting and communicating with coaches. As a student-athlete you shouldn't be scared to make mistakes - coaches are aware of your limited experience and age. Nobody expects you to be perfect, so surround yourself with a supporting team and be aware of your strengths and weaknesses.
If you are good at talking to coaches on the phone, then make it a point to have a phone call with all the coaches from colleges you're interested in. If you're not good at talking to coaches on the phone, then ask for help and practice on improving this skill. It's not enough to just be aware of your strengths and weaknesses, but you must take action on finding solutions so you can better yourself, which will continue to help you in the future.
Getting out of your comfort zone is not always easy, but it certainly gets easier the more you practice. It's no different than anything else in life. For example, when you first learn how to drive a car, it can be challenging. But the more you drive, the more comfortable you get, and eventually it becomes second nature.
Your support team should consist of your parents, coach, mentor(s) and recruiting advisor(s). Your parents should be your number one fans and supporters and give you the advice on financial and personal decisions where and when needed. Your coaches should be helping you reach your goals on the tennis court. Your mentor(s)/recruiting advisor(s) should help you navigate the process and keep you motivated. Keep in mind that they are supporting you - not handling your recruiting.
College coaches take a strong liking to recruiting players that take charge and are able to handle the contact and communication. It shows that you are mature, organized, and possess leadership skill - which are all very important to your success as a student-athlete on and off the court. If you - the athlete - is involved in the process, you will also be best educated and informed about what the various colleges recruiting you are able to offer. You are ultimately in control of your destiny and should find a place that will make you happy.
(3) Time Management
The recruiting process is a full time job. It can get overwhelming and require a lot of your time at any given moment. It can get difficult to manage the contact, communication and follow-ups with coaches. Therefore, it is important to be prepared and have a schedule created in advance that will help you manage your time. There are only 24 hours in a day and only so much a person can do in that time. A lot of your day is taken up in school, and if you are training a lot, then you aren't left with many hours for everything else.
Every student-athlete should create a daily schedule that includes all the times you are busy with commitments - which includes school, homework, tennis practice, tournaments, social and family activities. The time remaining should be dedicated to the recruiting process. Ideally you should set aside thirty minutes each day if needed for recruiting.
You will definitely have to make some sacrifices and juggle your schedule at times to accommodate college coaches. The good news is technology has allowed us to use apps such as your ical or google calendar to keep track of your tasks, appointments and commitments. It also allows us to be more available to text, talk and send emails on the go. You can maximize your time by checking messages and sending emails, texts or making phone calls during your school breaks, lunchtime, travel between school, tennis practice and home, or any other free moment you have.
You should let coaches know your schedule and when you are free so they can connect you at a convenient time. However, you may also have to adjust and juggle your schedule to accommodate them. This is where your priorities kick in. Recruiting should be your priority along with school - so you may have to make some sacrifices.
(4) Exposure and Tournament Results
Exposure is an essential part to your recruiting process. Exposure should not be confused with tournament results - it is a way to measure yourself against your competition, and it allows you to network and develop relationships with college coaches. Further, you will also learn more about the recruiting process, what level of colleges you fit (coaches watch you in action) and what types of colleges would be best fit for you.
Playing tournaments on a regular basis can be tough depending on your location, climate, and costs, so exposure events are meant to fill that void and give you that extra push. It is important to plan for the investment required to get to as many exposure events over the course of your high school years as possible. Unfortunately, only national level tournaments such as Kalamazoo, Clay Court National Championships, etc., get a large number of coaches in attendance. Therefore college exposure events have become more and more popular - as they are set up to bring college coaches and prospects together.
By taking advantage of every chance you get to train and/or play in front of coaches, it will help you create a competitive edge and expedite your recruiting process. I often hear players and parents find excuses not to attend exposure events. The focus is often on the coaches in attendance and if that matches up with your needs, versus the overall exposure and opportunities that will result from the event. Although the coaches in attendance is a valid question, you should ensure the event you are attending is going to do the following:
Allow you to train and or showcase your talent to college coaches
Circulate your player profile to coaches in attendance and sent to coaches around the country
In-class seminars by college coaches and recruiting experts
Information about the recruiting process
College style training and competitive match play
A reputable company that puts on an organized event
Tournaments are equally an essential part to your recruiting process. College coaches want to see results - it is a true indicator of your level. You have to be realistic about where you are today versus where you want to be in the future. Coaches are recruiting players that fit the level of their team now, so you must at least fit in the top 6-8 in their lineup with a lot of upside to improve your game.
Players should play tournaments in a progressive manner rather than jumping to high level tournaments such as ITF tournaments or men's/women's opens. If you think you need to specifically play these tournaments for coaches to recruit you, you are wrong, and this is a myth. You will be most successful if you follow the steps of progression, just like you do in academics. For example, you will not be able to pass grade 12 math if you haven't mastered grade 9,10 and 11 math. You have to prove that you can compete consistently and master your level of tournaments before moving on to a higher level on a regular basis.
This progression should not stop you from playing a few ITF or higher-level tournaments if you like - those tournaments can challenge you and show you what the next level of competition is like. As you continue to progress, you keep moving up the ladder. This is why the USTA and tennis associations around the world have created levels for junior tennis players.
(5) No Excuses - Whatever It Takes
Far too often I hear excuses from players and parents. Excuses such as, "I didn't win because I am slightly injured," "I didn't get a chance to train as much as I normally do before the tournament," "Normally I play better but I just didn't care because its not a big tournament," etc. Do you ever hear Roger Federer or Novak Djokovic give excuses like that? Even Rafael Nadal - who has had a horrible two years by his standards - does not give these kinds of excuses. Do you give excuses when you win? I've never heard a player or parent give an excuse after winning a match.
All an excuse does is give you a reason to justify your loss. The only person you are cheating is yourself. Everyone has challenges to face, and you have to play with the hand you have been dealt. Facing adversity is a challenge; this is what makes the difference between you and your competition. In the end, everything you do in life is determined by the end result. The recruiting process is no different.
Every player needs to create his or her own destiny. Nobody is going to hand it to you, and therefore you need to push yourself. Your parents, your coach, your friends, and your recruiting advisors can all be supporters and aid your journey, but in the end it needs to come from within you.
There are three kinds of people in this world....
Those who make things happen
Those who watch things happen
Those who wonder what happened
-- Mary Kay Ash
Which one are you going to be?
Tarek Merchant is the Founder and Recruiting Expert of ImRecruitable.com, an organization that helps student-athletes and their families simplify the college recruiting process.
ImRecruitable will host the 5th Annual College Tennis TD and Showcase December 2 & 3 at Sunrise Tennis Club, Sunrise Fla., where you can get exposure to 60+ college coaches.
You can contact Tarek by email at [email protected] or by phone at (904) 400-2044.
More Coverage Tomorrow
For Signing Week, we pull out all the stops. Tomorrow may be Saturday, but we will have more content ready for you to enjoy.
First thing tomorrow morning, we hear from Sophia Adams of Miami, Fla., who plans to play tennis at UNC Greensboro next fall.
Check out that articles - and all the other content in our coverage of Fall Signing Week '15...
About Wilson
Wilson Tennis is proud to sponsor the Recruiting 101 series of articles at TennisRecruiting.net.
Connect with Wilson on Facebook, Twitter, Instagram, and YouTube - or on their website.
Leave a Comment
More Recruiting 101 Articles
9-Dec-2019
Alternate Reality: Billups Takes Advantage of Showcase Entry
Leyton Billups arrived for the TRN College Showcase at the ITA Coaches Convention on Sunday as an alternate. After somone pulled out of the draw, the junior took advantage of the opportunity to help get seen by coaches and pursue his dream of playing college tennis.
3-Dec-2019
Coachspeak: Talking Points for Recruits to College Coaches
Communication is paramount in the recruiting process. But what are the most important questions for recruits to ask during their correspondence with college coaches? We provide a list of essential talking points to find out as much as possible about a school, program and coach.
19-Nov-2019
Ten Things to Know About the USTA Junior Structure Changes
Beginning in January of 2021, the USTA is making changes to its competitive junior structure. There are 10 important things to know about the changes to get everyone prepared and informed.