Recruiting 101
Countdown: Transitioning to College Tennis
Michael Kypriss, 13 October 2016
Special from
ImRecruitable
During my 35 years coaching tennis at the high school level, I played a key role in helping my players transition from junior tennis into college tennis. My players achieved great results and my method was highly successful, so many parents over the years have asked me about my approach - and what I thought might be the key factors to success.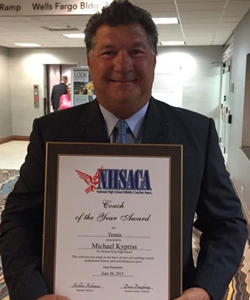 There are several key factors that enhance the transition from junior tennis to the collegiate level. The word transition occurs in two ways: on court and off court. Both have mental and physical characteristics. Let me break it down for you.
Off Court Transition first and most important. Why?
In many cases, I have welcomed incoming ninth-grade students to my programs that are in a self-identity mode - which sometimes means crisis. This time period has always been my most important and significant coaching phase off the court while transitioning students into a new academic and social environment. It is not easy being a fourteen- to fifteen-year-old in today's culture of peer pressure and social media while keeping your focus on tennis. For these reasons, I do not conduct any tennis-related matters for the first six weeks of school for any grade-level players. My mission as a coach is to always make sure that my players get off to a great start academically and socially. What they do with their private coaches during the transition time is up to them. I begin the conditioning and challenge matches in mid October.
Each year, I am looking for character progression as a person, player, and teammate. This is the key to a positive transition to the collegiate level. As all of us know, many factors play a significant role in this important transition. It is my job to assist in any way I can to make this happen so these young men and women can move on to the next level with confidence. This is the combination of mentally sound judgment of choices and physically staying in great condition to succeed.
On Court Transition: What does it mean?
All coaches look forward to times when a player's light switch goes on. This transition deals with court awareness, strategy, and executing patterns of play. All of these variables come into play. By this, I mean when a player gets that one ball during a rally that is a mistake by his/her opponent, the moment of court transition has arrived. This mistake is usually a short- or medium-range ball that is starving for a transition pattern to occur to win the point. The mental aspect along with the physical should now work hand in hand to say go and execute the transition shot. As I said earlier, this is when the "light switch goes on." The player no longer needs to hear the word go. They now fully understand the concept.
Further, my experience and recent involvement with the ImRecruitable College Tennis Showcase is a continuing process which has benefited my high school players and helped them attain scholarships. It is a given that the majority of players rated as Blue Chips and 5 Stars are heavily recruited and signed, but showcase events provide the opportunity for second-tier rated players (2-, 3- and 4-Star players) to be seen and heard by dozens of college coaches from all Divisions. Over the past two years, five of my seniors who were not highly ranked or rated received scholarships and have made an incredible transition academically and athletically from high school to college.
There are no guarantees for success in tennis or in life. However, experience has taught me that "transition" occurs because of character, hard work, and perseverance both in the classroom and on the tennis court. Many players think they can get away with superb talent, but it is not enough. You need to work for everything in life; unfortunately there are no short cuts.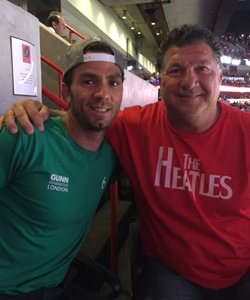 Kypriss with former student and
UCLA
standout Julian Rojer, who was 2015 Wimbledon Doubles Champion
In conclusion, Transition is a critical term in life and in tennis. I have been blessed with so many talented players who were outstanding in both areas of transition. I am most proud that more one hundred of my players have received college scholarships over the years. I have been very fortunate to coach the 2015 Wimbledon Doubles Champion, Jean-Julian Rojer (career high No. 3 ATP doubles),
University of Miami
head coach Paige Yaroshuk Tewes, and Jack Brasington who reached #125 in the world in singles and competed in all four majors. Currently, Alex Knight is playing for
University of Michigan
at No. 1 Singles and Doubles. These players are only a few names that I have had the pleasure of coaching who have taken the big step of transition both on and off the court with success.
I hope many of you will take my many years of experience as trusted advice. I wish all players a huge amount of success in the classroom and on the tennis court this year. If any parents and players want to discuss and share thoughts with me, I am more than happy to listen and offer my advice when asked.
Michael Kypriss is co-director of the IMRecruitable College Showcase. His teams at Miami Killian and Dr. Krop high schools posted a collective 1245-43 record, recording seventeen state championships and fourteen state runner up performances. Kypriss was named NHSACA National High School Tennis Coach of the Year in 2015 and USTA Florida Junior Coach of the Year in 1996.
One Day More
We finish off our first week of the Countdown with a visit to California. Blue Chip senior Sydney Van Alphen of Laguna Beach, Calif., has committed to USC, and contributor Keith Kropp has the story.
That article will be available first thing tomorrow morning, as Tennis Recruiting brings you all the action in the Countdown to Signing Day!
About Wilson
Wilson Tennis is proud to sponsor the Recruiting 101 series of articles at TennisRecruiting.net.
Connect with Wilson on Facebook, Twitter, Instagram, and YouTube - or on their website.
About CrampsAWAY
CrampsAWAY is proud to sponsor the Countdown to Signing Day series of articles at TennisRecruiting.net.
What is CrampsAWAY Pro?

CrampsAWAY Pro is an all-natural, food-grade liquid supplement that can prevent or instantly stop cramps. CrampsAWAY comes in convenient single-serve packets, perfect for any athlete on-the-go. CrampsAWAY Pro is completely safe and free of any banned substances. It's also NSF Certified for Sport, so athletes can use it whenever needed, with the assurance that they are not putting anything foreign, unhealthy or illegal into their bodies.
Are any elite athletes using CrampsAWAY?
Absolutely! CrampsAWAY Pro has become the go-to cramp solution for many of the best athletes in the world; including pro sports teams in the NCAA, NFL, NBA, MLB and MLS. Also, many top ATP players use CrampsAWAY Pro as a competitive advantage, including John Isner, Jack Sock, James Blake and Tim Smyczek.
Connect with CrampsAWAY on Facebook, Instagram, Twitter, and YouTube - or on their website.
Leave a Comment
More Recruiting 101 Articles
9-Dec-2019
Alternate Reality: Billups Takes Advantage of Showcase Entry
Leyton Billups arrived for the TRN College Showcase at the ITA Coaches Convention on Sunday as an alternate. After somone pulled out of the draw, the junior took advantage of the opportunity to help get seen by coaches and pursue his dream of playing college tennis.
3-Dec-2019
Coachspeak: Talking Points for Recruits to College Coaches
Communication is paramount in the recruiting process. But what are the most important questions for recruits to ask during their correspondence with college coaches? We provide a list of essential talking points to find out as much as possible about a school, program and coach.
19-Nov-2019
Ten Things to Know About the USTA Junior Structure Changes
Beginning in January of 2021, the USTA is making changes to its competitive junior structure. There are 10 important things to know about the changes to get everyone prepared and informed.