Recruiting Feature
Countdown to Signing Day 2020
by Rhiannon Potkey, 11 October 2020
We are exactly one month away from November 11, 2020 - better known in the college tennis world as Signing Day. Signing Day is the first day of the signing period for college tennis recruits - the first time that seniors in the Class of 2021 can formally commit to NCAA Division I or Division II schools.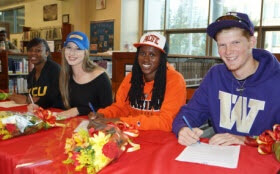 Our commitment lists (boys, girls) show a number of early verbal commitments - but those commitments are not official or binding. Several seniors who had made verbal commitments earlier this year have since changed their minds. November 11th is the first day when those commitments become official.
Starting today, the Tennis Recruiting Network is ready to bring you exclusive coverage of the event in our Countdown to Signing Day series. Each day will bring fresh content to the website - with commitment features, advice and coach interviews appearing regularly.
Here is our planned coverage schedule:
Countdown to Signing Day Series
That is our current schedule - but we will update it from time to time as news breaks from the Class of 2021.
Check back regularly over the next month, as Tennis Recruiting brings you a courtside seat to the Countdown to Signing Day!
Leave a Comment
More Website News
18-Oct-2021
Countdown to Signing Day 2021
It's that time of year. We are less than a month away from the most important day on the college tennis recruiting calendar - Signing Day. November 10th is the opening of the signing period, when seniors can begin signing a National Letter of Intent with Division I and Division II schools. As always, the Tennis Recruiting Network is here to keep you up to date on everything.
7-Oct-2021
USTA Foundation Awards 2021 NJTL Essay Winners
The USTA Foundation announced the 10 winners of the 23rd annual NJTL Essay Contest. The winners, ranging in age from 10 to 18, all participate in National Junior Tennis and Learning (NJTL) chapters nationwide. They were selected from more than 1,100 entries submitted this summer.
20-Sep-2021
Star Ratings Fall 2021 Edition
After months of waiting, the Star Ratings have finally arrived again. Find out right now how many stars you have as The Tennis Recruiting Network proudly presents the Fall Star Ratings for 2021.
About Rhiannon Potkey
Rhiannon Potkey is a veteran sportswriter with more than two decades of experience in journalism. Potkey has covered many sports at many levels and has a passion for finding great stories. Potkey has covered the U.S. Open, junior sectional and national events, college conference championships and Davis Cup matches. Potkey is currently Content Strategist for Tennis Recruiting. You can reach Rhiannon by email at
[email protected]
.