Recruiting Feature
2016 Top NCAA Division III Women's Classes
by TennisRecruiting.net, 17 June 2016
Over the past few weeks, the Tennis Recruiting Network has been publishing rankings of recruiting classes. Today, we conclude our series with a look at the D-III women's programs.
Top 25 NCAA D-III Women's Recruiting Classes (through May 30)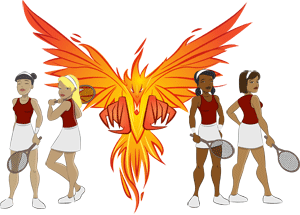 TennisRecruiting.net is excited to present the Top 25 NCAA Division III Women's Recruiting Classes for 2016. This list is based on commitments reported on or before May 31, 2016.
As always, we enlisted the help of a number of NCAA Division III enthusiasts, insiders and coaches to aid in the rankings. Our panelists did not consider incoming transfer students in their voting - and they also did not consider players that started college this past January.
But enough boilerplate ... It is time to take your first look at our Top 25.
Also Receiving Consideration
A team of Division III college coaches reviewed the resumes of 50 top D-III recruiting classes to come up with these rankings. Other recruiting classes put forward by the insiders that almost made our list are (alphabetically) as follows: Babson, Caltech, Case Western, Johns Hopkins, Hope, Mary Washington, Nichols, and Wesleyan (CT).
Marooned
The University of Chicago emerged as a consistent national contender in women's tennis during the 2008-09 season, and 2016 was no exception. The Maroons have reached the Sweet 16 of the NCAA Tournament for the last eight years - including six Elite Eight appearances, four Final Fours, and National Runner Up in 2012.
Head Coach Jay Tee, who is starting his fifth year at the helm, has also done a fantastic job on the recruiting trail. In each of his first four years, Chicago has attracted record-setting recruiting classes to the Windy City. After bringing in the No. 13 recruiting class in 2012, Tee recruited the No. 11, 7, and 2 classes in 2013, 2014, and 2015, respectively.
That trend of higher-ranked classes will continue for one more year.
For the first time in school history, the No. 1 recruiting class in NCAA Division III tennis is heading to Chicago. Four-star seniors Marjorie Antohi, Estefania Navarro, and Alyssa Rudin hail from the tennis-rich states of Texas, Florida, and California, and the three together form a formidable recruiting class. The group combined for eight wins in last summer's USTA National Clay Court and Hard Court Championships.
Antohi, Navarro and Rudin will be joining a squad that loses only two seniors to graduation and returns four of its Top 5 singles players. Maroons fans are hoping that unprecedented success on the recruiting trail will lead to similar success on the courts.
Give Me Five
The top of the rankings was hotly contested, with NESCAC programs Middlebury and Williams both receiving support from our expert panel for the No. 1 position.
The Middlebury Panthers boast their own trio of 4-Star recruits in Heather Boehm, Katherine Hughes, and Madeleine Stow. Three-star senior Skylar Schossberger and Catherine Blazye of Britian complete a five-woman class that holds down the No. 2 spot in our rankings - the best ever for Middlebury, and the Panther's fourth-straight Top 10 recruiting class.
Not to be outdone, 4-Star seniors Sydney Myong, Emily Zheng, and Chloe Henderson are all heading to Williams this Fall, joining a program that has won seven of the last nine national titles and fell to Emory in the D-III National Championship match last month in a 5-4 thriller.
Rounding out the Top 5 are Amherst (No. 4) and MIT (5).
Conference Call
There are many strong D-III programs from all over the country, but, from a conference perspective, the University Athletic Association and New England Small College Athletic Conference stand above. Don't believe us? Take a look at the 2016 NCAA Championships: seven of the eight teams in the Elite Eight and all four Final Four teams came from these two conferences. And, as usual, both conferences are well-represented in our recruiting class rankings - with eleven combined classes in our Top 25.
Which conference was more impressive this year? You be the judge ...
The UAA boasts six ranked recruiting classes - more than any other conference, and they are headlined by Chicago in the No. 1 spot. Joining Chicago in the rankings is Carnegie Mellon (No. 6), NYU (7), Emory (12), Wash U. - St. Louis (18), and Brandeis (25).
On the other side of the ledger, the NESCAC is the only conference with four recruiting classes among our Top 10 and three of the Top 4. No. 2 Middlebury leads the way, followed by fellow Top 10 programs Williams (3), Amherst (4), and Tufts (8). No. 18 Bowdoin also appears in the rankings - giving the NESCAC five ranked recruiting classes overall.
Ten other conferences are represented in our rankings, and three of them have multiple ranked classes. The SCIAC shows up three times with Claremont-Mudd-Scripps (10), Pomona-Pitzer (11), and Redlands (17). The ODAC and SCAC each have two ranked recruiting classes.
Making Their Mark
One program is making its first-ever appearance in our Recruiting Class Rankings - Lynchburg College from Lynchburg, Virginia. Hornets Head Coach Josef Manilla has things going in a positive direction, as Lynchburg will return all six singles starters from a squad whose 12-9 mark tied the school record for most wins in a season. Mixing in the No. 24 recruiting class with a team where freshmen held down the No. 1, 2, 3, and 4 singles spots could be a recipe for better things in 2016-17.
Four other programs had their highest-ever ranking on our list: Chicago (No. 1), Middlebury (2), NYU (7), and Texas Dallas (9).
Perfect Attendance
Finally, we would be remiss if we did not recognize the seven programs who have had ranked classes in all of the seven years we have conducted these rankings. The perfect attendance club includes (alphabetically): Bowdoin, CMS, Emory, MIT, Pomona-Pitzer, Wash U. - St. Louis, and Williams.
Congratulations to these fine programs!
Recruiting Class Wrap
This article concludes our spring series of recruiting class rankings. Check out all of our 2016 lists here:
Leave a Comment
More Recruiting Class Rankings
30-Jan-2023
Top Men's Classes - 2023 Winter Rankings
As January comes to a close and the spring semester gets into full swing, today is a great time to take a look at the top college tennis recruiting classes. TRN is excited to present its 2023 Men's Recruiting Class Rankings - including the Top Dawgs ...
24-Jun-2022
2022 Top NCAA D-III Women's Classes
TRN wraps up three weeks of recruiting class rankings with a look at Division III. Our final list of the season shows the Top 25 NCAA Division III recruiting classes.
20-Jun-2022
2022 Top NCAA D-III Men's Classes
The Tennis Recruiting Network is excited to present its recruiting class rankings for NCAA Division III conferences. Today we unveil our Top 25 D-III men's recruiting classes for 2022.