Tournament Coverage
Williams Goes The Distance To Win Boys 14s Title
by James Hill, 14 August 2019
Fourth-seeded Cooper Williams had his hands full on the road to claiming the singles title of the USTA Boys 14 National Championships at Mobile, Alabama.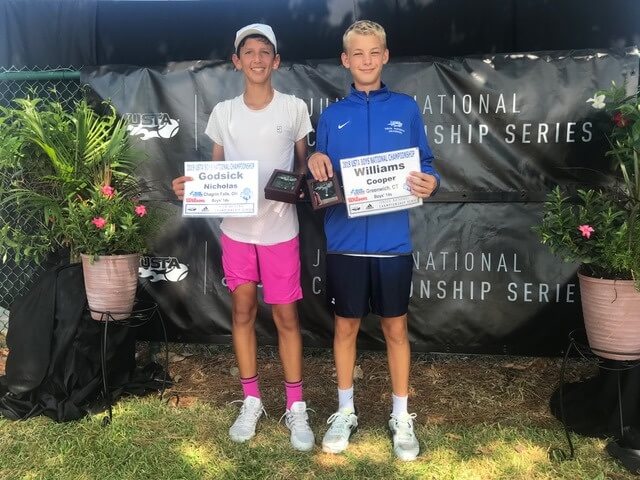 Finalist Nicholas Godsick (left) & Champion Cooper Williams
© Contributed Photo
Williams won four three-set matches before reaching the singles championship match at the Mobile Tennis Center. He captured his first USTA singles gold ball with a 6-1, 7-5 victory over third-seeded Nicholas Godsick in the final.
"All of those matches were tight," said Williams, a resident of Greenwich, Connecticut. "But, I've been training with my coach, Jay Berger, who is incredibly supportive. We have worked on my staying calm in those type of matches and exposing my opponents' weaknesses. My serve and forehand were my strengths in the tournament."
Williams works extensively with Berger – who was once ranked seventh in the world on the ATP Tour - in West Palm Beach, Florida. The Mobile final marked the fourth gold ball for Williams, who earlier won doubles titles at the 14s and 12s Indoors, and 12s Clay Courts.
Williams defeated 13th-seeded Joseph Phillips of Alpharetta, Georgia, 4-6, 6-1 6-4 in the semifinals. Godsick also won a three setter in the semis, defeating top-seeded Yannik Rahman of Miami, Florida 4-6, 6-3, 6-2.
"I believe my fitness got me through the tournament because it was very hot," said Godsick, of Chagrin Falls, Ohio, who competed in his first national singles final. "At the end of the day, it was whoever could last longer, especially in three-set matches."
The doubles championship went to the sixth-seeded duo of Alexander Razeghi of Humble, Texas, and Dylan Tsoi of El Dorado Hills, California. Playing together for the first time, Razeghi and Tsoi won the top prize with a 6-1, 6-1 decision over No. 5 seeds James Lian of Parsippany, New Jersey and Nicholas Mangiapane of Davidson, North Carolina.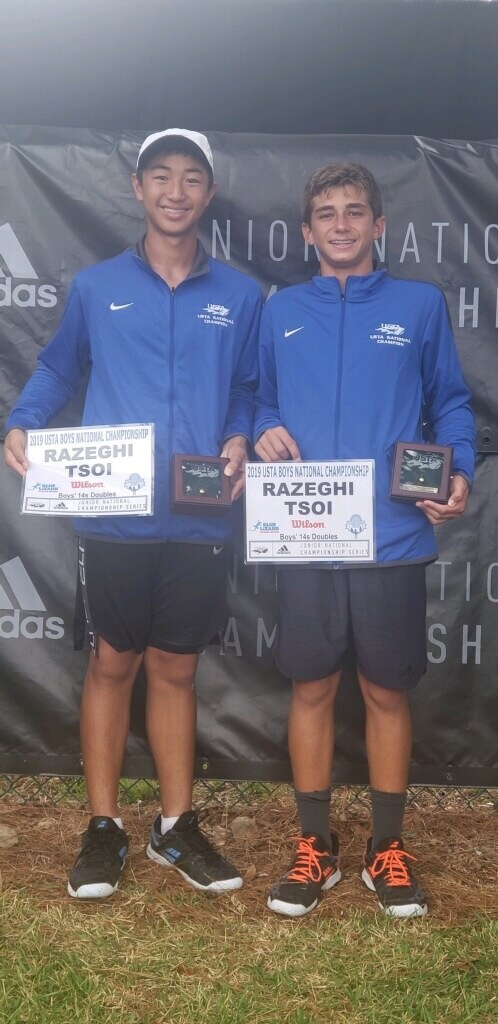 Doubles Champions Dylan Tsoi & Alexander Razeghi
© Contributed Photo
"Dylan and I had great chemistry in the tournament," Razeghi said. "I could balance in the middle of the court after he hit a really good serve. My groundstrokes were also effective."
Razeghi earned his fourth gold ball with the doubles victory. He won last year's USTA 12s doubles crown, as well as singles and doubles titles at the Indoors.
Other results:
Third-place singles: Phillips defeated Rahman 6-3 6-1.
Third-place doubles: No. 4 Lucas Coriaty of Long Beach, California, and Emon van Loben Sels of Sacramento, California def. No. 7 Andrew Delgado of High Point, North Carolina and Quang Duong of Manhattan Beach, California, 6-3, 5-7, 7-6 (3).
Consolation singles: Delgado def. Mikkel Zinder of Richboro, Pennsylvania 6-0, 6-1.
Consolation doubles: Russell Lokko of Burlington, New Jersey, and Maxim Michaels of Marlboro, New Jersey def. Gabe Avram of Charlotte, North Carolina and Nathan Pitts of Greer, South Carolina via walkover.
Bronze draw singles: Alex Fuchs of Los Altos, California def. Arnesh Singh of Plano, Texas 0-6, 6-1, 1-0 (8).
Up Next:
Check back this afternoon for the Girls 14s wrap-up from Rome, Georgia.
About American College Placement
We are excited to have American College Placement as the title sponsor of Championship Week at TennisRecruiting.net.
American College Placement - Premier Face-to-Face Mentoring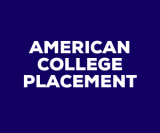 American College Placement is a mentoring and placement company. The difference with ACP is we only hire mentors that either played or coached college sport. We are the most personalized, boutique style service in the country. We will invest in you and your college selection process from building your list of schools all the way to signing your National Letter of Intent.
Our mentors will meet with you and your families face to face to ensure that all your needs are being met. You will have around the clock access to your mentor via e-mail, text, and phone throughout the process. Selecting the right college and athletic program is a big job.
Don't do it alone. Let American College Placement walk side by side with you from beginning to end.
Learn more about American College Placement at AmericanCollegePlacement.com - or connect with them on Facebook and Instagram.
Leave a Comment
More Tournament Features
27-Nov-2019
Keeping Up: Capital City Classic Debuts at Michigan State
Michigan State saw the trend spreading around the country, so the Spartans decided to host the state's first men's professional tournament since 1988. The $15,000 USTA Pro Circuit Capital City Tennis Classic debuted last week, providing Michigan State players an opportunity to sample professional tennis.
18-Oct-2019
Montgomery and Hotard Earn Pan American Closed Titles
Robin Montgomery and Welsh Hotard put together impressive runs last week to win their first International Tennis Federation Grade 1 titles at the Pan American Closed in Nicholasville, Kentucky. Montgomery and Hotard secured their titles with straight-set victories in the final.
3-Oct-2019
Team USA Wins Unprecedented 3rd Straight Junior Fed Cup Title
The United States won an unprecedented third straight Junior Fed Cup title, and was able to celebrate on home soil at the USTA's National Campus in Lake Nona, Florida. Japan captured the Junior Davis Cup title with a victory over the U.S. in the final.
About James Hill
James Hill is the Assistant Sports Information Director at Trinity University in San Antonio and a freelance writer. He has covered all levels of tennis competition.