Recruiting 101
Spring Signing Week '17: Get Recruited Faster
Tarek Merchant, 11 April 2017
Special from
ImRecruitable
I get anywhere from 5-15 emails a day from student athletes struggling with the recruiting process. Ninety nine percent of the time it's because the athletes do not understand how college coaches recruit and decide on prospects for their teams. For this reason, athletes are unable to provide the information that will grab the attention of coaches and trigger a reaction. Through the initial contact, athletes want to quickly identify whether coaches are going to consider them as prospects. If you are not a prospect, you move on. if you are a prospect, you continue the communication process with the coach.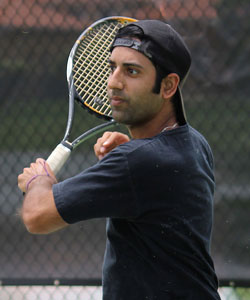 I want to offer some advice and recommendations that will help athletes understand how coaches evaluate prospects - and what prospects need to do to get recruited faster and easier.
Player Profile
College coaches have pre-determined minimum academic and athletic requirements that need to be met in order for student athletes to be considered prospects for their teams. A player profile will be used to check whether a student athlete meets the minimum requirements. A coach may also be able to advise if you would quality for academic aid (if offered by the school) and provide an estimate on the amount based on your academic standings. Providing coaches with a profile that allows them to make this decision is a vital first step.
There are many online services that allow players/parents to provide profile information online. [Editor's Note: The TRN profile is one such service that allows players to provide all the information shown below.]
Common Mistakes
Athletes and their families often get caught up wanting to share their stories. Coaches recruit initially from the facts. An athlete's tennis and academic results is all coaches want initially. If the coach deems an athlete a prospect, then athletes should be sharing their stories with the coach to set themselves apart and gain a competitive edge over other prospects.
Here is a sample profile template ...
John Smith, Miami, FL
Fall 2018 - UTR 10.50 - TR.Net 3 Star
Contact Info:
Address: 1000 University Dr, Miami, FL, 33131
Cell: 305 999 9999
Email: [email protected]
Parent cell: 305 555 5555
Athletics:
5 10"
TRN: 401 (as of March 1, 2017)
UTR: 10.44 (as of March 1, 2017)
USTA National: #155 (as of March 1, 2017)
Match Video(s):
Versus Michael Jones (TRN Class of 2017 3-Star, UTR 10.56)
http://www.youtube.com/uT736631 (sample link does not work)
Academics:
GPA: 85% (Unofficial transcripts attached grade 9 - current)
SAT: 1100 (Math: 600 Reading/Writing: 500) (scores attached)
ACT: To be taken March 2017
Intended Major(s): Business Management
Eligibility:
NCAA ID #99999999
NAIA ID #55555555
Recruiting Video
Much like the player profile, coaches use video to vet the tennis ability of athletes and conclude whether they should continue to scout them. Coaches want to see unedited tournament match play (one set or more) against opponents with similar or better ratings than you. Try and record your tournament matches for analysis and coaching. Anytime you have a competitive match against a strong opponent, you should upload the video online! It is as easy as purchasing camera tools from a website like www.mytennistools.com - and you can use any camera with a wide-angle lens. Make sure the entire court is visible at all times. After the match is complete, upload the video directly to YouTube or Vimeo and place the link in your player profile. [Editor's note: Players can link to YouTube videos directly from their player profles on TRN.] Ideally you should create your own YouTube or Vimeo channel and upload the matches for coaches to view.
Find a tennis program with the right fit
UTR and TennisRecruiting.net both have tools to help you find the college tennis programs with the right fit based on your ability.
UTR's tool is called "UTR FIT". Athletes can enter their current UTR rating and obtain lists of colleges where their rating would fit within the top six of the college tennis teams' lineups.
TRN has two ways for you to find your right fit. Athletes can view college and conference team pages (Men, Women) and view player ratings for commits from previous years as well as the current season. Alternatively, players can select the college commitments tab (Boys, Girls) and choose sorts by conference or rating.
Advice
These rating systems are strong indicators of players' abilities. Keep in mind that players who are not rated, are missing results, or do not have enough results will not have accurate ratings. Aside from these unlikely issues, the rating systems in place provide a very strong indication of each players' level compared to the competition.
Just because your rating fits with the range for a school, it does not always mean the coach is going to recruit you. For example, a coach may be replacing his/her number one player and therefore looking for a player of similar or better caliber as a replacement. If you do not fit the criteria, then the coach will not be interested in recruiting you - regardless of your level of play.
Learn About Recruiting
Get informed daily through online platforms such as blogs, videos, websites, social channels, podcasts, etc. Athletes can follow college teams, research schools, learn about recruiting, and receive college tennis news and updates on commitments. It is extremely important to educate yourself on the recruiting process and college tennis. The more knowledge you have, the better prepared you will be for the recruiting process and your future college career. College coaches love when athletes are familiar with college tennis.
A list of some online resources include:
In addition, you can follow college tennis teams on Facebook, Twitter, Instagram and Snapchat.
Get Exposure to College Coaches
Most college tennis teams do not have a budget that allow coaches to travel often to recruit players - let alone see individual recruits. For this reason, the popularity of college showcases and exposure camps has risen over the last few years. These showcases and camps allow the majority of college coaches to travel to a single showcase or camp near them where they can scout and meet many prospects. Athletes that attend these exposure events can gain a competitive edge over players of a similar level who are not able to showcase their skills and character to college coaches in person. Showcases are designed for high school juniors and seniors to play competitive matches and get exposure to a lot of coaches, while exposure camps will also provide competitive match play and exposure - but also include learning about the recruiting process, training with college coaches and experiencing the college tennis atmosphere and life.
In many ways, the recruiting process over the years has become much easier and faster with technology and opportunities to get exposure, but not many athletes have taken advantage of it. Keep in mind that the number of athletes that now have access to reach college coaches from around the world has increased, so the competition has gotten stronger and larger. To be successful, an investment of your time and money is required. You can never bypass putting in the hard work and spending the time. That goes for anything in life, but you can definitely simplify the recruiting process by get recruited faster and easier by following the methods preferred by coaches today.
Tarek Merchant is a recruiting expert and founder of ImRecruitable and Collegiate Exposure Camps. You can contact Tarek by phone at 904-400-2044, by email, or on Facebook or Twitter.
Next Stop ... Signing Day!
Tomorrow is the big day... Signing Day. Tennis Recruiting and GAMMA have you covered with three commitment announcements from our Top 100. First thing tomorrow morning, Blue Chip senior Janice Shin of Houston, Texas, announces her decision from among Florida, Michigan, Northwestern, Rice, Stanford, Texas, and Vanderbilt. Later on in the day, Top 100 seniors Brian Berdusco and Riley McQuaid share their commitments as well.
In the meantime, sit back, relax, and get ready for your courtside seat to Spring Signing Day!
About Wilson
Wilson Tennis is proud to sponsor the Recruiting 101 series of articles at TennisRecruiting.net.
Connect with Wilson on Facebook, Twitter, Instagram, and YouTube - or on their website.
About GAMMA
GAMMA is proud to sponsor the Countdown to Signing Day series of articles at TennisRecruiting.net.
Greatness is a Unique Path at GAMMA

GAMMA is a privately owned company with over a 40-year history of developing innovative products for players of all levels. Best known for GAMMA high performance irradiated tennis string, today GAMMA markets and sells an entire line of over 5,000 products including GAMMA racquets, strings, racquet accessories, tennis balls, grips, vibration dampeners, Ball Hopper® ball baskets and teaching carts, court equipment, and 10 and Under teaching aids.
Connect with GAMMA on Facebook, Twitter, Instagram, and YouTube - or on their website.
Leave a Comment
More Recruiting 101 Articles
22-Nov-2017
Mullins: Stop Acting Like a Brat On The Court
Certain abnoxious behaviors seem to be imbedded into the tennis culture that people don't often question and just accept as normal. Columnist and former college coach Dave Mullins thinks they should be questioned and eliminated from the sport for good.
12-Oct-2017
Countdown: Making College Tennis Affordable
Even with the best future and financial planning, making college affordable can be a challenge. For tennis players, there are a variety of avenues that may be able to help soften the financial burden. Whether in the form of athletic scholarship, academic merit aid, or need based financial aid, there is hope for getting some financial support to be a collegiate scholar-athlete.
9-Oct-2017
Countdown: Let Coaches Know When It's A No
Former Oklahoma coach Dave Mullins explains why telling coaches you won't be committing to their programs once the final decision is made is almost as good as telling them yes. Rather than sending a message or having mommy or daddy do it, pick up the phone and call each coach yourself.